We've all had dark moments where it feels like we're failing at life in some way. Some turn to friends, family, or social media, but one woman has turned to comfort food. Sometime that comes in the form of your parents' cooking but when for this woman, it was the popular fast food restaurant Jollibee.
Twitter user @NotConception shared a bunch of photos from her order to a place called Jollibee. She had just failed her UPCAT, which is a college test in the Philippines. Dispirited, she ordered online and in the special request section, asked for an encouraging note.
And they delivered with not one just one note, but four uplifting letters from the restaurant's staff!
She didn't even have any applicable discounts, and they still went above and beyond: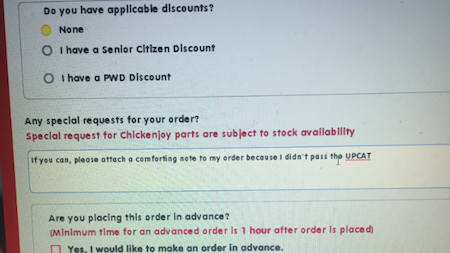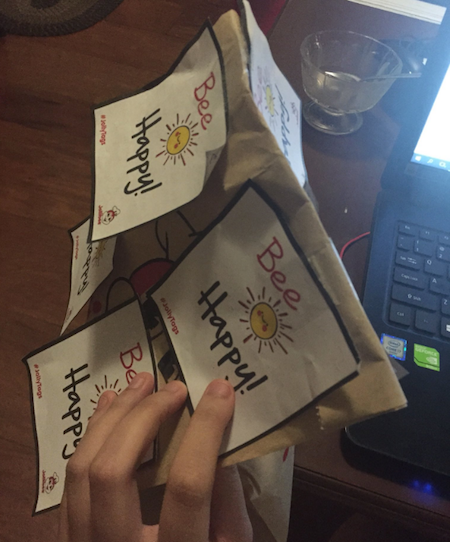 One note mentoned J.K. Rowling's struggle to become a published author and referenced how many songs Beyoncé made before "Halo." It's very funny to me that "Halo" is considered the height of Beyoncé's creativity, but still, an extremely sweet note: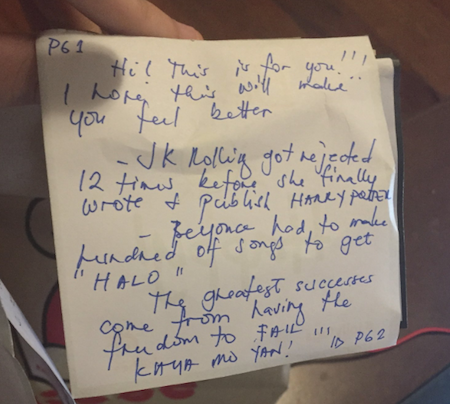 Another just said "don't give up" with a quote about how the struggle is what gives us strength for the future: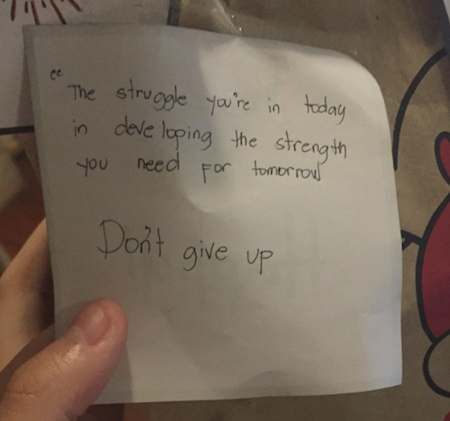 Can I hire some of these fast food workers as life coaches?
Apparently, she also got a follow up text of encouragement from someone who didn't get their message in the bag in time. Seems a bit invasive, but @NotConception is thrilled:
And she's also getting a lot of support from people who are loving this story:
Though some are a bit suspicious of what a perfect marketing opportunity for Jollibee this is:
Hey, can't it be both the perfect ad and a heart-warming story of support?
I'm going to order pizza now and tell them I just got dumped. Let's see what they write on the pizza box lid.