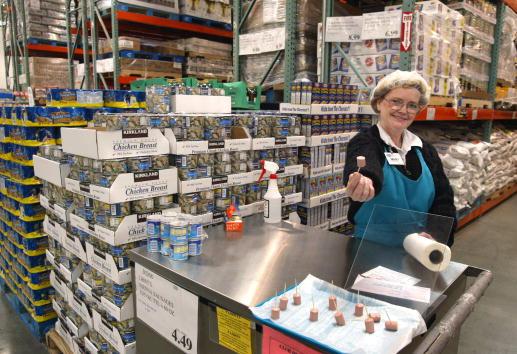 36 Delicious Reasons to Pack Your Costco Card on Your Next Vacation
By Cristina Manas

Updated
If you're like me, you may have a slightly unhealthy obsession with Costco. I mean, where else can you get a $1.50 hotdog & soda special, an eye exam, a surfboard, and a new outfit all under one roof? 
As we all know, though, the heart of Costco is its food. Between the food court offerings, the bulk snacks, and the free samples (which every Costco devotee knows is truly a competitive sport), it's the food that keeps us coming back.
Costco, in all its excess, is as quintessentially American as it gets, so you may be surprised to learn that they actually have locations in 10 other countries around the world! While every Costco carries many of the same products we're familiar with in the U.S., international Costcos also have their own local offerings that you'll wish we had here.
Let's start with dessert, because YOLO.
Look, I love a good very berry sundae, but the overseas frozen dessert options put ours to shame:
1. I mean just look at this pecan praline situation offered in Japan.
2. And this juicy mango sundae.
3. They also have different soft serve flavors, like matcha!
4. This banana fudge sundae topped with corn flakes at Costco Korea is what dreams are made of.
5. Behold this decadent caramel fudge sundae from Costco U.K.
6. Or how about some creamy gelato served in a waffle cone?
7. For something lighter, this mango shave ice available in Taiwan looks refreshing AF.
Clearly we are being deprived here! Maybe baked goods are more your thing, though? Well, once again international Costco doesn't disappoint:
8. Feast your eyes on this picture-perfect strawberry shortcake from Costco Japan.
9. Also available in adorable cupcake form!
10. If strawberry shortcake is too ~basic~ for you, how about this mango one from Costco Korea?
11. Or this fruity pavlova cake from Costco Australia. 
12. Or how about this cream filled, festive king cake from Costco Spain?
13. You can cop a whole tray of flaky, custardy egg tarts at Costcos in Korea and Taiwan.
14. And just try not to drool over these strawberry daifuku.
15. These sinful looking profiteroles are gracing the shopping carts of U.K. Costco members.
16. Along with these cream-filled Victoria sponge cakes.
Now don't get me wrong, my love for the Costco food court and grocery section is eternal, but International Costco food offerings are honestly on another level:
17. The sushi at Costco Japan looks unreal.
18. Yes, I know some U.S. Costcos sell sushi but it just doesn't compare to this.
19. Just look at this flawless piece of salmon.
20. And this colorful chirashi bowl.
21. They even sell salmon roe by the tub.
22. Costco Japan also sells meal kits to make the ultimate ramen at home.
23. Or a cioppino meal kit to whip up a savory seafood stew.
24. If cooking sounds like too much work, there's clam chowder at the food court.
25. In addition to the classic chicken bake, Costco Korea offers a bulgogi bake! This is genius and needs to be offered at all Costco fine dining establishments tout de suite.
26. This very legit looking "Thai" chicken sandwich available in Taiwan.
27. You can grab a hearty meat pie from Costco Australia.
28. Or a perfectly baked soft pretzel.
29. Costco Canada's poutine is so loaded with cheese curds and gravy that you can barely see the fries underneath.
30. Costco UK sells jacket potatoes (a.k.a. baked potatoes) smothered in a variety of toppings, like baked beans and cheese.
31. Meanwhile in Mexico, the humble Costco hot dog has been elevated with the addition of sliced jalapeño.
Brb, starting a petition to have jalapeño dispensers installed at all Costco locations.
32. And their seafood paella looks incredible TBQH.
Finally, some honorable mentions of foods I'm not so sure about but are definitely intriguing?
33. Like this microwavable haggis from Costco UK.
34. And this Australian crocodile jerky.
35. Not sure how to feel about this seafood pizza from Costco Japan.
36. Or this avocado cheese pie. (idk could be good?)
BONUS: not a food item but I couldn't not include it because OMG, Costco Australia sells giant stuffed koalas!!
One thing is true no matter where you are, no one leaves Costco with an empty stomach.