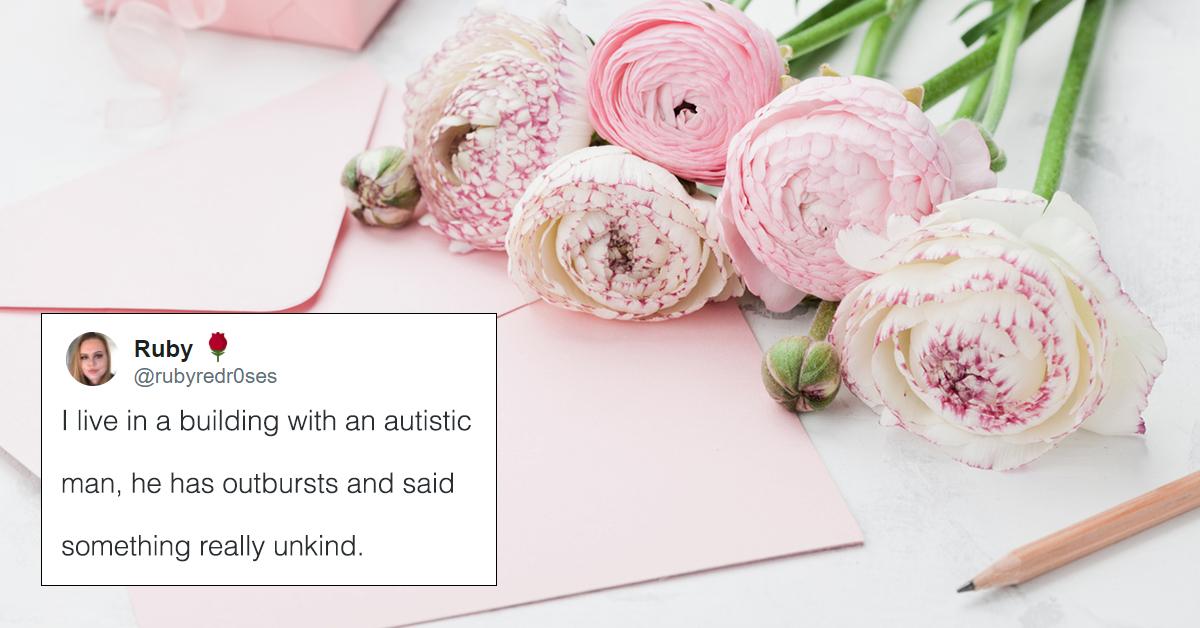 Woman Shares Autistic Man's Adorable Apology After He Had A 'Meltdown'
By Mark Pygas
According to the United Kingdom's National Autistic Society, and as anyone who is close to a person with autism will know, people with the condition are prone to meltdowns. "It is not bad or naughty behaviour and should not be considered as such," their website explains. "When a person is completely overwhelmed, and their condition means it is difficult to express that in appropriate way, it is understandable that the result is a meltdown."
Twitter user @Rubyredroses, aka Ruby, from Sunderland in the United Kingdom recently took to Twitter to share the adorable gift she received from a man with autism who lives in her building after he said something unkind to her during one such meltdown the previous week.
Ruby explains: "I live in a building with an autistic man who has bipolar [disorder], he has angry outbursts and last week said something really unkind, he struggles with understanding he's in the wrong & apologising but gave me this today."
The card, delivered alongside a bouquet of flowers and bag of cookies, reads:
"To Ruby,
I don't like how things are at the moment and I miss are [sic] times together talking and sociallising [sic].
Sometimes I say things in the heat of the moment I do not all ways [sic] mean. I hope you will accept my sorry gifts.
Love from,
Christopher
PS. I really do like you and your family and dog."
Ruby explains on her website that she has aspergers and has also battled with mental illness:
"In November 2015 I was diagnosed with a neurological condition called aspergers, or better known as high functioning autism, I had been on the spectrum since birth but nobody picked up on the signs until I was unwell in hospital."
"This changed my life in reality, growing up feeling like an outsider and always not feeling how I thought I was suppose to feel came to end, I had a legitimate reason why I was this way so as of then I accepted and embraced my condition."
So Ruby seems to understand the man's outburst, as shown by her replies to comments after the tweet went viral with over 30,000 likes and 220,000 likes.
People seem impressed with the apology.
Even the professionals are impressed.
Twitter users who know people with similar conditions also applauded the man.
Others just want to see the dog, this is the Internet after all.
And of course, Ruby delivered.
What do you think of the note?