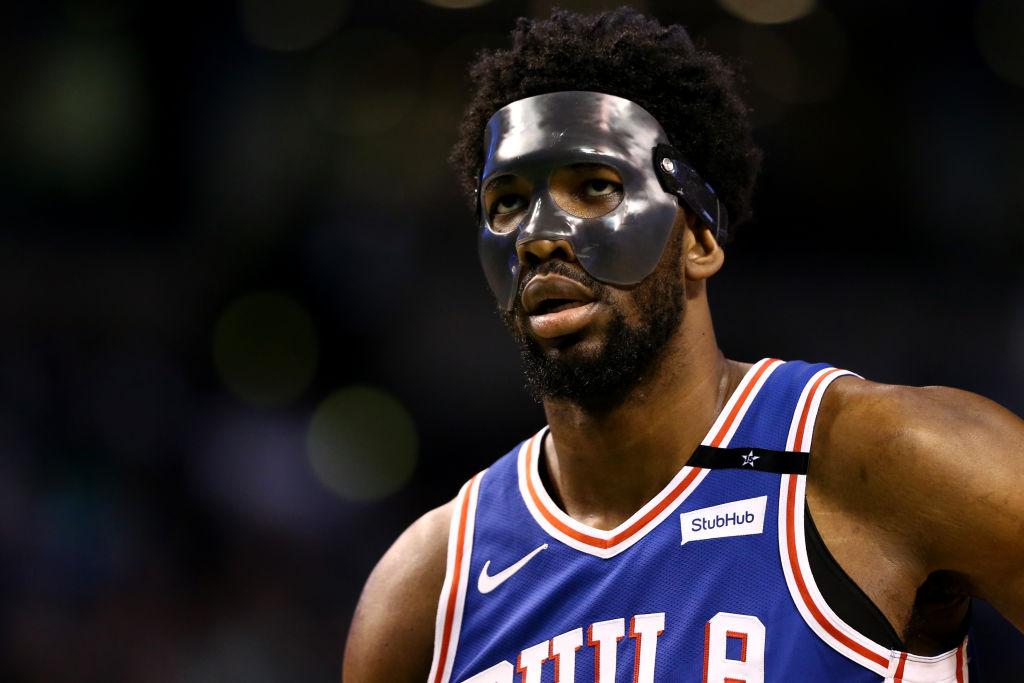 Joel Embiid's Out Of The NBA Finals But His Social Media Presence Keeps on Giving
By Pippa Raga
Joel Embiid has emerged as one of the hottest social media commodities in all of athletics. He is funny, engages with pop culture, active on his own social media, and it doesn't hurt that his team—the Philadelphia 76ers—was one of the hottest teams in the NBA this season after years of "tanking" for high draft picks. Even though he missed 2+ seasons because of an injury, his talent and charisma kept him front and center.
One of the first things that endeared Embiid to commentators, fans, and non-fans alike was his crush on pop star Rihanna. Embiid famously asked Rihanna out for a date repeatedly beginning in 2014 and the pop star responded she'd say yes when he made an NBA All Star team. It has since become the stuff of legend. The entire "affair" has been documented at length. It wasn't long before the media bit on the story as well.
He wasn't shy about taking matters into his own hands either. Here he is professing his love for her to TMZ Sports.
TNT even approached him about on the court this season when he actually did make an All Star team. Turns out that Embiid has his pride.
Still that hasn't dampened Embiid's fans from creating and contributing to some memorable memes. They even use them to pitch Hollywood.
But Embiid's impact would have been diminished if his team hadn't succeeded on the court. The 76ers—with the help of Embiid finally playing the majority of a season and new red-shirt rookie Ben Simmons—took the league by storm this year and propelled themselves into the 3-seed in the Eastern Conference. They then dispatched with the Miami Heat in a brief 5 game series, earning the enthusiastic praise of first-ballot Hall of Famer Dwyane Wade.
However, superstar veterans' adulation isn't going to keep you trending on social media. Embiid's talent, for one, keeps him in the spotlight. But also the sheer force of his personality.
On March 28th, Embiid collided with rookie Markelle Fultz as they both chased down a loose ball. The result of which was that Embiid missed about the last month of the season and had to be treated—including surgery—for a fracture orbital bone and concussion. As a result, he's had to wear the above mask to protect his health as he continues to heal as he plays in these playoffs. Embiid, of course, found a way to capitalize on it. And remain in good spirits. The pain meds led to some hilarity on his Twitter, including re-visiting his "lost love."
He attempted to Tweet through the pain during the Kansas (his alma mater) vs. Villanova (the eventual national champions) during the NCAA tournament shortly after his surgery, but his Jayhawks were run out of the gym, leading to this hilarious Tweet comparing Embiid's feeling at this moment of recovery to Batman villain Two-Face/harvey Dent (played by Aaron Eckhart in The Dark Knight).
Joel figured the intense visual provided by the mask was a nice hook and decided to use the image to strike fear into the hearts of opposing fans and opponents in much the same way another Phantom (of the Opera) struck fear into the hearts of the performers and audiences of a fictional theater in French literature and modern musicals.
The Sixers followed suit, and figured Embiid's media savvy would be marketable for the team's brand as a whole.
Embiid clearly learned to be himself and trust himself just as much as he trusts the process ("trust the process" became a mantra for the Sixers rebuild when former GM Sam Hinkie coined the phrase in an interview—Embiid embraced the notion and capitalized on it. "The Process" is his nickname, as you can see on the banner of his own Twitter page.
Embiid's sense of humor and charisma has made him a source of ire for opposing fans.
However, I doubt he'd be the source of much attention if he weren't performing up to his All-Star standards. And even though the Sixers lost Game 1 of their series with Boston (in Boston) on Monday night, Embiid showed up.
I wonder if his pre-game routine contributed at all.
But this is precisely why Embiid is such a great follow, regardless of your interest in basketball or sports in general. He is a larger-than-life figure that doesn't hide his humanity, his exuberance, or his youth. He exudes charisma and talent, and thus he is promo gold.
And he has some celebrity admirers of his own, including Philly's own Will Smith:
Rapper Meek Mill (who attended the Sixers series-clinching win in Game 5 against the Heat, fresh off his release from prison in an Embiid jersey):
Which led to some hilarious send ups elsewhere on social media:
Embiid's unique blend of other-worldly talent and infectious personality helps him fit in uniquely well with today's youth culture and Internet/meme culture, which is why—good health provided—he will likely remain an influential figure throughout the entirety of his career. He can ball and he can brand.
He may not like wearing the mask much…
...but his fans are buying in to the image he's projecting with it.
And so are Philly businesses, like Evil Genius Brewery.
And because of his personality and social media savvy, he provides fodder for all kinds of creative/hilarious material, both on and off the court.
And his skill and likeability have certainly helped him gain stature within the game of basketball, and helps him maintain his authentically humorous, super-hero status—even in the eyes of the most recent (and the most popular) recent Philly basketball legend.