It's 2018, but discrimination against the LGBTQ community is still rampant, and much of it comes from within families. According to a survey from the Williams Institute, 40 percent of homeless youth identify as LGBTQ, and many of them have been rejected by their parents or caretakers. 
A mom named Sara Cunnigham recently went viral for sharing how she wants to support gay people, after making her own journey to acceptance and understanding of her gay son.
On Facebook, Sara shared a photo of herself in which she's raising her hand like a volunteer.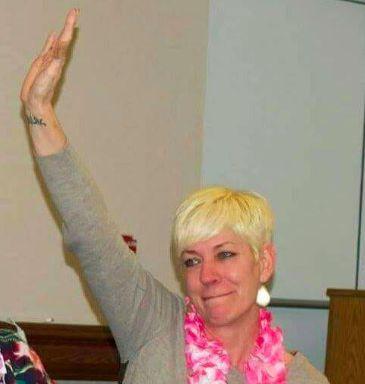 PSA. If you need a mom to attend your same-sex wedding because your biological mom won't. Call me. I'm there. I'll be your biggest fan. I'll even bring the bubbles.
Sara is a pastor and LGBTQ advocate, but she told Buzzfeed that when she first learned her son was gay, she wasn't accepting. She believed he would go to hell for his sexuality.
"I thought, 'If my son is going to hell for being gay, I'm gonna fight for him like my hair is on fire,'" she said. Since then, she's learned a lot more about what it means to be gay and her beliefs have shifted.
She continued, "Since then I've gotten educated and no longer believe that — so now I've [been] fighting for him and the LGBTQ community like my hair is on fire because I've seen the power of what fear and ignorance can do."
Sara is based in Oklahoma and says she has married dozens of same-sex couples in the area since 2016. Her post about showing up as a stand-in mom at weddings has been shared over eight thousand times. 
It's also inspired a bunch of other moms to volunteer their presence: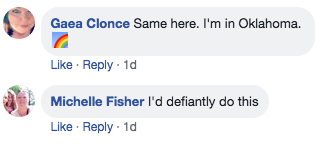 Sara is astounded by the response to her post, which she said was inspired by stories she'd heard from other LGBTQ people.
"The post came from hearing from several same-sex couples — how their parents refuse to attend their wedding, or even acknowledge their relationships."
She thinks the post's popularity comes from the good feeling people get from seeing positivity and love in the world.
"People need hope — I sure do — and we need to be that for each other in any way, shape, or form," she said. "Hope never disappoints."
Sara has a number of advocacy efforts she works for, like Free Mom Hugs, a club that offers free hugs from moms at Pride events and other gatherings. Sometimes dressed as a dinosaur:
She also works for a group called Serendipitydodah for Moms. The group helps moms organize to offer "small acts of kindness for LGBTQ people in their local area."
Sara's faith is obviously very important to her, and she understands why Christian parents struggle to come around to understanding their gay children. She's committed to supporting that process.
"I'm simply doing what I wish someone would have done when I was trying to figure things out, being a woman of faith and a mother with a gay son," she said. 
If it helps more parents understand their kids and support them with love, it's worth doing.