Mom Strikes up a Conversation in a Pizza Shop and Is Blown Away When She Sees Who It's With
One woman's unexpected pizza parlor encounter is going viral on Twitter — and it's all thanks to Dolly Parton.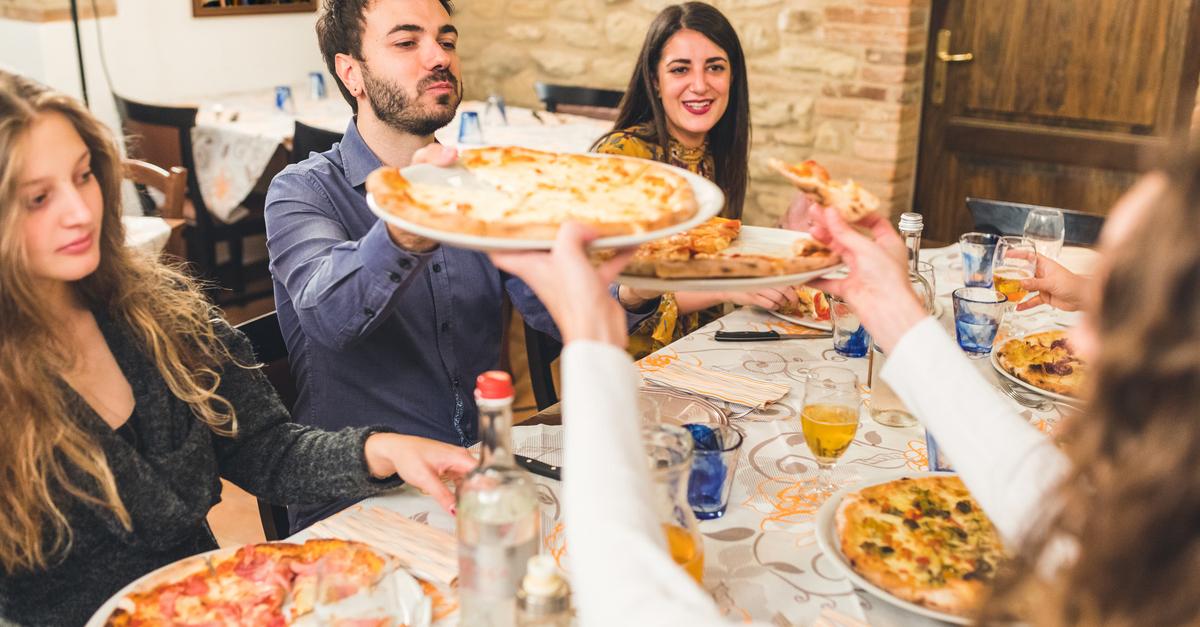 I'm not really obsessed with the idea of having kids myself, but I can concede that, generally speaking, moms are pretty much the absolute best. First off, it's absolutely selfless to carry a child in your belly for nine months, and don't even get me started on trying to shape it into a decent human being while bankrolling its life.
Article continues below advertisement
THEN, it's even more humbling when you realize that the most expensive stage of parenting only hits once kids grow up into adults, as a new study shows parents are spending more on their 18 to 35-year-olds than they did on their infant-to-toddler, or even elementary-through-high-school years. Which takes me back to point No.1 about not having my own kids, but I digress.
Essentially, moms are just awesome. They're always around to give you honest advice, a shoulder to cry on, and once you're out of the house, they generally just exist to be cute.
And if you don't believe me because you don't have an adorable mom who calls you once a month to ask what you want in your (adult) care package (that she pays for), take the story of @ChachiChatters as a prime example.
Article continues below advertisement
She shared an adorable story on Twitter that quickly made waves around the internet and has now gone absolutely viral. It's about a memorable evening she had after her best friend's daughter invited her out to a concert about seven or eight years ago.
She starts off with some context about how she came to have "one of the loveliest nights and fondest memories" of her life.
Article continues below advertisement
"I drove down to New Haven and after lunch, she told me she's going to a concert with her friends and they had bought a ticket for me too," she tweeted. Some very attentive readers pointed out here that the lunch she's referring to here is likely the same meal as the "dinner" she wanted to take her friend's daughter out to before. You know, just in case you were having trouble following.
The embarrassed mom "tried to weasel [her] way out" of the concert with adorable mom excuses that every reader will recognize: "'I'm too old,' 'I don't want to have a cardiac arrest halfway through,' 'I will drag you all down with me.'"
Doesn't this already make you want to hug Chachi?
Article continues below advertisement
In the end, her attempts failed.
"They wouldn't budge," she wrote. "I went with them. We drove an hour north. Parked the car and followed the buzzing crowd in."
Although readers at this point have no idea who Chachi and her college-aged friends went to see, the tweeter continues: "Needless to say, I had the time of my life. We sang along to the most memorable songs. (It's always amazing when you know the lyrics better than the young ones)."
After hours of presumably singing and dancing, Chachi took the girls back to their dorms.
"It was may be 2 a.m. and although physically exhausted, I was still high on all the adrenaline," she remembers. "I was also starving."
And this is when the story, dear reader, gets really, really good.
Article continues below advertisement
She hits up a late-night pizza spot in New Haven, which, if you've ever been to Connecticut, is where you definitely want to be getting a slice. Places up there even have their own traditional New England pies with seafood on them, which, isn't at all as gross as it sounds.
As Chachi tells it, she went to place her order. Then, "someone came and sat next to me."
Article continues below advertisement
I hear a record scratch when I read this next part: "I looked at her. I looked at her again. I looked at her for a minute before I remembered I wasn't breathing."
"Lovebud, you okay?' she said with her mischievous smile," Chachi recalls.
Article continues below advertisement
It has to be someone exciting if Chachi decided to share her food with them. I mean, there's not many people who could get a bite of my personal stash of 2 a.m. garlic knots, so I understand her hesitation.
In the end, she concedes to sharing, and it seems like her generosity was reciprocated — though hastily turned down: "She offered me a slice of her stromboli. I respectfully declined; it had ham. 'Does that mean I don't get to ask for another one of your garlic knots?'"
Another garlic knot?! Jeez. Get your own!
"A polite conversation ensued. I'm pretending to be all cool. Inside, I'm purring like a happy cat," Chachi writes of her late-night encounter. "The waiter comes over and whispered, 'your table's ready ma'am.' I was ready to say goodbye and eat my pizza and be happy for the rest of my life."
Chachi should be a mystery novelist — all this suspense, my god!
Article continues below advertisement
"But instead, she turned to me and asked me if I'd like to join her. I almost did a royal curtsy. But managed to maintain my composure. 'Of course. And thank you!'," she added to her Twitter thread.
Just picturing this tired mom curtsying at a pizza parlor late at night is enough to make me smile.
Article continues below advertisement
They talked for what feels like a long time, long enough to get down to the gossip of each other's lives. "I just decided to not bother her with any mention of her fame," writes Chachi.
Moms, man. They always know how to act!
She continues, "In the end, we paid our own bills and we're going to go our separate ways. She asked someone in her entourage for a pen. She took my ticket to her concert from my hand."
CHACHI, SHOW US THE RECEIPTS!
Article continues below advertisement
And just like that it's revealed that Chachi has been casually chatting and eating pizza with none other than the singer-songwriter, actress, producer, philanthropist, country music extraordinaire, Dolly Parton.
Article continues below advertisement
"'Now you drive safe baby. And good night'," were Dolly's parting words. We're crying!
In the aftermath, almost a decade later, Chachi writes she "some days ... wake[s] up and still think[s] it was just a dream." Then she just has to take a look at the signed ticket. "I still get goosebumps," she writes. "And I smile and I hum a little and I do a little twirl."
How cute is that?! Not even as cute as the tweet she closes the thread with:
Article continues below advertisement
People on Twitter went insane when they read Chachi's incredible story. One person wrote, "I almost broke the screen of my tablet refreshing this to see how it would play out" and we can definitely relate!
"Chachi, sometimes it's hard to be a diamond in a rhinestone world, but stories like these always make me smile. Oh, and Dolly is the best. Everyone I know who's met her say that she's genuinely lovely and kind," wrote another.
But for other readers, Chachi's tale served as a reminder about their own encounters with Dolly. One person shared:
My sisters and I flew coach (alone) from Dallas to LAX when I was 8 and my oldest sister 14. We heard Dolly was in first class and "bum rushed her" unbeknownst to the flight attendants. When they came to escort us back to our seats, Dolly said no way... they are staying here!
She had a ton of room in front of her.. we sat on the floor and she ordered us ice cream sundaes I remember her calling me cute and kissed me on my forehead. I LOVE DOLLY!!
Article continues below advertisement
"Loooved your thread!! My niece met her when she was working at a radio station and said she was the sweetest, most down-to-earth celebrity to come to the station," added someone else.
One woman even shared a story about the time she and Dolly had a missed connection:
About 14 years ago, I was a bridesmaid. The bride and I stopped to get our nails done. I rushed to the ladies room past a blond stranger, as the bride tried to get my attention. When I came out, she said "Guess who I just met?" Pointed at a photo of Dolly on the wall. Still sad.
But the best response to this entertaining thread has to be @greenmtgirl's, who shared a productive tip to any other New Haven lurkers who want their chance at a celebrity sighting and viral fame.
Article continues below advertisement
We very much appreciate this tip.