What Do Offset and Meghan Markle's Dad Have in Common? Horrible Instincts
Meghan Markle's father and Rapper offset both thought they'd use public venues as a "grand gesture" to try and repair a relationship with a loved one.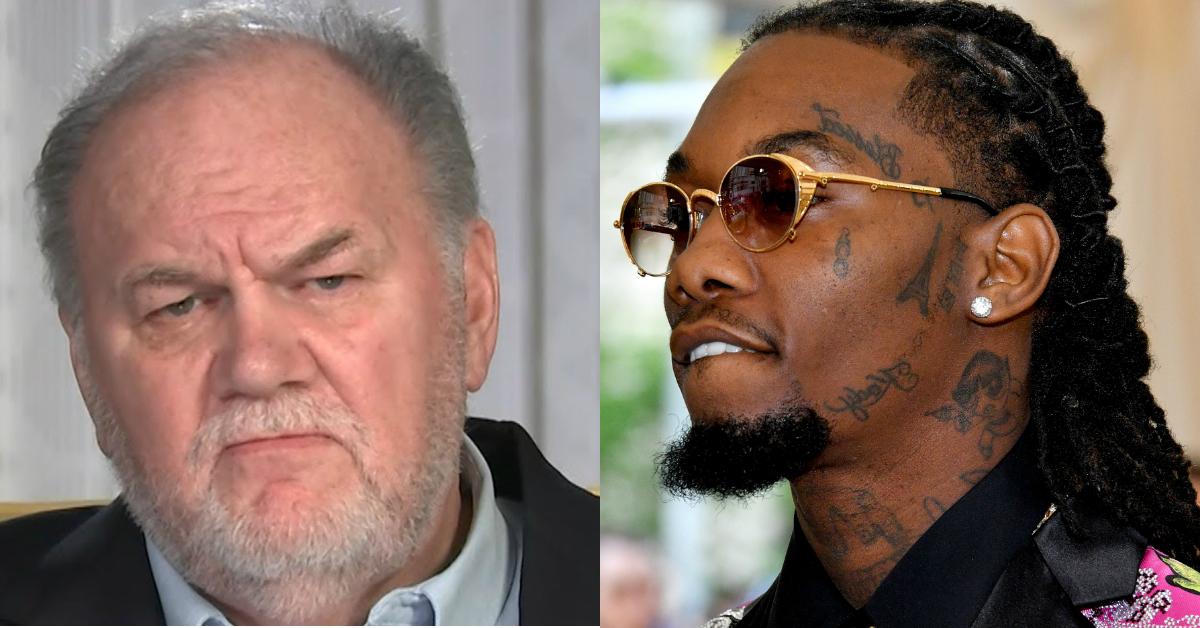 Meghan Markle's father, Thomas, popped up on an episode of Good Morning Britain to publicly ask his now royal daughter to respond to his texts and calls because he misses his estranged child. It's the kind of thing you'd seen in a low-budget Oscar-season movie hunting for a nomination.
And while everyone loves a great parental redemption story, there was something achingly sad about seeing Papa Marks up on live television, basically begging his daughter to stop "ghosting" him. A sadness that many responded to on social media. An equal number of people, however, thought Thomas' attempt at repairing his relationship with his daughter was better left off-camera, and that Piers Morgan and the GMB crew were being exploitative of Meghan's dad's heartache.
Article continues below advertisement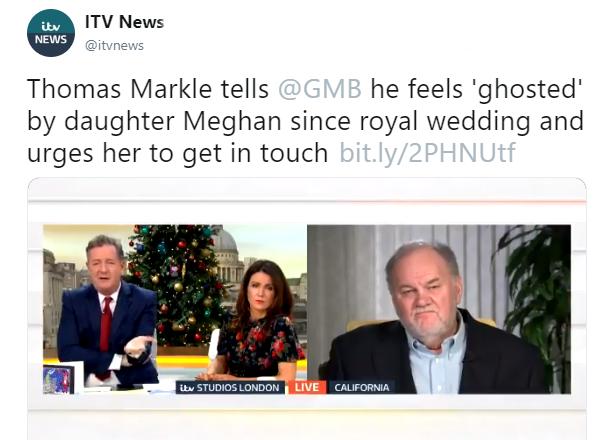 Morgan took to Twitter to confirm that Markle's dad didn't get paid for the interview, no doubt to contribute to the narrative of the heartfelt nature of his appearance on the show. The fact that he's not getting any cash really shows that he's a dad who misses his daughter. All he wants to have a relationship with her, how sweet.
Article continues below advertisement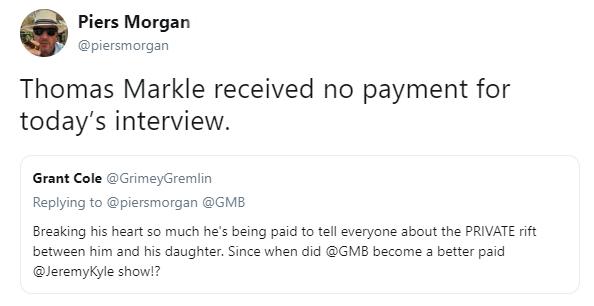 Many thought Piers crossed the line, as a journalist as well as someone who isn't a part of Meghan's life, by personally involving himself in their relationship. As if the interview wasn't bad enough, he suggested to Meghan that she should contact Thomas because it was "the right thing" to do.
Article continues below advertisement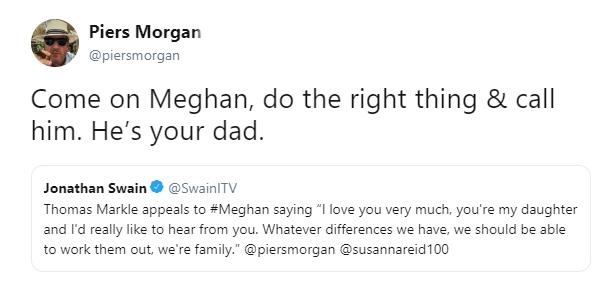 And there were throngs of people who were quick to pick up Piers' narrative, taking Thomas's side. Obviously when parents have strained relationships with their children, it's going to be sad. In a perfect world, everyone would get along with their folks and people would be excellent husbands, wives, mothers, fathers, friends, children, siblings etc.
Article continues below advertisement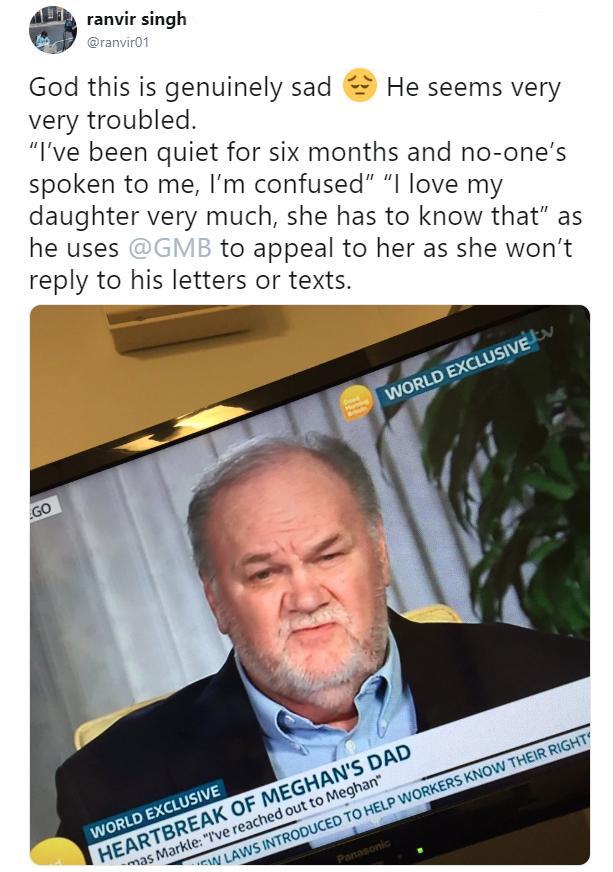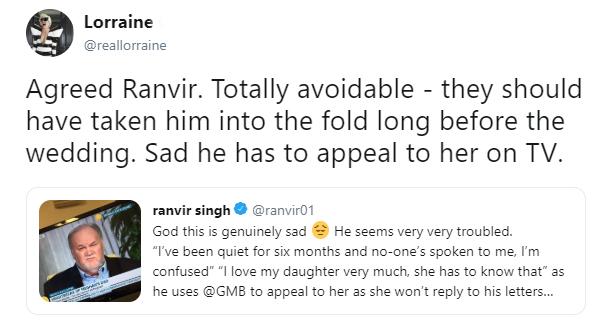 Article continues below advertisement
Even those who acknowledged a certain degree of "weirdness" to his appearing on Good Morning Britain to reach his daughter, people still felt for Thomas.

Article continues below advertisement
But there were a large number of viewers who couldn't help but cringe and slap their foreheads. I mean, airing out your family's dirty laundry on live television is probably not the best way to go about fixing your familial issues.

Article continues below advertisement

Many also pointed out that Good Morning Britain was using an obviously grieving man for a ratings bump. Of course people are going to be drawn to drama, especially when it involves the newest addition to the royal family.
Article continues below advertisement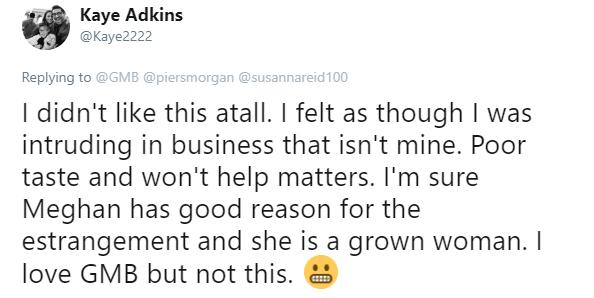 While many thought that GMB should "be ashamed of themselves" for the way the fact that they aired the interview live and tried directly meddling in the personal life of Markle, it's difficult to think that they will.
Twitter user @woahrafferty also pointed out that if the program really cared about Markle's relationship with her dad, they wouldn't have aired the interview.
Article continues below advertisement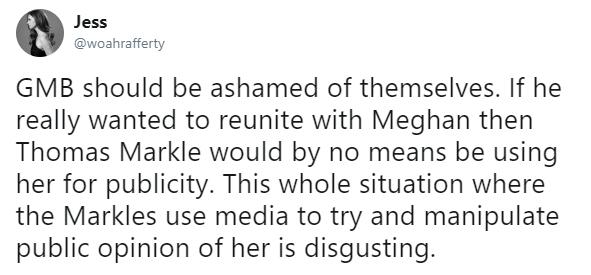 If you can believe it, Thomas Markle's public display of despair and an attempt at an apology to his daughter wasn't the only ill-conceived large-scale, "I'm sorry" someone attempted to convey to a loved one this past week.
Cardi B's ex, Migos mumble-rapper Offset, crashed her performance and interrupted her set to go on stage with a bunch of flowers. All in a grand gesture to prove his love and try to win her back.
Article continues below advertisement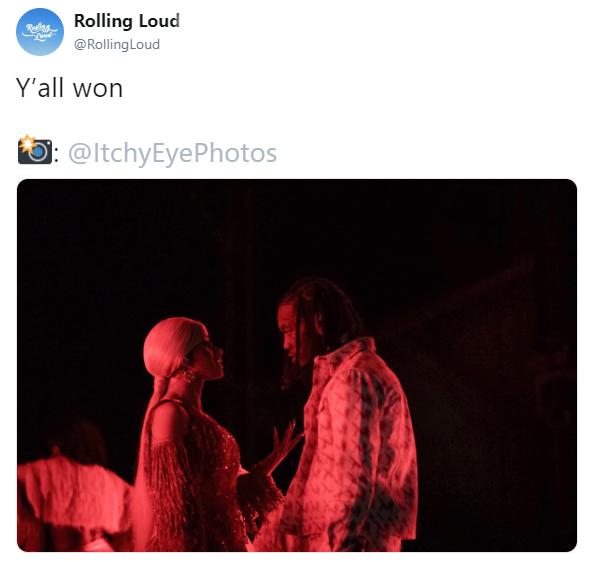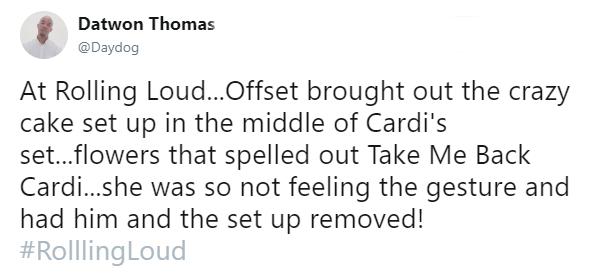 Article continues below advertisement
Cardi wasn't feeling it, probably because he was caught cheating on her multiple times. But people pointed out another reason why Offset's move was a bad idea: because he tried making the moment all about him, and not the history-making show Cardi was headlining.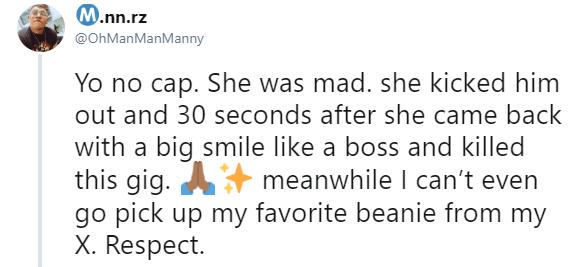 Article continues below advertisement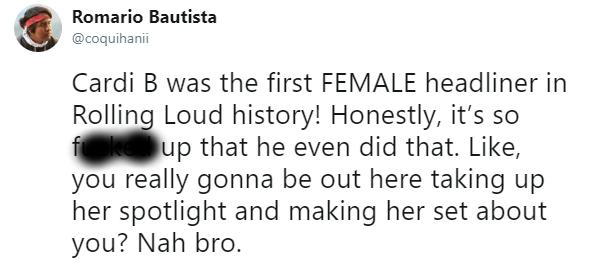 The Bronx-born rapper was the first female performer in history to be the Rolling Loud festival's main attraction. Many were offended the event organizers would exploit her much-publicized relationship drama with Offset, not only by allowing him on stage, but also assisting him with his "Take me Back" flower arrangement.
Article continues below advertisement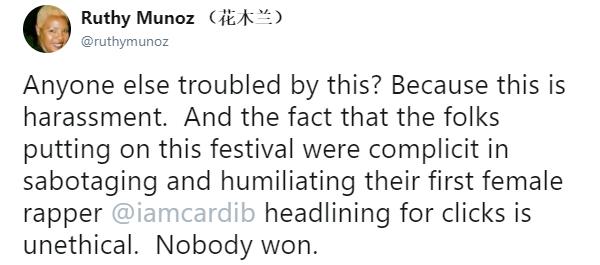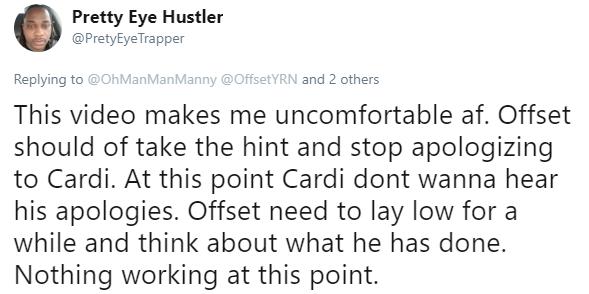 Article continues below advertisement
Although some people were touched by Offset's gesture, many sided with Cardi, who was clearly angry about the interruption of her performance.
Why was it OK for this woman's ex, who is obsessed with her, to just barge in and commandeer her workplace in an attempt to reinsert himself into her life?

Article continues below advertisement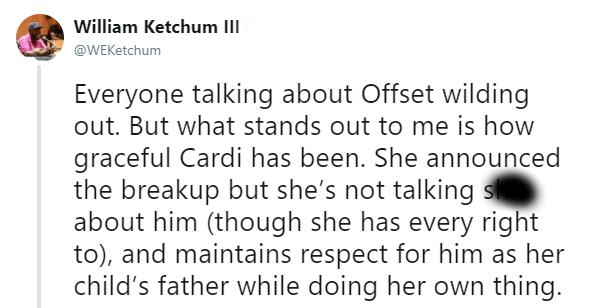 The narrative is almost entirely about Offset's sweeping "romantic" gesture, but there were a lot of fans who thought Cardi's composure in the face of such an egregious situation is admirable, which should be the main takeaway from this entire debacle.
Article continues below advertisement
Offset played off the blowback from his brash move with a tweet that said he was just "trying" and that people were going overboard with their hatred. But because this is the internet and everyone's got an opinion, many of them valid, there were plenty of responses to Offset's non-apology.

Article continues below advertisement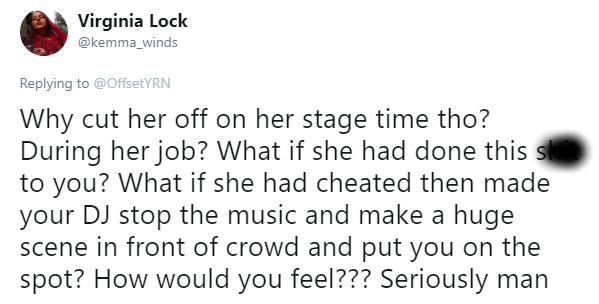 User @kemma_winds summed up what was wrong with Offset's logic: how would he feel, as an artist, if Cardi B had cheated on him and did the exact same thing when he was headlining a show. Would he be happy about it?
Article continues below advertisement
And while I hate using the word "problematic," it's not hard to see that both Meghan Markle's dad and Cardi B's ex lover are receiving a pass from some people. And there's a lot who are saying it's because there's a clear gender double standard.
We've all been hit over the heads with stories about a dad who wants another chance, or a rebuked lover who "messed up" and will do anything to be taken back. I don't think they'd be getting as much support from people all over the internet if they were women, however.