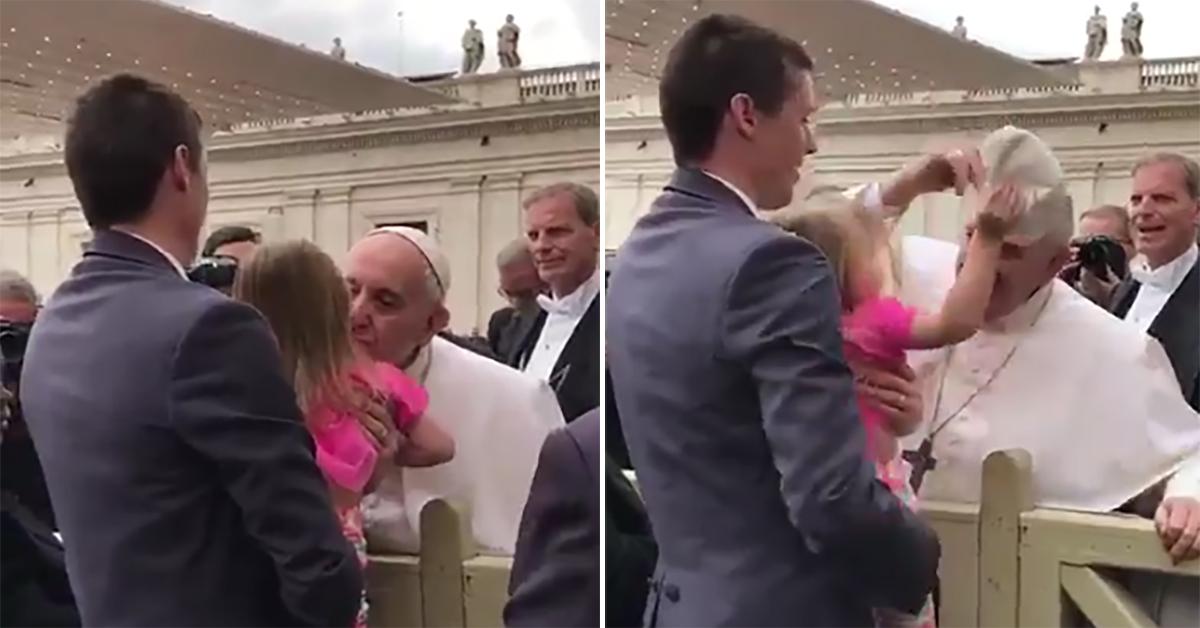 Adorable 3-Year-Old Girl Snatches Pope's Hat During Vatican Visit
By Mark Pygas
Pope Francis is easily one of the most popular leaders the Catholic church has had in generations. He urges Christians to seek forgiveness from the queer community for the way they've been treated, battles global income inequality, and wants world leaders to do their part to protect the environment.
But he's also popular because of just how good he is with children. Remember when he met a baby dressed as him during his tour of the United States in 2015?
And now, he's making headlines adorable again after a girl stole his cap during a meeting at the Vatican.
The unnamed girl flew to Italy from the United States with her parents to spend some time with her godfather, Mountain Butorac.
Butorac, a Catholic blogger and pilgrimage organizer, took the group to the Vatican for the Pope's general audience. He was recording when his goddaughter decided to snatch the cape.
"I took them over there to hopefully get a good view of the pope, and she ended up taking the hat. He came and gave her a kiss on the cheek, and she just grabbed it."
In a separate interview with CNN, Butorac revealed that right before his godfather went up to the religious leader, she was a little nervous. The Pope responded to the little girl's gesture by bursting into laughter. "It's her first full day in Rome, who knows what she will get up to tomorrow," the proud godfather added.
Unsurprisingly, people found the exchange pretty adorable. The original tweet has attracted some 16,000 retweets since it was posted yesterday and over 38,000 likes.
It looks like she had fun, though.
And it'll be a great story for her to tell her own kids.