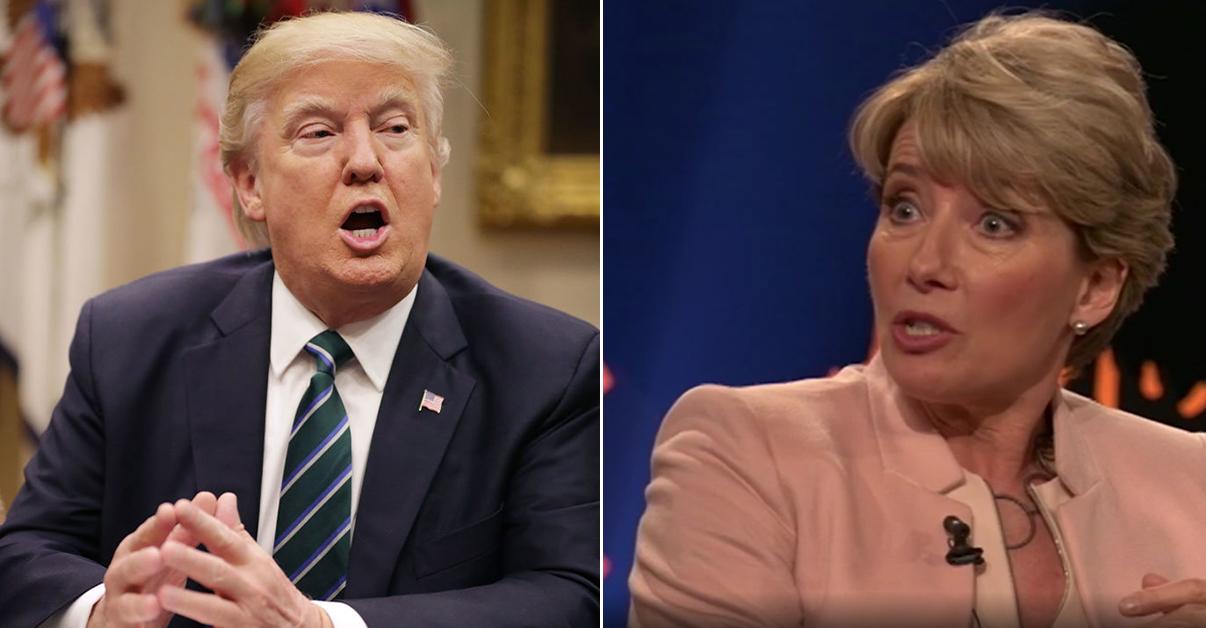 Emma Thompson Reveals The Awkward Way Donald Trump Once Asked Her On A Date
By Mark Pygas
Donald Trump has been married three times and had multiple girlfriends, so it's easy to see why people describe him as a bit of a womanizer. But details have now emerged of one of Donald Trump's failed attempts at romance and people are pretty intrigued by the details.
Emma Thompson, a British actress known for her roles in Harry Potter and Love Actually, appeared on Swedish talk show Skavlan last night and revealed a very strange encounter she had with Donald Trump while filming Primary Colors.
Thompson said that she was in Holywood filming and had just gotten her divorce papers through.
She was in her trailer when her phone rang, which had never happened before. She picked up the phone and Donald Trump was on the other end.
She remembered asking: "Really? Can I help you?"
Trump apparently replied by offering Thompson accommodation in Trump Towers. "They're really comfortable," he added.
Thompson replied by asking: "Why are you offering me somewhere to stay in my trailer? I don't—what?"
To which she says Trump replied by asking her out on a date: "Well, you know, I think we would get along very well. I think we could have dinner sometime."
Thompson explained that she had "no idea" what to do with herself, and said that she'd get back to him. They've never talked since.
Thompson is now married to actor and producer Greg Wise, and the duo has two children together. But, she jokingly stated that she regrets not taking Trump up on his offer. "Think of the stories," she teased.
As we all know, Trump went on to marry his current wife Melania in 2005 after dating for seven years. The couple welcomed son Barron in 2006. The President also has four other children from his previous marriages.