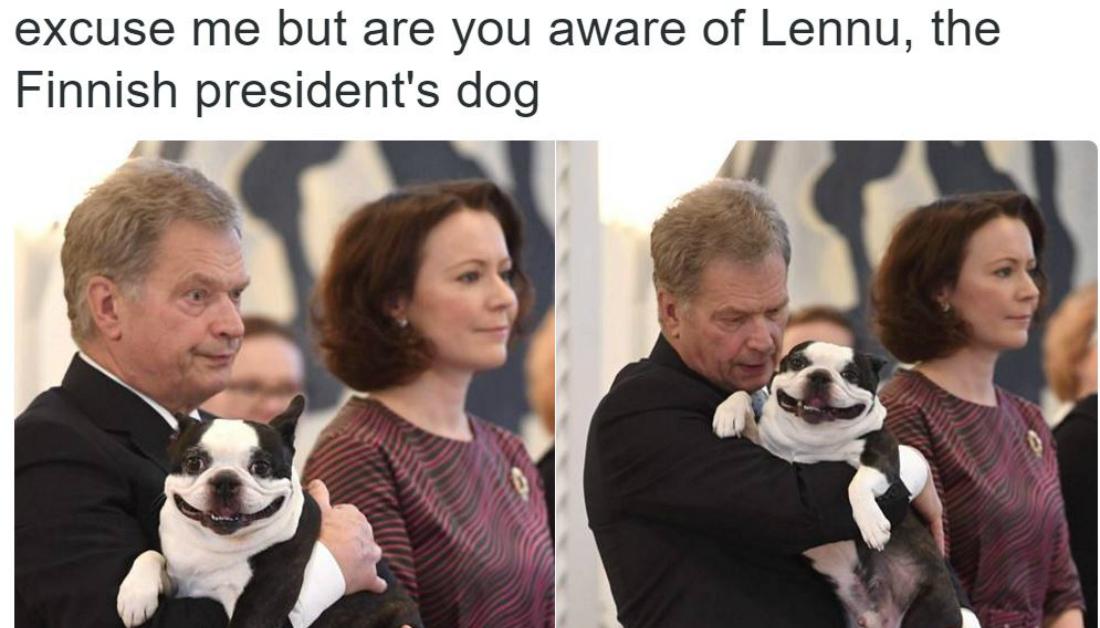 The President of Finland Brings His Dog Pretty Much Everywhere And Twitter Is In Love
By Mustafa Gatollari
I'm constantly surprised at the amazing personalities of animals.
That could be the arrogant, I'm-human-so-I'm-better-than-all-other-species part of me talking, but I'm always super excited to rediscover that yes, animals are as unique as people, complete with their own behavioral patterns and nuances.
In fact I trust most animals more than people because you know exactly what you're getting with an animal. A Jack Russell will usually be tenacious and full of energy. A rattlesnake will bite you and leave you to die with poison in your veins. It's hard to be mad at an animal for doing exactly what it was born to do. Even when my cat jumps into my lap for the 400th time, five seconds after I have put him on the floor for the 399th time, I am annoyed but I also understand he's just doing him, and he has never tried to be anything but the cuddle freak he is. If he wasn't constantly trying to sit on my keyboard, I would honestly worry he was terminally ill or something.
And the President of Finland's dog, Lennu, looks like he was born to be the most fabulous lap dog of our generation.
I mean, come on, just look at that face.
Twitter has understandably become obsessed with this little pupper and all of the awkward cuteness that comes with him.
Look at him, as President Sauli Niinistö appears to be holding Lennu back from someone who's talking smack.
"Lemme at him, this fool thinks I'm all bark and no bite? I WISH he would."
The love for Lennu was real.
People pointed out other awesome pet-owner duos, too.
But mostly people were just floored by Lennu's amazing countenance.