Woman's Ex Still Sends Loving Birthday Cards To Their Dog Every Year
Women's Ex boyfriend sends cards to their shared dog every year for his birthday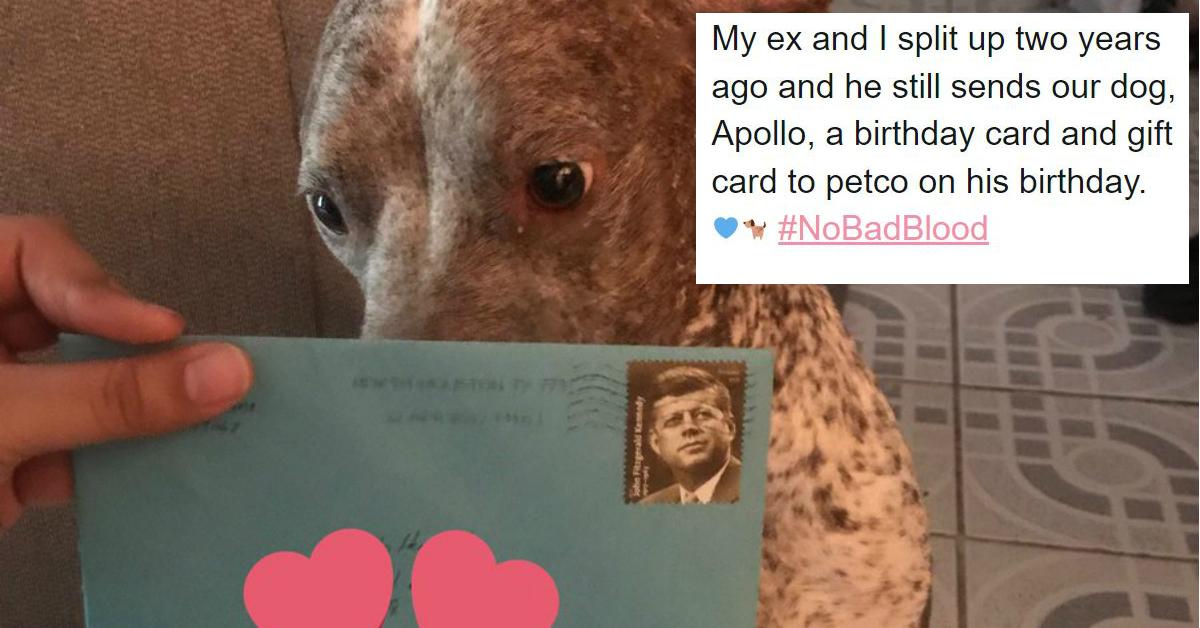 I can't imagine what it would be like to share custody of a child with an ex. I'm not saying that people shouldn't ever get divorced or split up - as Louis C.K. said, no one's ever left an amazing relationship just because. That would be horrible.
Article continues below advertisement
But I don't know if I'd be a big enough person to put my pettiness and anger to the side in order to have a mature, separate relationship with my ex for the sake of our children.
Or if I had to share pets with them, either. Because pets are basically fluffier versions of children that you don't have to start a college fund for, right?
Article continues below advertisement
Which is why I admire this girl's ex so much.
Article continues below advertisement
Homeboy still gets their dog a birthday gift card, two years after they've broken up.
Article continues below advertisement
Just look at this awesomeness.
Article continues below advertisement
He even included a touching message in the card.
Article continues below advertisement
Sorry for the late birthday gift. Work has been hectic. So I didn't get a chance to get you something on time. Anyways, HAPPY BIRTHDAY! I hope you got spoiled on your special day. I also hope you're doing well. Knowing you, I'm sure you haven't slowed down and are just as much of a handful now as you were when we first got you. Usually this is the part where I tell you some story of how you got on my nerves like when you chewed up my credit card and then hid it. (I still have that card by the way) or how you did something incredibly adorable or funny like your first ever bath. But to be honest as precious as those memories are to me it's the little thing I tend to think about the most.
Those times where me and you would just chill on the couch and watch TV. How you would be up every time I got up early in the morning to see me off to work. The play fights we would have together. Those pictures your mom would send me of that absolutely pathetic/adorable face you would make every time as you watched her leave for work. These are the things I will remember the most.
Watching you grow up from a puppy that fit in the palm of my hand to the overgrown big dog that you are now was nothing short of an adventure, and I loved every moment of it. There is honestly not one time where thinking of you has failed to put a smile on my face. I will forever be great grateful to you for that. Thank you. I wasn't able to get you something for Christmas so I added a little extra to your card. Try not to destroy your new toys too quickly :) I love you, Buddy. There isn't a day that I don't think of you. As always, continue to take care of yourself and your mom.
Continue to be there for her like you were for me.
I miss you Buddy. See you when I see you.
The touching gesture understandably got some serious love from Twitter.
Article continues below advertisement
Petco even reached out.
Article continues below advertisement
Article continues below advertisement
Apollo seems to be digging his adoration as well.