Chrissy Teigen Might Be The Internet's BFF, But She Has A Ton Of Enemies
Chrissy Teigen might be the Internet's best friend, but she has a surprising amount of feuds and enemies.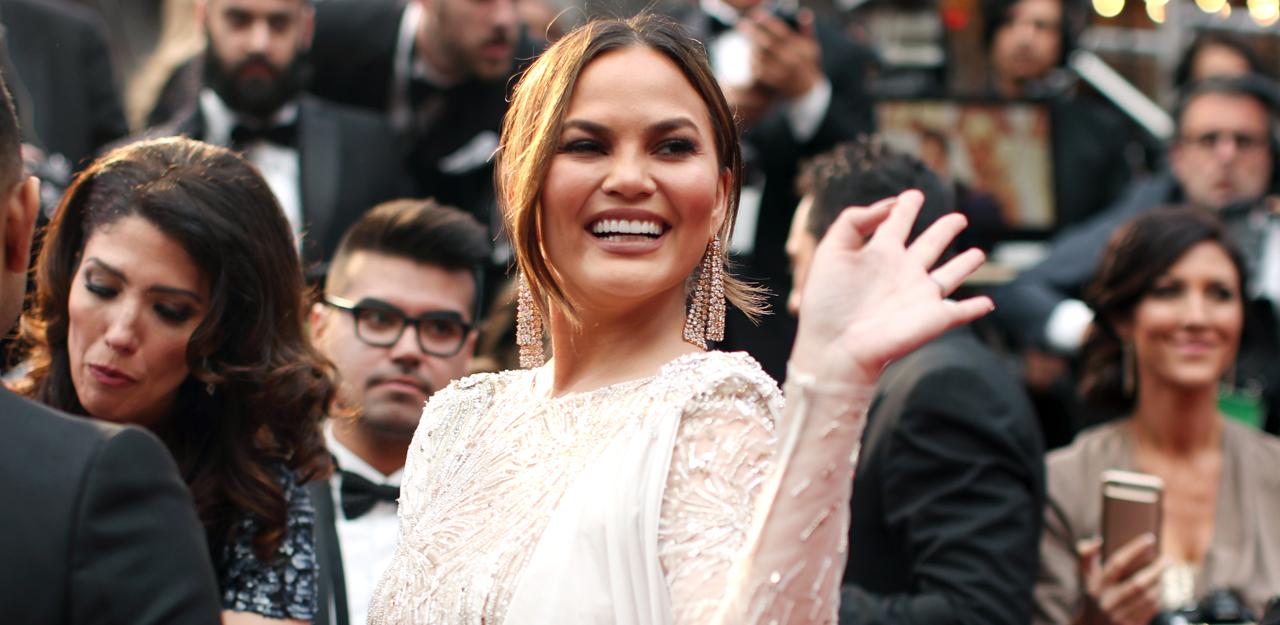 Ever since Chrissy Teigen got a Twitter account and unleashed her crass humor, TMI honesty, and unabashed love for pizza onto her millions of followers, she's held the coveted position of the Internet's "bestie." (That title used to belong to Jennifer Lawrence but...stuff happened.)
Although everyone loves Chrissy and enjoys living vicariously through her, she does have a surprising number of enemies for someone so well-liked. Hey, when you're outspoken on Twitter you're bound to tick somebody off.
Below, all the celebs that won't be scoring any free tickets to a John Legend show soon.
Article continues below advertisement
Chrissy vs. Farrah Abraham
Article continues below advertisement
Back in 2013, Chrissy went on a tirade against the Teen Mom star. "Farrah Abraham now thinks she is pregnant from her sex tape," she tweeted to her then-modest 231,000 followers. "In other news you're a whore and everyone hates you whoops not other news sorry."
Chrissy was referring to the time Farrah released a sex tape with porn star James Deen. Although pretty much everyone was criticizing the Teen Mom star at the time, Chrissy took things a tad too far. Her followers began to attack her and accused her of "slut shaming," which Chrissy then vehemently denied.
"How is calling out a willing (lied-as-leaked) sex tape participant who hired paps to photo her buying preg tests this AM slut shaming?" she tweeted later that day. "Wow. amazed to see the outrage behind calling a staged leaked sex tape chick from teen mom exactly what she is. go on with your bad selves."
Chrissy vs. Quvenzhané Wallis
Article continues below advertisement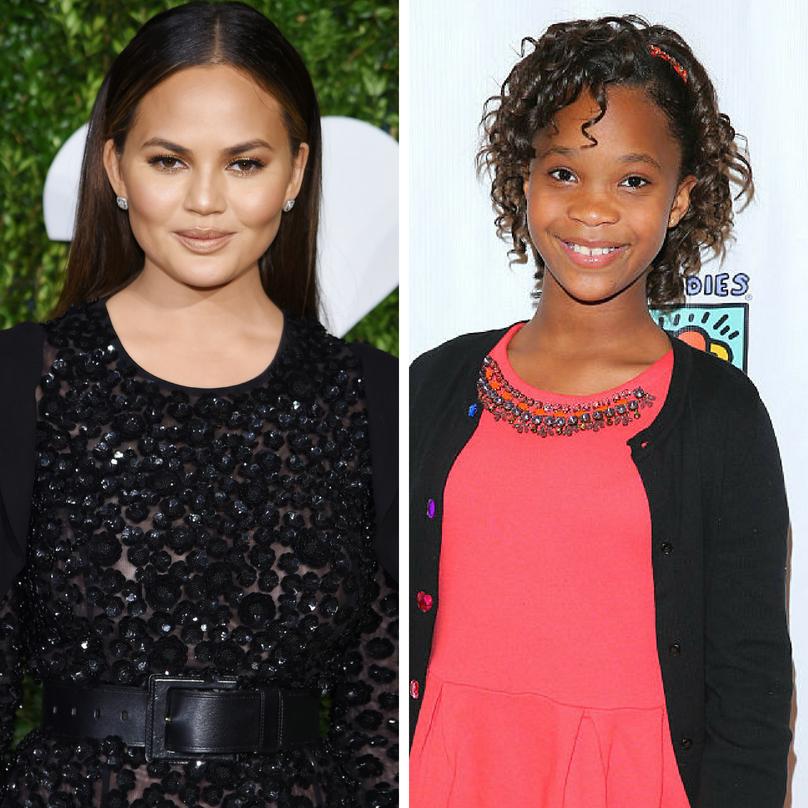 While sitting at home watching The Oscars back in 2013, Chrissy couldn't wait to share her two cents about the nominated 9-year-old child actor. "Is it ok to call a small child cocky?" she tweeted. "I am forced to like Quvenzhané Wallis because she is a child right? okay fine." She was rightfully dragged by Twitter, but she never apologized, nor did the incident receive much attention when it happened. As for Quvenzhané, today she's 14 and has never mentioned the incident. But we doubt she's a big fan of Mrs. Legend's.
Article continues below advertisement
Chrissy vs. Tyra Banks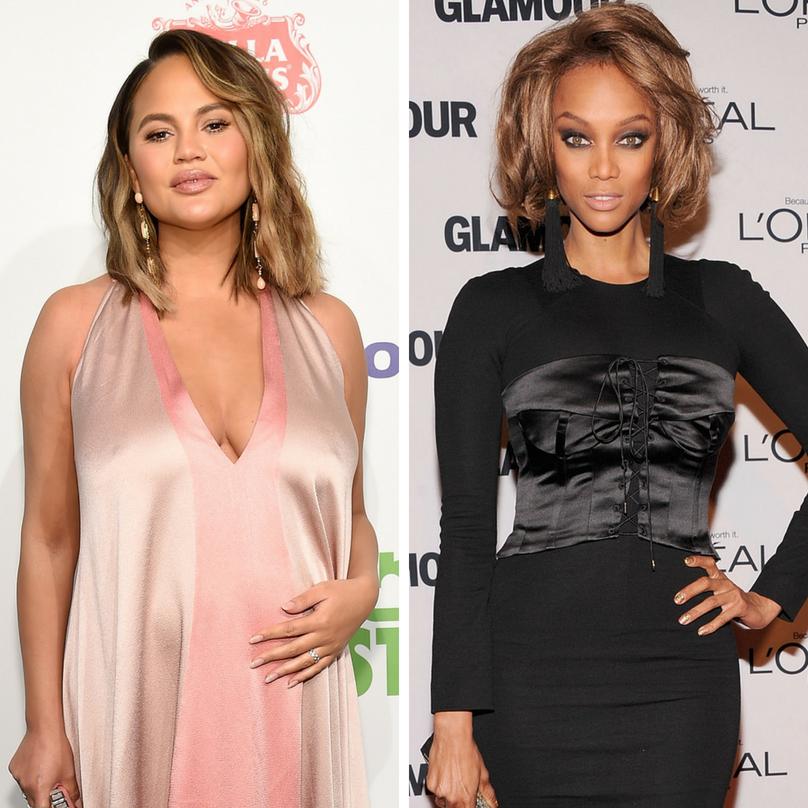 Article continues below advertisement
The announcement of The F.A.B. Life, a new daytime talk show starring Tyra Banks and Chrissy, sounded like a dream come true. But right from the start, there were rumors that the two were feuding off-camera. After only three months on the air, Tyra left the show, and the series was canceled just two months later.
"You never put two supermodels on the same show together," a source told Page Six. "Especially when one's more than 10 years younger than the other."
However, both Chrissy and Tyra denied the feud, with Tyra saying she doesn't "beef with people I hire." But maybe Tyra didn't get the memo because Chrissy reportedly banned her from attending her baby shower in 2016. Sigh, why can't we all just get along?
Chrissy vs. Katie Cassidy
Article continues below advertisement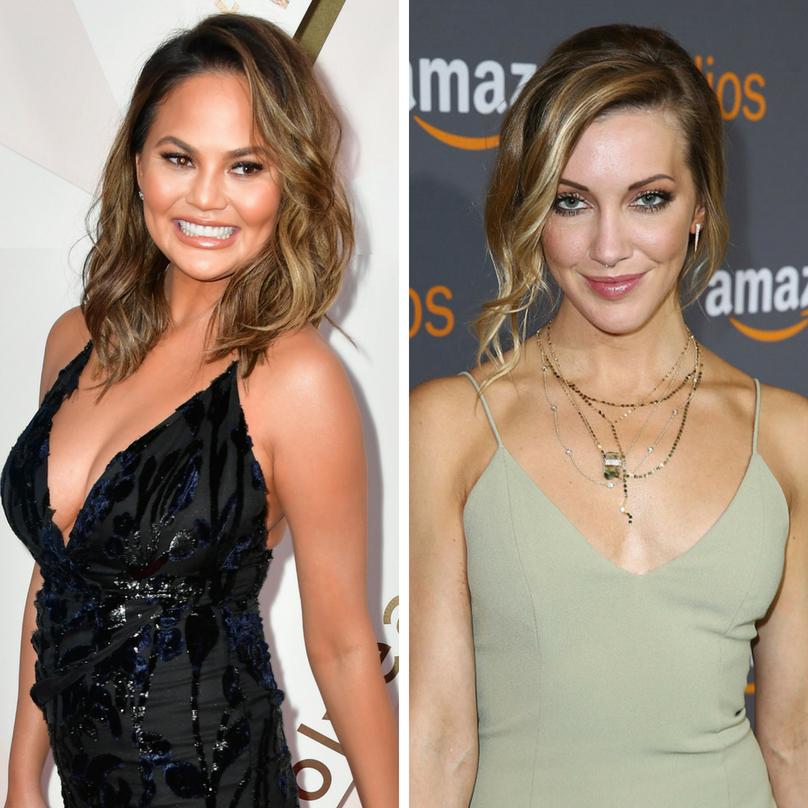 Hot off her feud with Tyra, Chrissy jumped into another one with Arrow actress Katie Cassidy. The spat was ignited during a Seattle Seahawks game when Katie tweeted that she didn't like how journalist Erin Andrews was doing her job. This ticked off Chrissy since Erin was her friend.
Chrissy tweeted at Katie, "JOB [noun] : the work a person does regularly to make money. alt: what @ErinAndrews has. 2nd alt: What you don't have. Bye!"
Undeterred, Katie responded with a clapback of her own: "Just to be clear, Your profile reads:'Gold digger and Stuff'. You're asking me if I have a job? I'll send you a book."
Although the fighting got heated, Erin (the person this whole thing was about) stayed quiet and ignored the whole drama. Smart.
Article continues below advertisement
Chrissy vs. Jay Mohr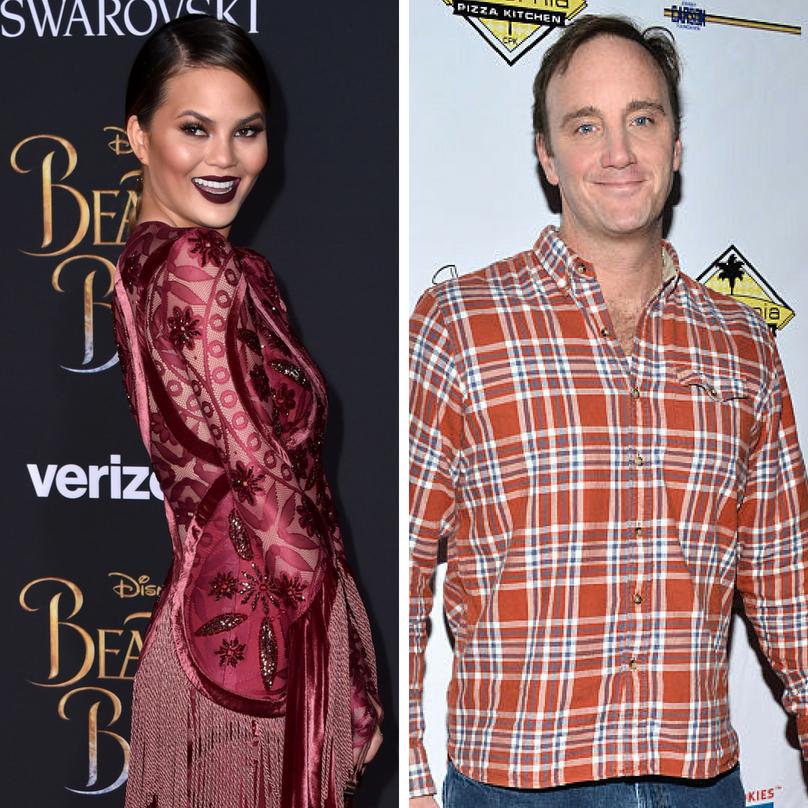 Article continues below advertisement
But forget about all those other feuds for second. Her first official public Twitter spat happened back in 2011 with comedian Jay Mohr (random, we know). It started when Chrissy voiced her opinion on the name Jay picked for his newborn son.
"Nikki Cox and Jay Mohr named their son Meredith," she tweeted. "Their son, Meredith. Meredith is their son's name. The name of their son is Meredith."
Jay was not happy about that. He shot back, "Why are you even NEAR me? Take your skank ass somewhere where guys like six's in bikinis. Matt Leinert wouldn't sleep w you."
Shots fired! But, of course, Chrissy wasn't going to back down. She replied with, "What do you count as 'making fun of your sons name'?? Saying it's feminine? It is. BIG DEAL."
Jay then made it personal by dragging John Legend into it. "Tell John to stop texting my wife. He put on a great show in Irvine," he tweeted. "No, it's fact. JL texted my wife for well over a year. We used it to get free tix in Irvine. Check his phone."
After the two continued to bicker (with even John inserting himself into the drama), Chrissy finally backed down and, for the first time, admitted she "had no comeback."
Chrissy vs. Chris Brown
Article continues below advertisement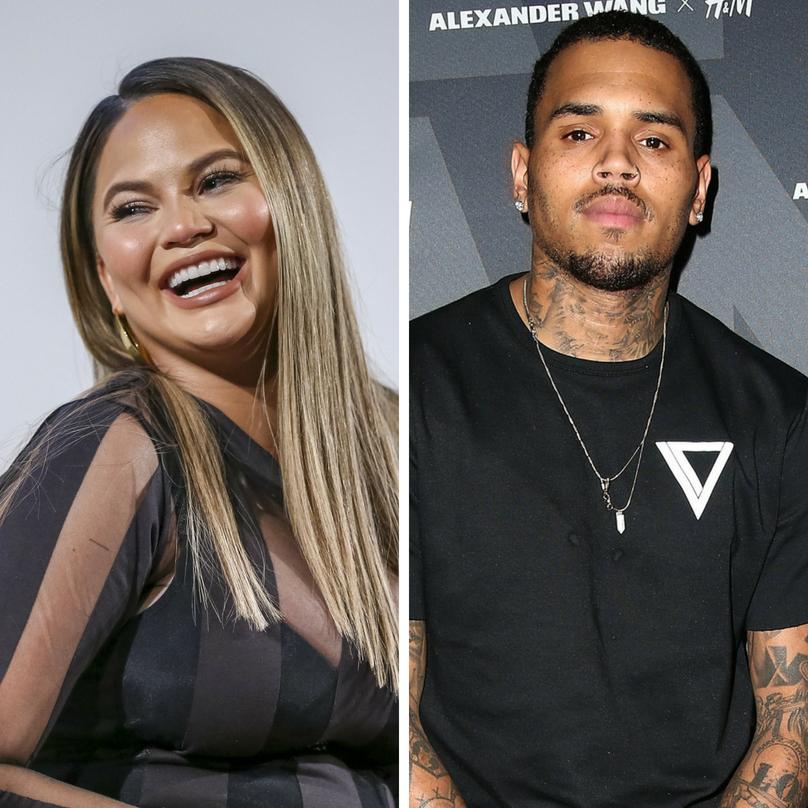 Chris Brown has feuds with just about everyone, so is it really all that surprising that Chrissy added herself to his list of enemies? Back in 2012, she made a jab at the 29-year-old while he appeared at the Billboard Music Awards. "So excited to see Chris Brown!" she tweeted. "I love loud and surprising background fits of rage I can hear from the audience!"
Chris' overzealous fans started sending death threats to Chrissy, which prompted the "Loyal" singer to calm his rabid followers down. "Team Breezy! Lets stop sending death threats!" he tweeted at the time. "I know y'all bout that life but it's the wrong message! Ur turning haters into victims!"
However, something must've transpired between the two over the years because, in 2015, Chris blocked her on Twitter. Chrissy never gave a reason, but she and her followers celebrated anyway. A match well-played.
Article continues below advertisement
Chrissy vs. Paparazzi
Article continues below advertisement
Although Chrissy saves most of her vicious takedowns for Twitter, she sometimes unleashes her sharp tongue IRL. Back in 2015, while attending a red carpet event with her husband, she got a little testy with photographers. At one point she even cursed at them before awkwardly slinking back to her Cheshire Cat grin. But hey, most celebrities hate paparazzi so this isn't that surprising.
Chrissy vs. VH1
Article continues below advertisement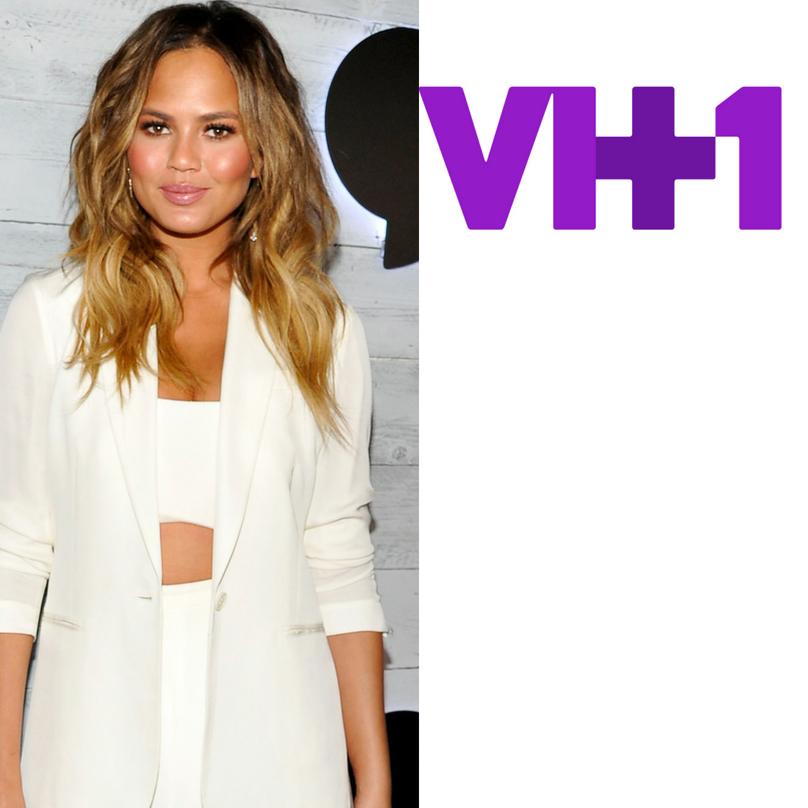 In 2016, Chrissy wasn't too happy about an op-ed penned by a VH1 writer calling her a "hypocrite." Upset, Chrissy directed her ire at the entire network.
"Defending myself is being a hypocrite?" she tweeted. "I have never once randomly sought out someone to attack." Did she forget about Quvenzhané? Anyway, she continued, "Why don't you stop policing people's emotions and learn what a hypocrite is."
In the end, she got the final laugh as the offending article was later removed from VH1's website. We guess she won't be accepting any VH1 hosting gigs in the future.