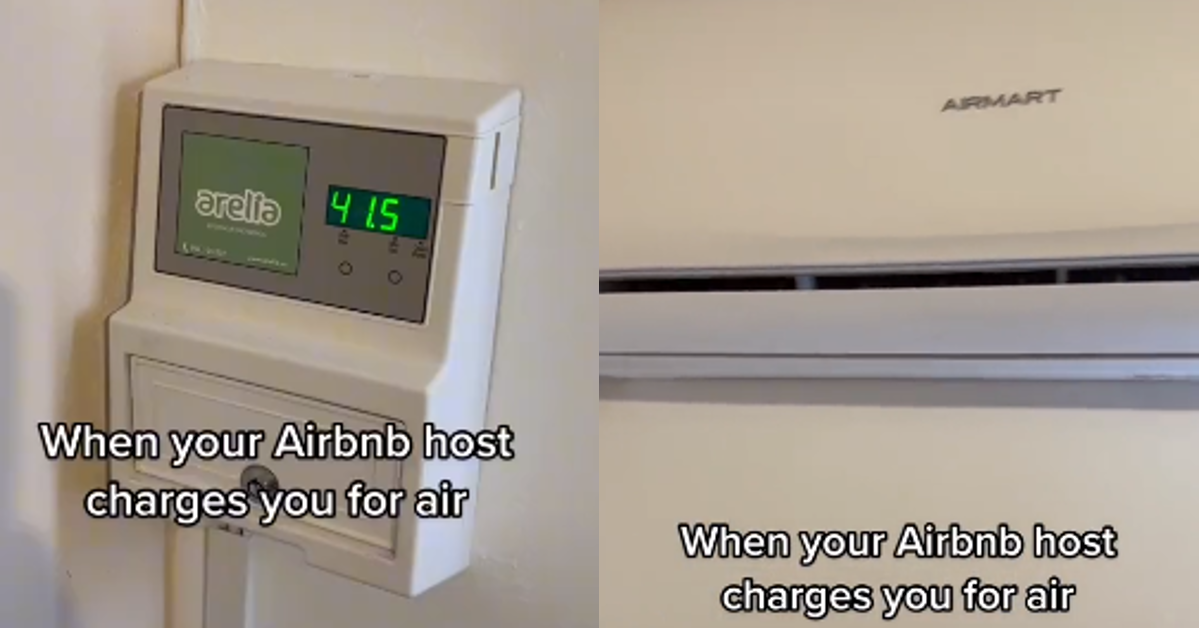 Airbnb Guest Forced to Pay Extra to Use Air Conditioning in Viral TikTok
Traveling to a foreign country can be daunting. Between not knowing the language or local exchange rates and doing your best to familiarize yourself with cultural cues, and local routes in the event that you get lost (it will happen) while finding out the best spots to go and spend your hard-earned money without getting screwed over by some lame tourist trap, a lot of pre-planning needs to take place before you step foot on a plane.
Article continues below advertisement
Expenses can rack up quite nicely while you're on a vacation and even though you're most likely going there to have a good time, that doesn't mean you want to get hit with a bunch of charges you weren't expecting on shelling out dough for in the first place.
Thankfully, with the ability to book your own travel and accommodations with a variety of airline services, rideshare applications, and companies like Airbnb, getting to go on vacation doesn't mean you need to break the bank in the process.
That doesn't mean you can't be hit with some out-of-left-field fees/expenses you probably never thought you'd encounter, like the one showcased in this viral TikTok.
Article continues below advertisement
TikToker @papiriice posted a clip of a machine that they encountered while on vacation at an Airbnb they booked. The text overlay in the clip reads: "When your Airbnb host chargers you for air."
No, not air like the ability to breathe oxygen, but having your room climate controlled.
Article continues below advertisement

The now-viral clip appears to show a mechanism that is hooked up to an Air conditioning unit that requires guests to pay for the ability to keep their room heated or cooled to the temperature of their preference.
Article continues below advertisement

The mechanism looks like something out of a laundromat: there's a lockbox with a digital display that must be fed with cash in order for the operator to use the wall-mounted AC unit.
Article continues below advertisement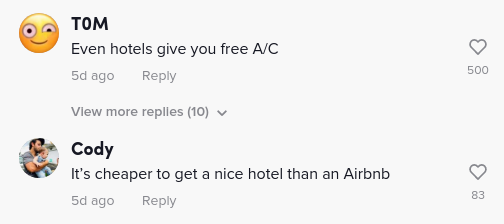 While the TikToker in question didn't specify where they were staying, MSN reported that the company the air conditioning regulatory device appears to come from Madrid, suggesting that OP was visiting Spain, which makes sense because their other videos indicate that they were traveling in Europe.
Article continues below advertisement

The company's website says its device is used "for saving and controlling the cost of electricity in hotels, hostels, rural houses, and all types of accommodation. They work by time, by coins or tokens."
Article continues below advertisement

Throngs of commenters were shocked to see the device. Many thought that it was ridiculously miserly of the host to be that pedantic about the energy costs in their Airbnb and that they shouldn't even be renting out their domicile if they were literally charging for cooler/hotter air. But there were some who thought that implementing the device was a good idea on the Airbnb host's part.
Article continues below advertisement

However, if this device was indeed installed in Spain, there might be a deeper reason as to why it was installed and that's because of the rising "energy poverty" in the country. Costs of energy to power homes in Spain have been reaching dangerously high rates in recent years, and there doesn't seem to be an end in sight.
Article continues below advertisement

In fact, Energy Monitor went so far as to call the country a "cautionary tale." So while it might seem cheap for a host to charge travelers for air, it could mean the difference between making a profit on a rental or it costing them money.
What do you think? Should that detail be listed in the Airbnb posting? Or is it at no fault of the homeowner, as many Europeans think that Americans' love of air conditioning is "stupid?"
There are probably lots of thermostat-protective dads who approve of this device.