"That's How the Last of Us Began" — Guy Opens Bread Box Left on Top of Locker for a Year
A TikTok user grabbed a bread box resting on top of school lockers that were there for a year and decided to crack it open.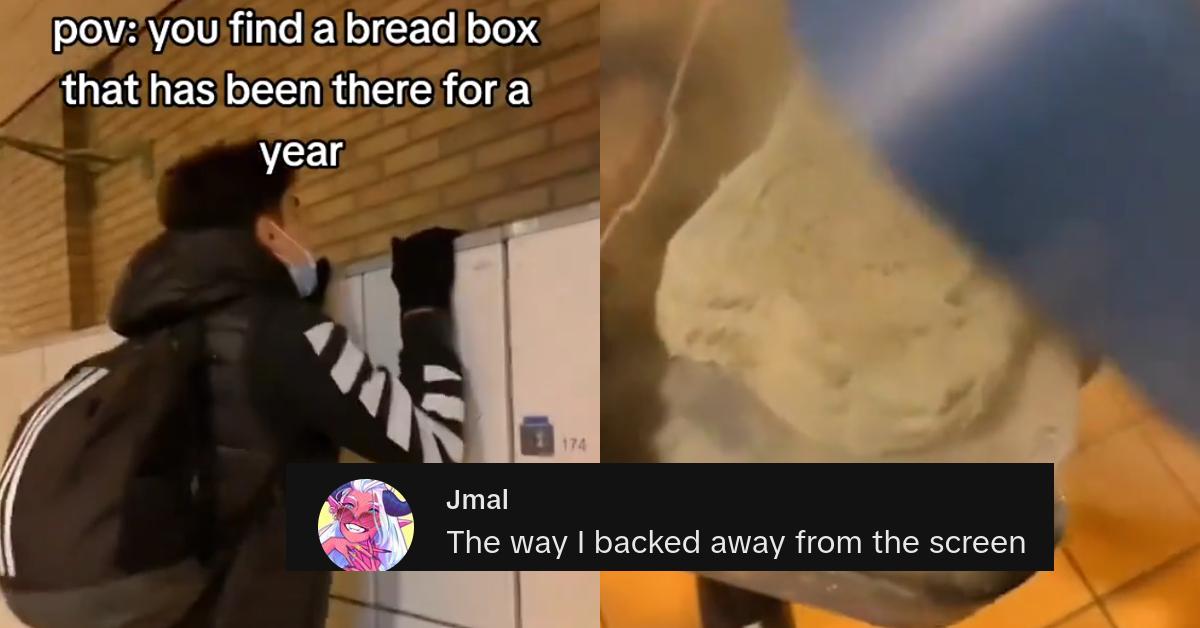 The problem with storing stuff in unconventional locations is that it can often lead to you forgetting just where in the heck you put it in the first place.
Anyone who lives with someone else who decides to randomly "go rogue" when it comes to re-organizing the homestead knows how frustrating this can be.
Article continues below advertisement
All of a sudden they decide that the TV/streaming device remotes are going to be placed in a new spot, along with data cables and batteries, and all of the little toiletries/skincare products in the medicine cabinet need to be put in an entirely new place because they heard Marie Kondo saying something about sparking joy or whatever.
Now imagine all of that frustration and inconvenience of leaving something somewhere where it'll probably never be found, but the item you're leaving there is perishable food.
Article continues below advertisement
Is it disgusting? Yes. Potentially dangerous? Absolutely. And if you've never been on the discovering end of finding some long-forgotten food tucked away in some nook and cranny of a building, consider yourself lucky.
But if you're curious, then check out this viral TikTok of someone pulling a year-old bread box from the top of a locker.
Article continues below advertisement
Now it's unclear as to whether or not the box was put there intentionally as some part of an experiment, or TikToker @crazyboyanouar just happened upon it while exploring the empty school.
The clip begins with him jumping up to grab the bread box on top of the locker which he then shows off to the camera. Once he opens it, it looks like something straight out of a Mummy movie: spores of mold dust cloud the air. Thankfully, he's wearing a mask once he cracks it open.
Article continues below advertisement
Folks who watched the video seemed to be concerned for the social media user's health. One person penned: "you just unleashed so many mold spores"

Article continues below advertisement
Another joked: "That's how the last of us began" while someone else said: "THE AMOUNT OF SPORES OMG"
Healthline delineated a litany of reasons as to why ingesting moldy bread, or inhaling the spores from the spoiled yeasty concoctions is ultimately a bad idea.
The outlet wrote that even taking a little whiff of the bread is probably a bad idea, especially if you're prone to respiratory issues: "avoid smelling moldy bread, as you may inhale spores from the fungus. If you have an allergy to mold, inhaling it could lead to breathing problems, including asthma"
Article continues below advertisement
Popular YouTuber @microbehunter also posted a clip explaining why inhaling mold spores can get very bad very quickly.
He says that the "microtoxins" in mold can make you ill, so simply cutting out the moldy part of a piece of fruit or bread and ingesting the rest is no bueno.

Article continues below advertisement
So in short, if you see mold on food, it's probably best if you just toss it in the trash. The YouTuber goes on to explicate the allergic reactions folks can have if they accidentally inhale spores could be very significant.
These reactions are our bodies' immune systems providing a response to exposure of a foreign agent that may cause harm to our system, and after inhaling spores, folks may find themselves coughing uncontrollably as their bodies try to expel the spores they inhaled.
Article continues below advertisement
Where things become difficult, however, is with folks who've got asthma, and if you can't stop coughing, inhaling those spores can go very wrong, very quickly.

Article continues below advertisement
So if you're planning on performing a bread box experiment, i.e. leaving some slices of bread in a container and then checking back on it in a year, make sure you're protecting yourself properly after opening it up because you're going to have a bad time if any of those spores get inside of your body.
Ans for heaven's sake under no circumstance should you ever try and eat it.