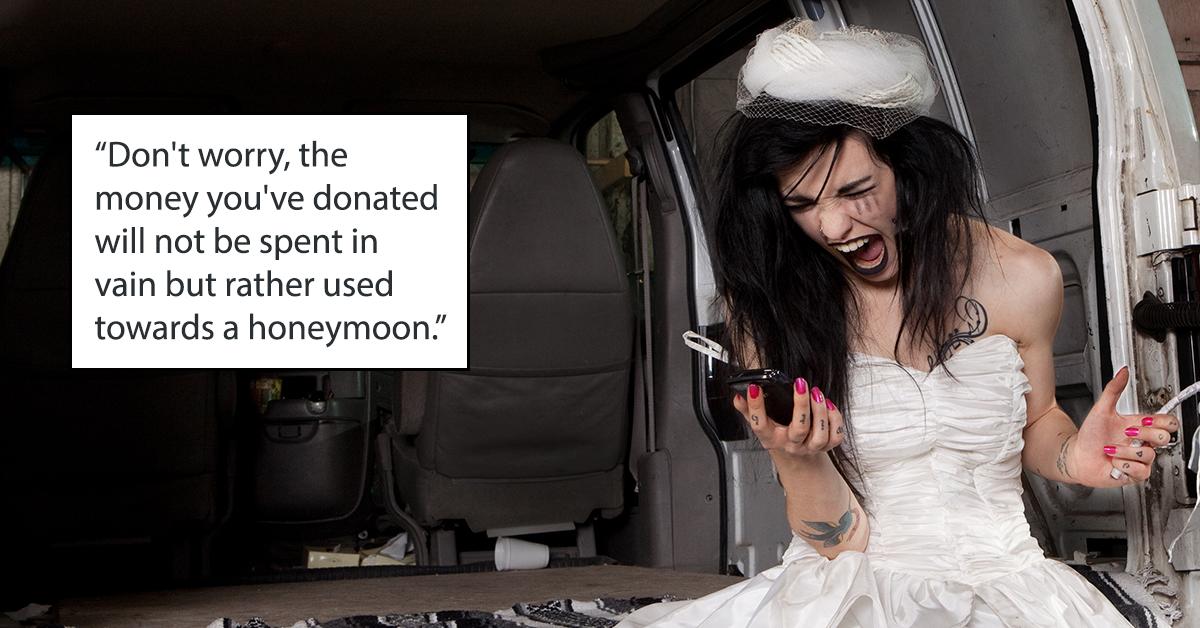 Bride Keeps $30,000 in Wedding Donations After Cancelling and Then Asks for More
Weddings can get stupidly expensive. And while more and more people are going for simpler weddings and saving the money to pay for a deposit on a house, that's not always the case.
Article continues below advertisement
Reddit user joyeuxanniversaire1 recently took to the platform to share a Facebook post from one bride who managed to raise over $30,000 from family and friends to pay for her wedding. The problem? It had to be rescheduled.
You might think that she'd give the money back, or save it for the rescheduled wedding. Instead, she said she was going to spend the money on a honeymoon and to "regain financial stability." The Reddit user shared a redacted version of the exchange that starts:
Article continues below advertisement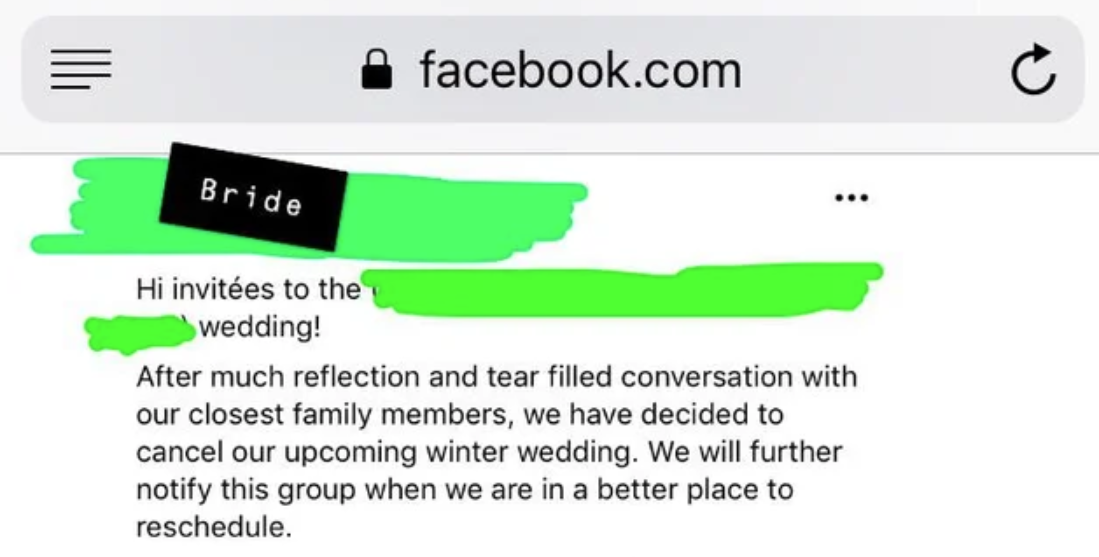 "After much reflection and tear filled conversation with our closest family members, we have decided to cancel our upcoming winter wedding. We will further notify this group when we are in a better place to reschedule."
Article continues below advertisement

The post goes on to explain how the couple plan on spending the donated money:
"We thank each and every one of you for your generous early donations to our money fund. Can you believe we have raised over $30,000??? Unbelievable!!! Don't worry, the money you've donated will not be spent in vain but rather used towards a honeymoon in the coming months."
Article continues below advertisement
"After we regain financial stability and hold calm in our hearts after a honeymoon we will announce a new wedding date and re open our money fund for further gifts. Weddings are expensive!"

Article continues below advertisement
Yes, they're asking for more money. But that's not where it ends, the post continues:
"We are blessed to have generous family members who gave us these large donations. It will help offset honeymoon costs and to scale to an even better future wedding. We really couldn't have made it this far without you."
"Please, stay tuned" In the meantime, i'll be updating our gift fund registry on Amazon if anyone would like to gift us something to take on a honeymoon."
Article continues below advertisement

The post concludes: "As mentioned, we will keep you updated when we are re opening our money fund and have a new wedding date in the works. Don't be too sad, the new wedding is going to be a HIT."
Article continues below advertisement
Unsurprisingly, people who had donated to the fund weren't too happy about the whole thing. The Reddit user went on to share comments made by family members and friends on the post.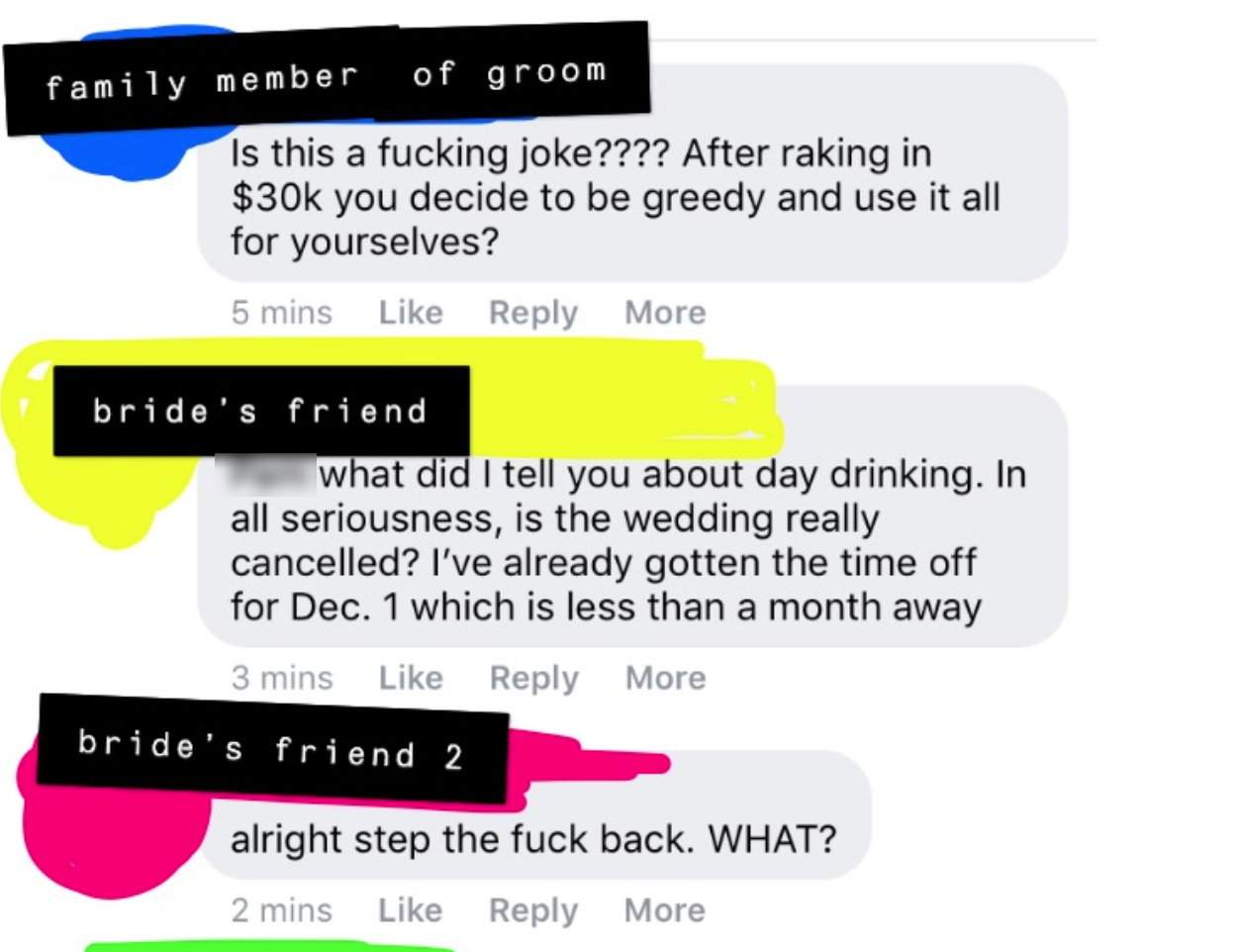 Article continues below advertisement
A user identified as a family member of the groom wrote: Is this a joke? After raking in $30k yo decided to be greedy and use it all for yourselves?"
The bride went on to defend her actions in a reply.

"All, please calm down," she wrote. You're making me feel very attacked and hanged up on. You chose to DONATE to ME. If I want to use the money, who cares how? I told you the wedding is getting rescheduled not cancelled."