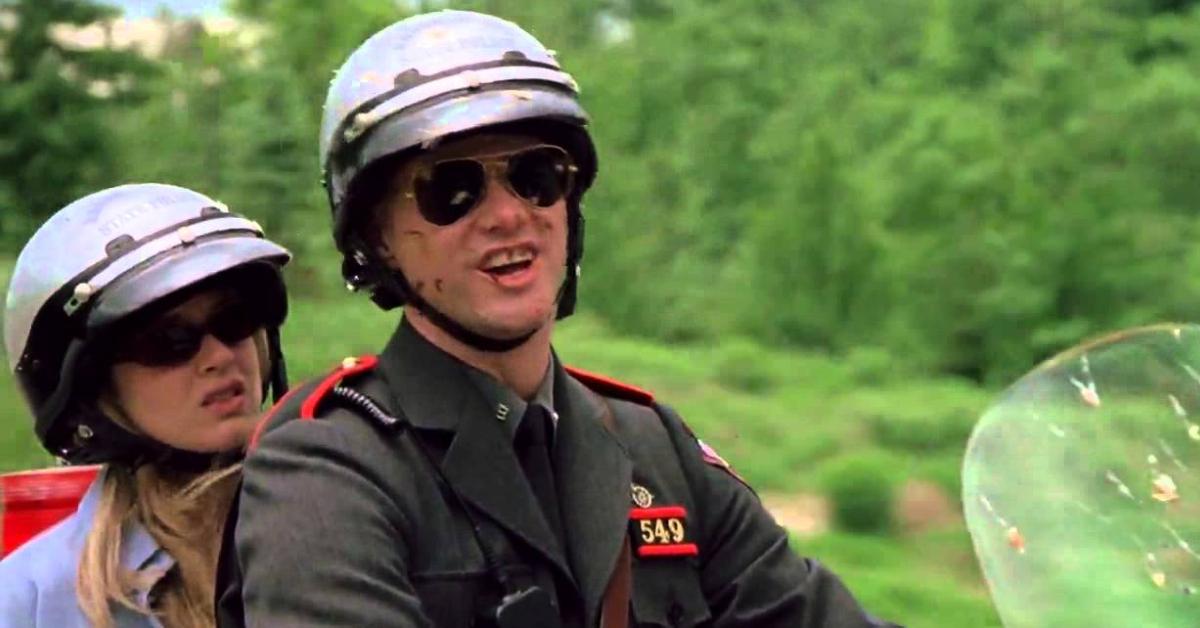 Woman's Story of Bug Living in Eye After Flying Into Her While Driving Has TikTok Grossed Out
The human eye is a true wonder. Take the cornea, the single most astounding part of our species' anatomy. Springer writes, "The human cornea is probably endowed with the greatest density of nerve fibers of any tissue in the body. For this reason, it is assumed to be the most sensitive structure a characteristic which is, of course, essential to elicit the palpebral reflex which shuts the eyelids and therefore protects the eye."
Article continues below advertisement
That last bit about shutting eyelids and protecting the eye is so important. It's why it's so difficult for some folks to get over the fear it takes to use eyedrops, and why so many gamers were left traumatized after playing through this particular sequence in Dead Space 2.
We can't help but involuntarily flinch whenever something gets near our eyes, and it's because they're so darn sensitive.
This is why our bodies have advanced systems to flush any foreign objects and items outside of our eyes. Our tears are more for manipulating cops into not giving us parking tickets and for fake apology videos on YouTube, they help to moisturize and protect these wonderful little bulbs chilling in our skulls.
However, that doesn't mean that sometimes things can't get lodged in our eyes that take a little bit of extra effort to get out like this TikToker discovered the hard way.
Article continues below advertisement
TikToker @cece_dun writes in a text overlay in a now-viral clip "So a bug flew into my eye last night. I flushed it for 30 min. Dr didn't see anything today. I felt something moving so of course I start recording. The bug is trying to crawl out." She capped off the overlay with a barf emoji.
Article continues below advertisement
So how did a bug get lodged in her eye? As it turns out, the TikTok was driving around in her Jeep Wrangler with the top down when the little critter got in there. Even if the bug didn't get stuck inside of her eye, even a minute and a low-weight object like an insect at such high speeds couldn't cause significant damage to such a sensitive part of the human anatomy.
Article continues below advertisement
She chronicled her experience in dealing with the aftercare of a bug "karate chop[ping]" her in the eye, including the "sketchy" looking eye care caddy that was prepared by the doctor's office she was visiting.
In many of her clips, her eye is visibly swollen.
Article continues below advertisement
Cece thankfully did manage to get the bug out of her eye eventually, and when she did, she says that the swelling in her eye went down considerably in a follow-up TikTok. When compared to the other clips that she uploaded where she says that the bug was still in her eye, the area surrounding her enlarged eye is clearly not as engorged.
Article continues below advertisement
Several of her videos about the bug in her eye hit hundreds of thousands of views, with the initial one posted at the top of this article clocking in at over 10 million. An additional clip, however, showed the swelling at its most intense, and she wrote in a text overlay of this clip that she learned a very valuable lesson: to always wear sunglasses while riding in her car with the top down.
Article continues below advertisement
It took several days for the swelling to get all the way down. The first post she made on TikTok about the bug flying into her eye was uploaded on July 26, 2022. The final clip where she said she was "almost back to normal" was posted on July, 29, 2022.
Article continues below advertisement
She says in the clip: "Almost back to normal. Went to work, got made fun of, got bullied, by my coworkers, pretty sad, they know who they are."

Article continues below advertisement
TikTokers who saw the post were equal parts shocked and grossed out by what they were witnessing. Some said that they were "tearing up" simply by watching her clips.
Others were just emotionally invested and wanted to know if she was OK.
"please update us when you get it out!!!"
"This is why I sleep with my eyes closed"
"Bro I started tearing up watching this"
"im wearing goggles the rest of my life"

And while this may seem like a freak accident, there were other users on the platform who said that similar things had happened to them:
"Same thing happened to me. A bug flew into my eye while I was hiking. My family checked my eye and told me it was out. Rubbed for hours & it came out."