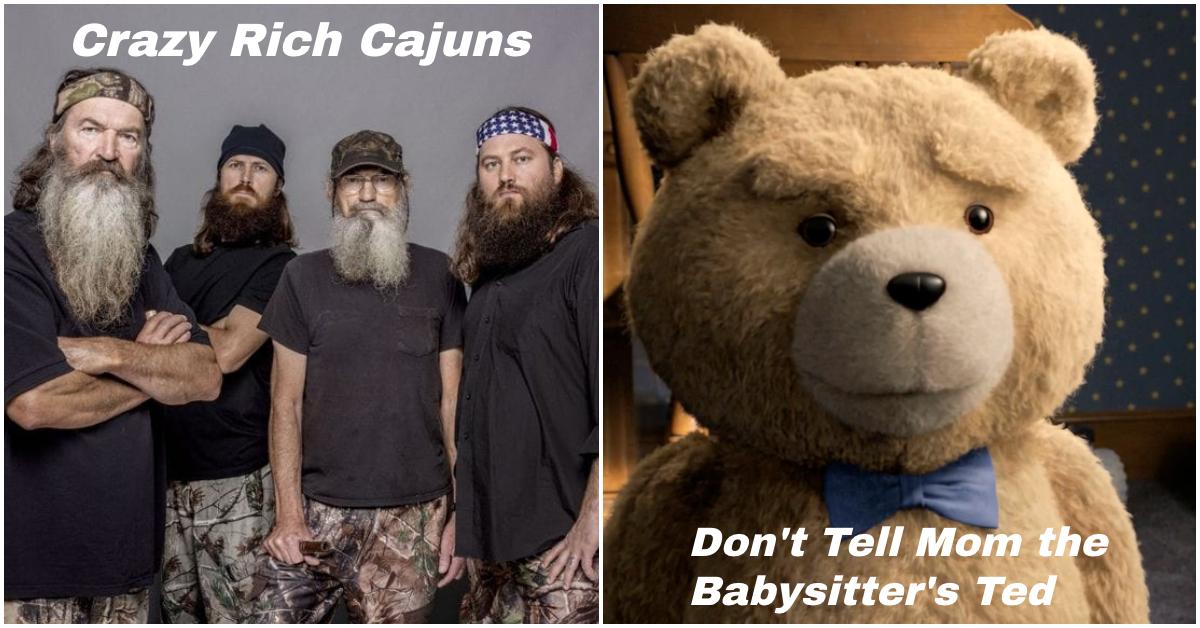 The #ChangeAFilmWithRhyme Hashtag Is Creating Some New Flicks We Actually Want to See
The year 2019 brought a lot of reboots, and to be honest we're a little burnt out on them. That said, the hashtag #ChangeAFilmWithRhyme alerted us to a new approach to making what is old new again by challenging people to give an old film a new spin with a rhyming pun. Though people were just riffing when they came up with new titles, we've put together a few pitches to flesh out the concepts for these exciting reimagined classics. Give us a call, Hollywood.
Article continues below advertisement
Don't Tell Mom the Babysitter's Ted
Two parents are all set for an evening on the town when their regular babysitter (Mark Wahlberg) cancels at the last minute. But never fear, he's sending his best friend to stand in for him. The only trouble? Ted is a teddy bear with a potty mouth.
Who's Eating Dilbert's Grapes?
Finally, the workplace comic gets a big-screen adaptation, with a whodunit mystery. Dilbert, Dogbert, and a rag-tag group of tech employees try to get to uncloak the identity of a malicious bandit who has been stealing people's lunches from the break room.
Article continues below advertisement
To Grill a Mockingbird
A chef in Mississippi by the name of Boo Radley opens a restaurant. He soon finds himself at the center of a high-profile trial when he puts grilled mockingbird on his menu, defying the 1918 Migratory Bird Treaty Act and sparking outrage both locally and nationally.
Article continues below advertisement
Crazy Rich Cajuns
A biopic about the rise of the Robertson family from dirt-poor subsistence farmers to multimillionaires. The saga would follow Phil and his brother from their humble beginnings to their iconic television show, including Phil's football career and his brother Si's tour in Vietnam. Obviously Clint Eastwood would direct and Bradley Cooper would play young Phil.
Article continues below advertisement
Raiders of the Lost Bark
A scrappy dog named Indy seeks out the Bark of the Covenant, a mysterious vessel containing ancient scrolls that tell the story of how dogs became man's best friend.
Article continues below advertisement
Once Upon a Time in Dollywood
Finally, the Dolly Parton biopic we've all been clamoring for, Once Upon a Time in Dollywood would chronicle the two loves of her life: her 50-year marriage to Carl Dean and her relationship with her work husband Porter Wagoner. The story would end, A Star Is Born style, with the singer's Dollywood tribute concert to Porter after his death in 2007.
Article continues below advertisement
Tootie and the Beast
After graduating Eastland Academy, Tootie embarks upon her acting career. But, while filming a movie at an old abandoned castle, she is kidnapped by a cursed beast, develops Stockholm Syndrome, and eventually falls in love with her captor.
Article continues below advertisement
The Man Who Would Be Bing
It's the Friends spin-off you didn't know you needed! Sadly, Chandler and Monica do not live happily ever after, and, disheartened with his career as a transpondster, Chandler takes a spontaneous trip to a tropical island. There, he encounters a society that has been completely removed cut off from modern life and they decide Chandler is their god and king. Could this be any more exciting?
Article continues below advertisement
10 Things I Hate About Stew
At Padua Culinary institute, surly Kat and rebellious Patrick get paired up to design a restaurant concept for their final project, and romance ensues.
Article continues below advertisement
All About Steve
Adam McKay is at it again, this time with Christian Bale transforming himself into an even more insidious political advisor: Stephen Miller. Like McKay's Vice and The Big Short, it's equal parts comedy and chilling horror because it's real life.
Article continues below advertisement
Mr. and Mrs. Sith
Two Siths in a loveless marriage find out they have been assigned to kill each other, and all those, ahem, lightsaber battles really renew the spark in their relationship. Eventually, they decide to team up to take down the Sith Lord.
Article continues below advertisement
Mean Squirrels
Cady, an African bush squirrel from Kenya, gets transported to the Lincoln Park Zoo in Chicago where she somehow ends up in an enclosure with some very popular North American tree squirrels. She must learn how to navigate the hierarchical structure of the zoo while avoiding the wrath of the alpha squirrel, Regina.
Article continues below advertisement
Star Wars: The Horse Awakens
After being frozen in carbonite for centuries, a champion steed is defrosted to learn how to use the Force and defeat Darth Vader's grandson, Rylo Ken. It's basically just Star Wars. But with a horse.
Article continues below advertisement
Lack of a Future
It's a dystopian drama about the affects of climate change 30 years from now. Too bleak? OK, then let's make it a retro Gen-X slacker comedy. I dunno, I'm too depressed now.
Article continues below advertisement
Forrest Trump
On second thought... we don't need to see this one.