Man Released From Coronavirus Quarantine Can't Stop Coughing During Interview, Goes Viral
He said the coughing was a result of nerves.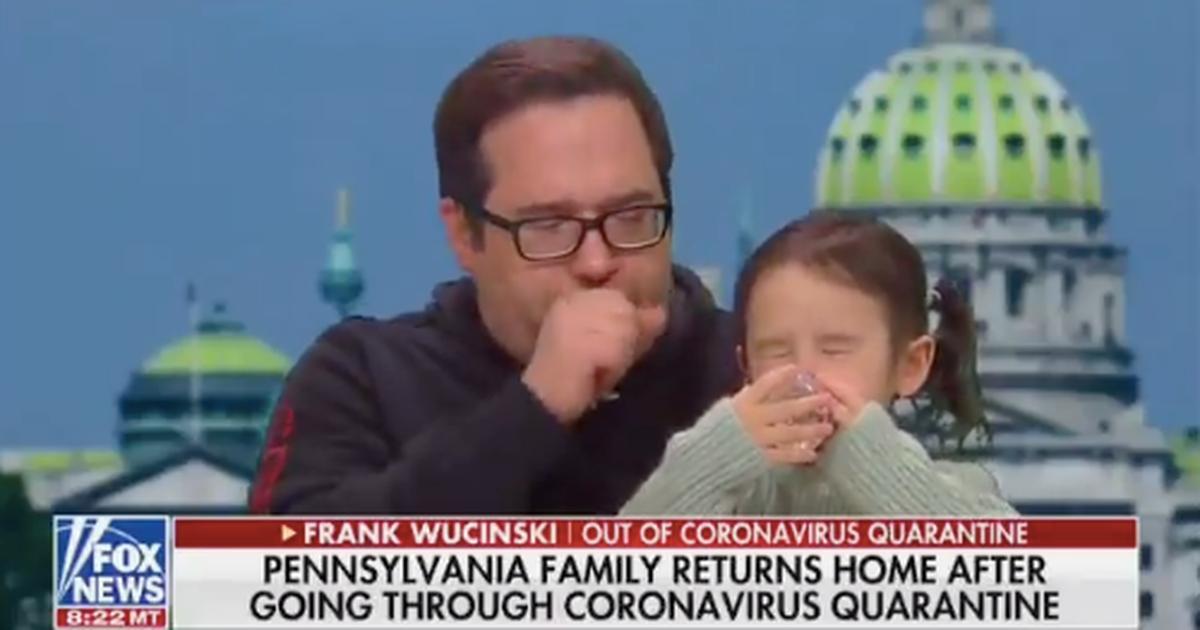 Coronavirus spread to several cities across the United States over the weekend. The virus also killed two Americans in Washington, prompting a nursing home where one of the deceased lived to be put under close watch as five other residents and a staff member also tested positive. Unfortunately, three of those residents, all of whom have underlying health conditions, are in "critical condition."
Article continues below advertisement
Frank Wucinski knows about coronavirus all too well. His father-in-law unfortunately passed away from the disease in China. After being evacuated back to California, Wucinski and his daughter were placed in isolation because of their contact with his father-in-law. His wife, who is not an American citizen, remains in China.
Both Wucinski and his daughter have repeatedly tested negative for the virus and were released. Wucinski spoke with Fox News about the experience on Friday but caused concern among some people online because he couldn't stop coughing throughout the segment.
Article continues below advertisement
"Fortunately from what I understand," Wucinski said, before he coughed into his hand, "It is contagious but the death rate is pretty low."
He coughed again before adding: "Yeah, I understand the fear."
Article continues below advertisement
When the Fox News hosts questioned Wucinski on his cough, he explained that he had been tested twice and the results came back negative each time. "The cough, probably just nerves," Wucinski added.
Unsurprisingly, some people found the interview unnerving.
"This guy is coughing non stop, touching his daughters water bottle then drinking from it & giving to back to her so that she can continue drinking," one user wrote. "Only on [Fox News]."
Article continues below advertisement
While another added: "Good luck to the next person who gets hooked up to that mic he just coughed all over."
Article continues below advertisement
One user commented: "Sometimes after I have a flu or cold I'll have a cough for weeks! Even after I feel 100% better. So this isn't necessary a scary thing."
Article continues below advertisement
While Wucinski's cough is likely down to nerves, there is a serious side to the story. The New York Times reports that after leaving quarantine, Wucinski was met with $3,918 in medical charges. Wucinski's employer only provides him with benefits in China, meaning he's got to find a way to pay the bill.
"I assumed it was all being paid for," Wucinski told the Times. "We didn't have a choice. When the bills showed up, it was just a pit in my stomach, like, 'How do I pay for this?'"
Article continues below advertisement
The Centers for Disease Control and Prevention have issued preventative actions that should help slow the spread of the virus in the United States. They recommend the following steps:
Avoid close contact with people who are sick.
Avoid touching your eyes, nose, and mouth.
Stay home when you are sick.
Cover your cough or sneeze with a tissue, then throw the tissue in the trash.
Clean and disinfect frequently touched objects and surfaces using a regular household cleaning spray or wipe.
Follow CDC's recommendations for using a facemask.

CDC does not recommend that people who are well wear a facemask to protect themselves from respiratory diseases, including COVID-19.
Facemasks should be used by people who show symptoms of COVID-19 to help prevent the spread of the disease to others. The use of facemasks is also crucial for health workers and people who are taking care of someone in close settings (at home or in a health care facility).

Wash your hands often with soap and water for at least 20 seconds, especially after going to the bathroom; before eating; and after blowing your nose, coughing, or sneezing.

If soap and water are not readily available, use an alcohol-based hand sanitizer with at least 60% alcohol. Always wash hands with soap and water if hands are visibly dirty.