Pair Wearing Trump Merch Who Painted Over Black Lives Matter Mural Charged With Hate Crime
David Nelson, 53, and Nicole Anderson, 42, have been charged with misdemeanor vandalism charges, including a hate crime.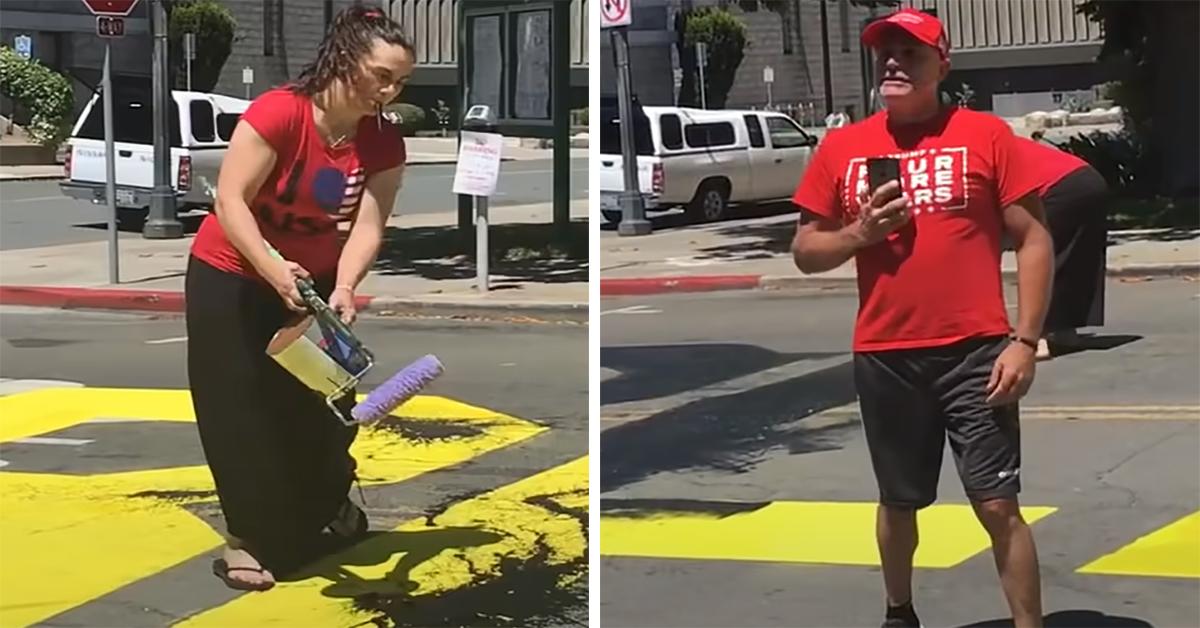 Over the weekend, a video went viral showing a man and a woman clad in the campaign merchandise of President Donald Trump painting over a Black Lives Matters mural.
Article continues below advertisement
The video shows a woman using a roller to paint over the B and L in "Black Lives Matter" in black paint. A man records and argues with onlookers as they tell the woman to stop.
The man, in a cap and shirt that read "Trump" and "Four More Years," tells witnesses that "we're sick of this narrative."
"The narrative of police brutality, the narrative of oppression, the narrative of racism. It's a lie. It's a lie."
The man goes on to add: "Keep America great again, that's right. Why don't you guys learn about history, the Emancipation Proclamation Act?" and "You're only free because of our forefathers."
Article continues below advertisement
Now, the pair is facing hate crime charges over the incident. Identified as David Nelson, 53, and Nicole Anderson, 42, the Contra Costa District Attorney's Office has charged the pair with misdemeanor vandalism charges, including a hate crime, according to the East Bay Times.
Article continues below advertisement
In a statement, Contra Costa County District Attorney Diana Becton said:
"We must address the root and byproduct of systemic racism in our country. The Black Lives Matter movement is an important civil rights cause that deserves all of our attention."
Article continues below advertisement
"The mural completed last weekend was a peaceful and powerful way to communicate the importance of Black lives in Contra Costa County and the country. We must continue to elevate discussions and actually listen to one another in an effort to heal our community and country."
Nelson and Anderson were both charged with vandalism under $400, possession of tools to commit vandalism under $400 and violation of civil rights. If convicted, the pair could face up to a year in county jail. The pair were not issued a bail amount because of the coronavirus pandemic.
Article continues below advertisement
Martinez Mayor Rob Schroder spoke out against the incident, stating:
"The City made a determination that a swift response to hateful rhetoric required a more timely consideration of the BLM permit. Doing so was consistent with and in furtherance of the City Council's commitment to support equity and justice for all and to send a clear statement rejecting the prior week's hateful flyers. The City supports the intended message of the BLM mural, namely, that all persons, no matter their race, are entitled to be treated with equality in our society."
Schroder is not considering a program for future "murals or other expressions" that support social justice.
"These are challenging times in our nation, our state, and our City. I am proud of our community and our shared belief in the equal worth of all people, and our City's efforts to set an example of how we live up to that moral imperative," he said.
Article continues below advertisement
According to the New York Times, the Black Lives Matter mural had only been painted a few hours before the incident.
Justin Gomez, a resident, had received permission to paint the mural on Court Street, in front of the Contra Costa County courthouse.
"We asked to do it on our city's main street," Gomez told the Times. The city offered Court Street instead.
"We immediately agreed to it," he said, "and I feel it was a more powerful statement than what we had initially proposed."
Residents began painting the mural at 7 a.m., and Gomez left as the paint was drying around 2:30 p.m. Just 30 minutes later, he received text messages that the mural was being vandalized.
"I'm not so surprised that it happened," Gomez said. "I'm surprised at how bold they chose to be."