Dad Refuses to Pay for Daughter's Wedding After She Sides with In-Laws' Demands
A father changed his mind about paying for his daughter's wedding once it was hijacked by the girl's in-laws.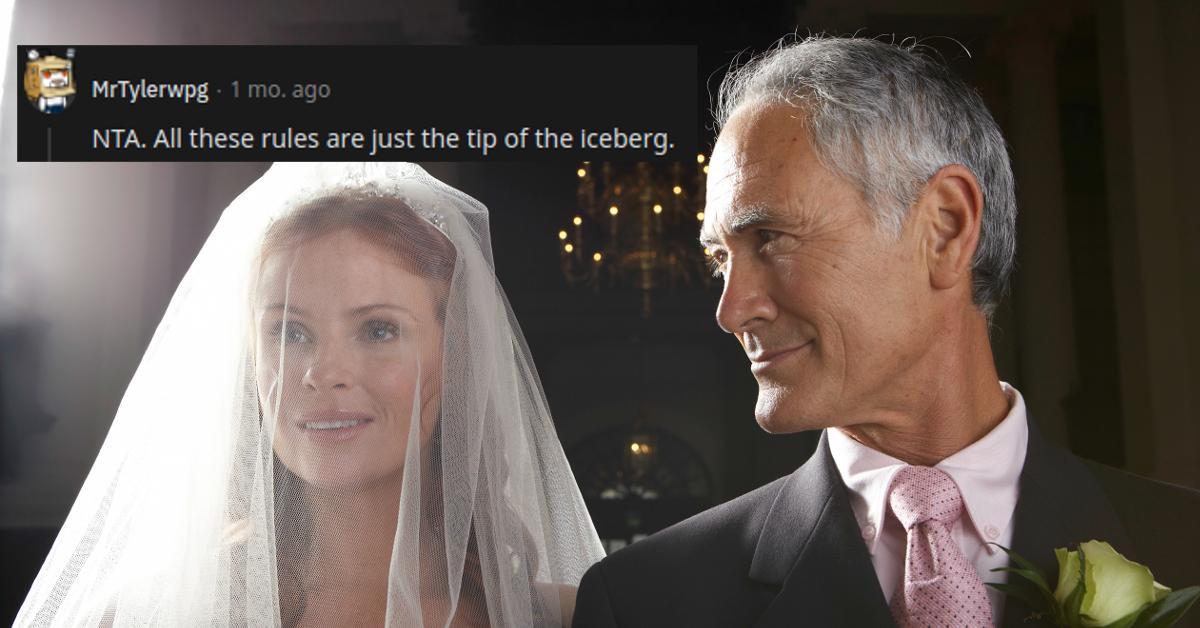 If you want to see sane people become suddenly mad, then have them get married. Folks take the pre-planning, theorizing, and execution of their wedding to some ridiculous levels. In fact, some people have their entire wedding planned out before they even meet somebody that they want to marry, so much so that it feels like their spouse is basically an after-thought; a placeholder who could've been filled in by any number of individuals.
Article continues below advertisement
While the rate of divorces are declining in America, which is probably because fewer people are getting married overall, we all know someone, or several people, who probably only got married so they could have a wedding.
That's not to say that if you aren't truly in love with someone you want to make sure that your very special day goes off without a hitch, but personally, I'd just be happy to spend the rest of my life with that person.
All I'd be concerned about is if there's good food, enough room for people to sit and relax, great music, and working bathrooms and parking lot spaces that are easy to get to. And maybe a few areas where you can snap a cute photograph or two.
Granted I take a very Steely Dan-esque approach to these gatherings because I want people to just have a good time, but there are other folks who take their punctiliousness to some extreme lengths.
Article continues below advertisement

So much so, that key members of the family can feel a bit alienated and angry as a result, especially when other people start poking their noses in the wedding festivities.
In the case of this father, however, the "rules" implemented by his daughter's in-laws are what many people are calling brutally insensitive.
Article continues below advertisement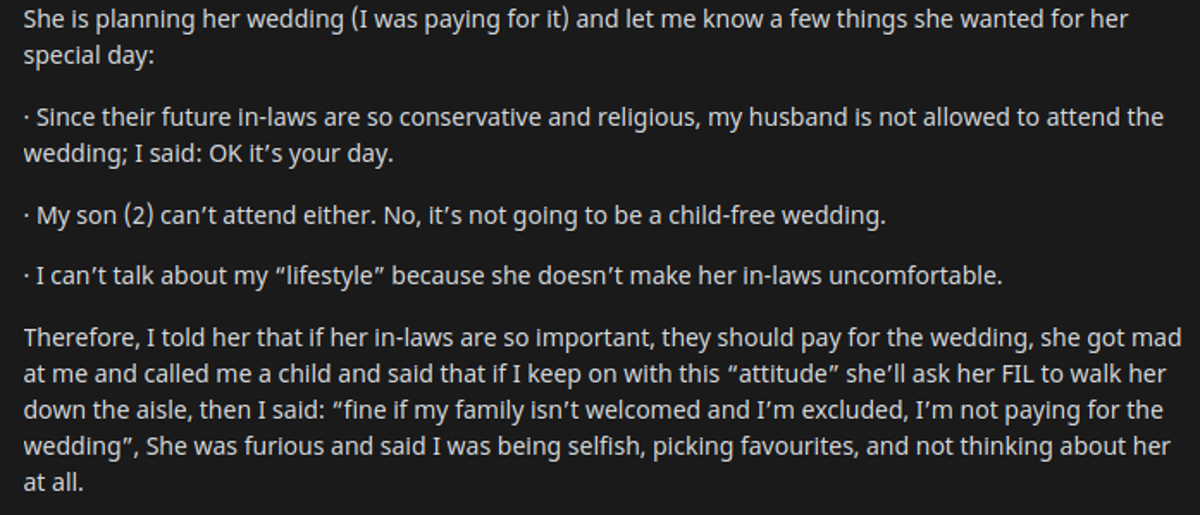 He posted in Reddit's AITA forum to ask if he's in the wrong for going back on his promise to pay for his daughter's wedding, but many people are agreeing with his reasoning. Here's what he said: "My daughter is getting married. Since she was a little girl, I promised to pay for her wedding, but something happened two days ago that made me change my mind."
Article continues below advertisement

He said that after being with his wife for six years, he became honest with himself and to others about his sexuality: "My ex-wife and I had our daughter at a very young age. After six years of marriage, I could find myself and come out to my wife. She understood, and we had a very amicable divorce and split custody."
Article continues below advertisement

He would go on to get married again, to a man, which apparently irks his super religious in-laws: "She is planning her wedding (and let me know a few things she wanted for her special day): Since their future in-laws are so conservative and religious, my husband is not allowed to attend the wedding; I said: OK, it's your day. My 2-year-old son can't attend, either. I can't talk about my 'lifestyle' because she doesn't want to make her in-laws uncomfortable."
Article continues below advertisement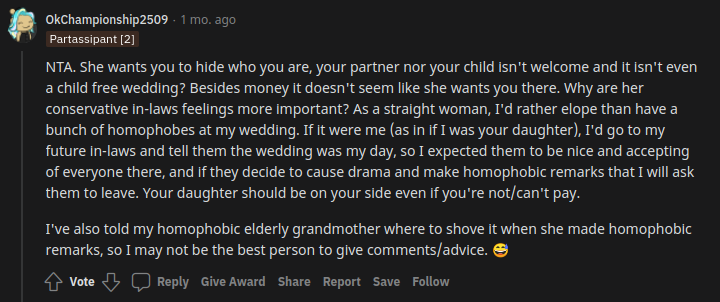 "Therefore, I told her that if her in-laws are so important, they should pay for the wedding. She got mad at me and called me a child and said that if I keep on with this 'attitude,' she'll ask her father-in-law to walk her down the aisle. Then I said: 'Fin. If my family isn't welcomed and I'm excluded, I'm not paying for the wedding."
Article continues below advertisement

"She was furious and said I was being selfish, picking favorites, and not thinking about her at all. She complains that they can't afford the wedding since they are both too young, and [she] reminded me it was a promise I made. Everyone, including her mom, is calling me selfish. So, AITA here?"
Article continues below advertisement

Tons of Redditors supported his decision to not pay for the wedding, stating that it was pretty messed up on his daughter's part to go along with his in-laws' ruling to not allow him to bring his husband to the celebration just because his homosexuality made them uncomfortable.