Domino's Delivery Driver Shares the Weirdest Instructions They've Ever Gotten
A Domino's driver shared the strange requests they received while delivering pizzas for the popular pizza chain.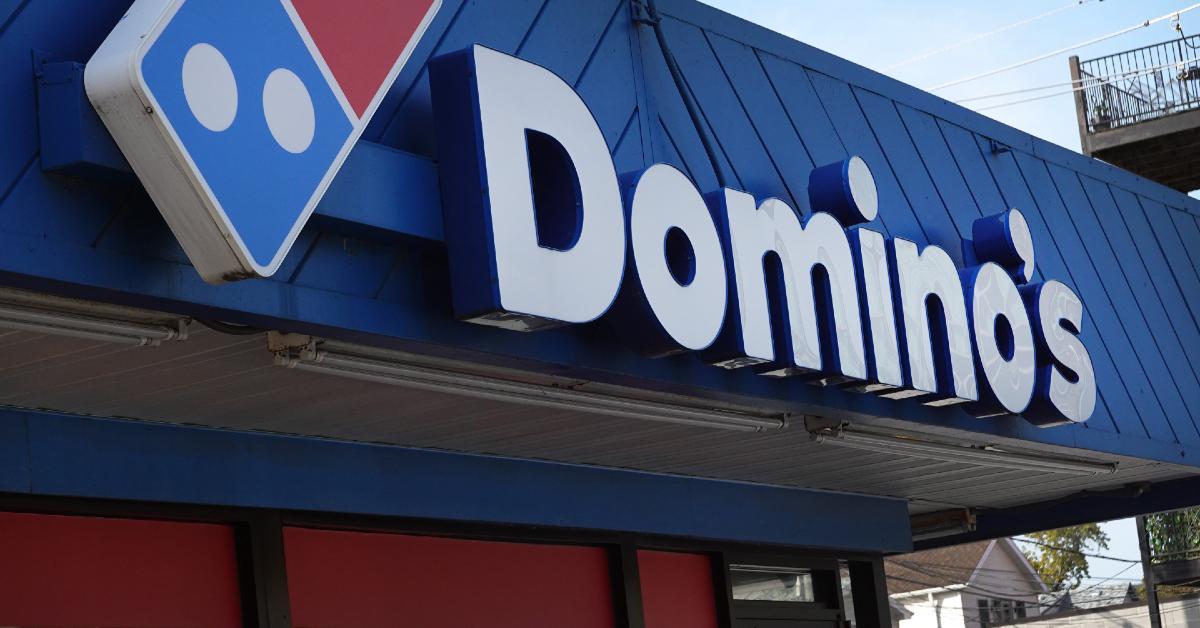 Domino's delivery driver and TikToker Holly Laing (@lowkeyhollylaing) posted a viral clip on the popular social media platform where she shared pictures of some of the strangest special delivery requests she received while working for the pizza franchise.
Article continues below advertisement
"So as a Domino's delivery driver, you get the delivery instructions on a little slip so that when you go to deliver the pizza if the customer has given any instructions then you can see that on the slip. I'm gonna show you some of the weirdest and craziest delivery instructions that I got working there."
The clip then transitions to a picture of one of the bizarre delivery instructions the TikToker said that they've previously received. The note reads: "Shout over the side gate." She continues, "Instead of knocking on their door that is literally what they told me to do I did not do that because I'm not gonna do that."
Article continues below advertisement
The TikToker went on, "I got two weird ones in one, so not only did someone say that [the side gate reference] the next order I had said 'I'll be out the front of the school in a red hoodie.' How weird does that sound? He actually was I had to deliver to not an address, to a school gate and he was literally standing there waiting. In a red hoodie."
Article continues below advertisement
Holly didn't stop there, adding yet another strange delivery instruction request: "This one wasn't really that weird but this was an instruction that they gave me. How confusing is that? Just give me an address?" The note read: "Into car park, turn left, follow around the back, 2 big silver gates, call in arrival."

Article continues below advertisement
"Like how do you expect me to read this while I'm driving it's like they've given me like satnav instructions I might as well just put the satnav on."
Next up is a slip that says: "Just knock and go."

Article continues below advertisement
Holly provided her commentary for this tidbit as well: "This one was particularly nice. I'm sorry how rude is that? 'Knock and go.' Like they obviously didn't want me waiting at the door but in, this was like COVID time you had to like wait for them to answer the door you can't just leave it on their porch. I don't think you can even do that now. So I couldn't knock and go unfortunately for them."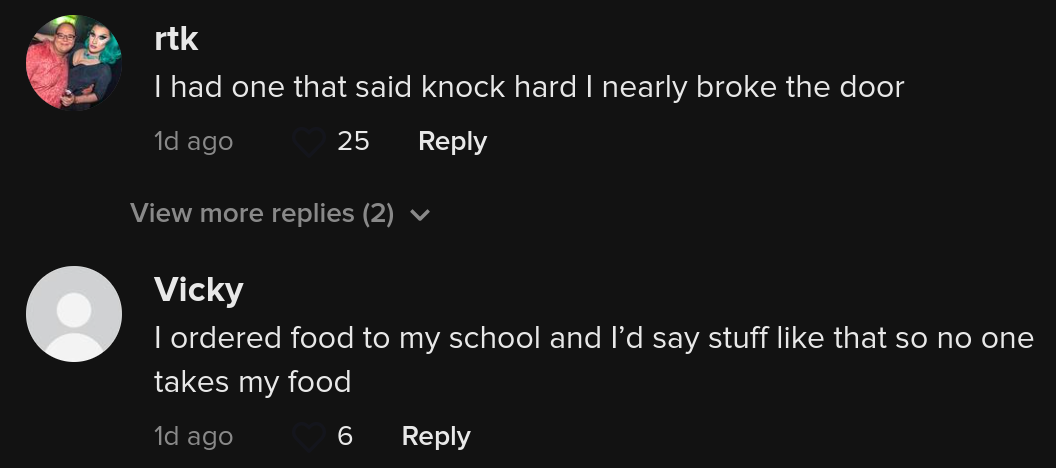 Article continues below advertisement
The last slip she uploaded contained a birthday message, "Say belated Happy Birthday to Mrs. Liew from Nick."
This one appeared to especially flabbergast Holly, "I'm sorry. What? They're delivery instructions, their delivery instruction was for me to say Happy Birthday to someone."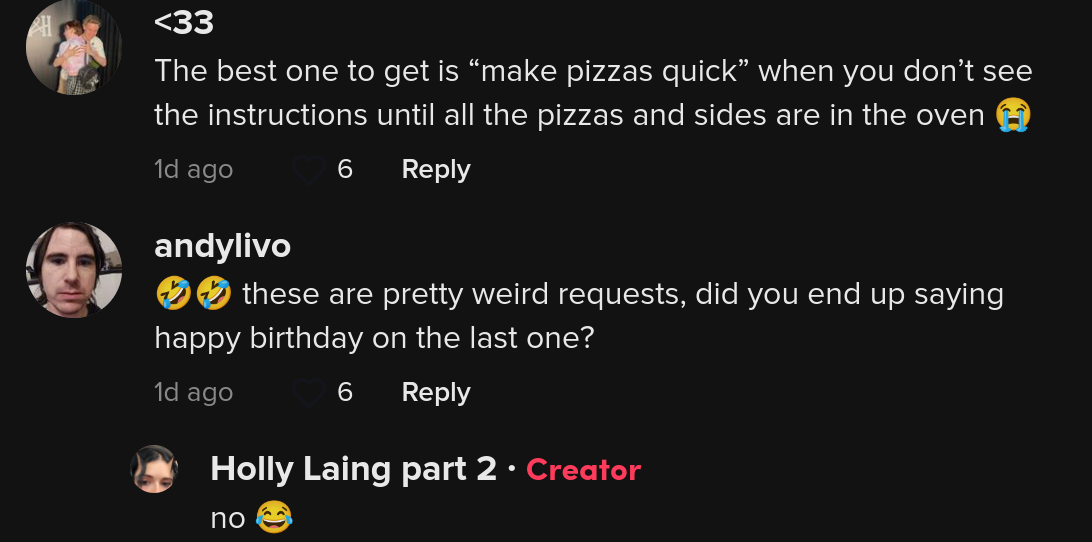 Article continues below advertisement
There were some TikTokers who saw the requests and didn't think that they were particularly strange or out of pocket. @colacube90 said, "these aren't weird the shout over side fence could be because they won't hear a knock at the door"

Article continues below advertisement
Others shared how much of a positive effect it had on them in the past when a delivery driver agreed to follow their instructions. Like @clobby143 who said, "i told my dominos driver to 'write me a joke on the box bc im sad' and they did and i cried. best delivery driver ever"

Article continues below advertisement
And there were multiple TikTokers who thought that the Happy Birthday wish also wasn't an unreasonable request, either:
"I understand the happy birthday one as I had a pizza delivered as a present to a friend before."
"The happy bday one isn't bad.My brother asked for it to be written on the box once whilst he was home alone.My partner asked for a drawing of a cat"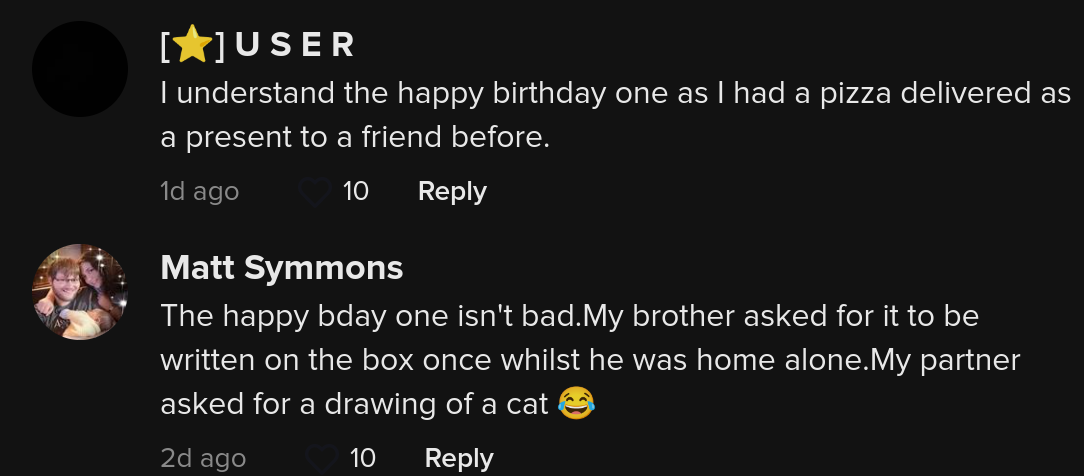 What do you think of some of the instructions that Holly said she received from Domino's customers? Do you believe that they're strange? Have you ever made additional requests while ordering takeout? Or do you just want the food to arrive warm and in a timely fashion?