Woman Brings Fitted Sheet to Job Interview, Folds It in Front of Executives to Get Hired
A woman folded a fitted sheet at the end of her internship in order to secure herself a full-time job: here's why it probably worked in her favor.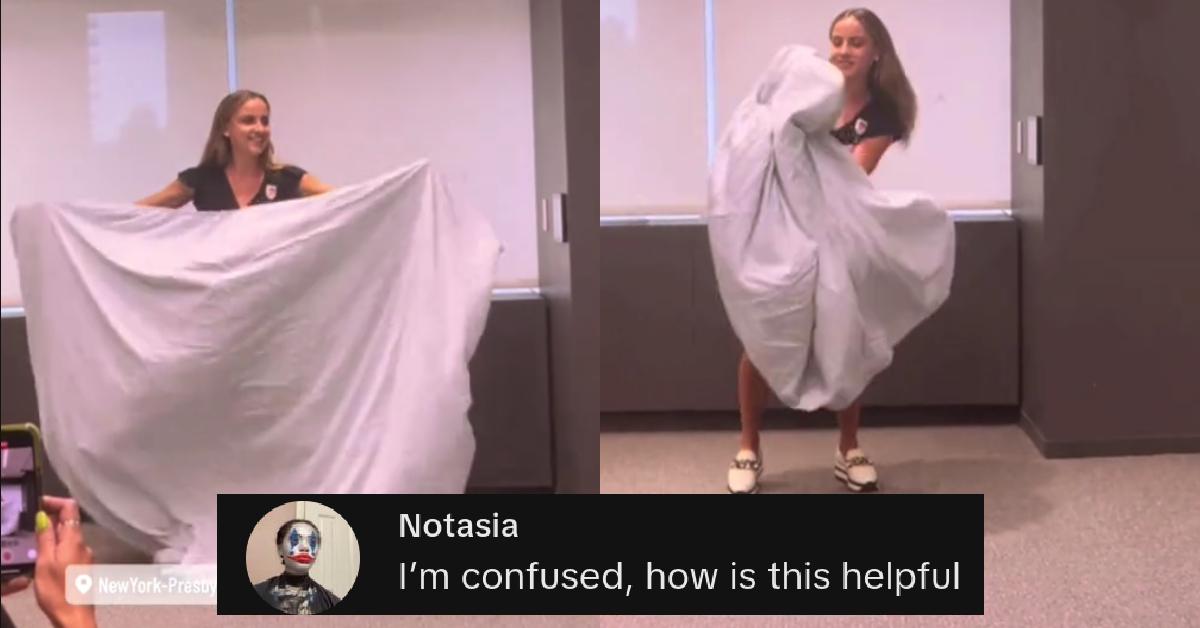 There are some household chores/tasks that are more annoying than others. For some people, cleaning and drying individual pieces of cutlery is the bane of their existence. And then there's cleaning all of the nooks and crannies of toilets. Have countertop appliances? Getting any of the dust/grime/gunk that builds up behind them isn't exactly fun either.
Article continues below advertisement
And if origami isn't your strong suit, then folding clothes, towels, or sheets can also be a huge pain in the butt. But there's one piece of linen that seems to get folks more frustrated than any other linen in their household and it's the dreaded fitted sheet.
There are throngs of folks who've expressed their disdain in folding the bunched-together-edges of a fitted sheet, so much so that it's easy to want just to give up and wrap them up in a closet or toss away into an upper corner shelf to use at a later time.
Article continues below advertisement
But TikToker Ariana Gardizy (@arianagardizy) not only learned how to fold a fitted sheet properly but used the demonstration of her knowledge in order to secure herself a full-time position at the end of her internship period.
Article continues below advertisement
In a viral TikTok that's garnered over 5.8 million views, she's shown rapidly getting to work on folding the fitted bed cloth in a matter of seconds.
A duo of text overlays describes what viewers are witnessing in the clip: "How to get a job @ the end of ur internships:" she writes, before penning: "Fold a fitted sheet in front of the exec board"
Article continues below advertisement
There were some commenters who seemed confused as to why this would be considered an applicable skill, like one person who wrote: "I'm confused, how is this helpful"
Another person simply wrote: "You're hired"

Article continues below advertisement
There was another individual who thought that this was a piece of knowledge that everyone possessed and couldn't see why it was pertinent to getting hired for a job: "I don't understand, isn't folding a fitted sheet a basic and easy task that everyone knows how to do?"
Someone else said: "Tried this at Goldman Sachs, safe to say they were baffled but i got the job."
While another penned: "Witchcraft"
Article continues below advertisement

Article continues below advertisement
Couple that with the fact that it's a pretty memorable flex to perform in front of a group of people: if you're doing this in a job interview, you're not only interjecting a fun variable into the mix that'll help you to stand out from other applicants, but you're also showcasing that you've demonstrated an attention to detail for something that could've just been easily accomplished via bunching it up and tossing into a closet.
There's really no way for an interviewer to predict the kind of on-the-job performance an applicant is going to have upon securing a position. However, they can gauge someone's personality.
Article continues below advertisement
So it's safe to say that if Ariana managed to take the time to learn a skill that was only for herself and dedicated herself a little bit of excellence in that regard, with a task that a large number of people may not have the patience, wherewithal, or dedication to learn, it shows that she's capable of performing similar tasks, presumably, for whatever projects they throw her way.

Either that or she just pulled off a great parlor trick that helped her to get her foot in the door. What do you think? If you were hiring for a job and saw someone pull this off would you be impressed/intrigued at potentially hiring them? Or would you think it was a silly approach and has no bearing on potential on-the-job capabilities?