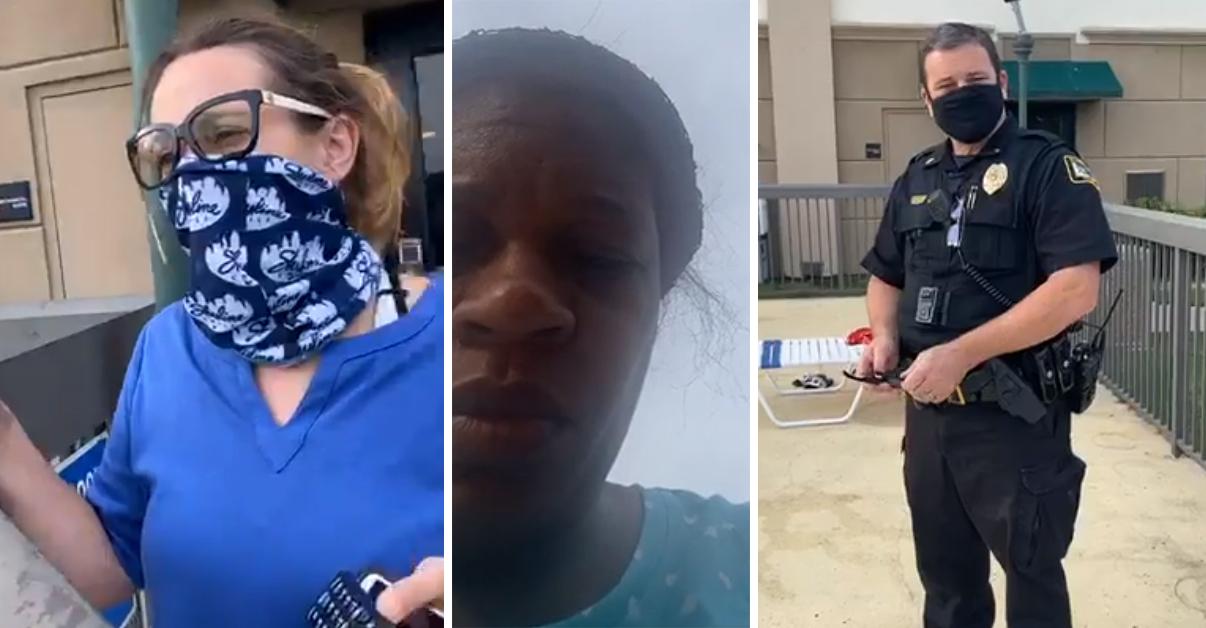 Hampton Inn Employee Fired After Calling Police on Black Family Using Pool
A Hampton Inn employee has been fired after she called the cops on a Black family who was staying at a hotel in Williamston, North Carolina. The incident went viral after Anita Williams-Wright live-streamed her encounter with the employee and police on Friday.
Article continues below advertisement
According to a police report, the officers responded to a "subject trespassing," with an employee claiming that they "found two children playing in the pool by themselves." She spoke to the children who said that their mother, Williams-Wright, was watching them from her car.
In the video, which takes place after the police have been called, the employee tells Williams-Wright that she "just wanted to make sure everyone who's in the pool is supposed to be in the pool."
The mother, however, claims that a white couple were using the pool at the same time and were not asked to prove that they were guests.
"It was two white people sitting over there and she said nothing to them," Williams-Wright said. "She said to me, 'Oh because it's always people like you using the pool unauthorized.' Who is 'people like me'?"
Article continues below advertisement
During the video, Williams-Wright shows her room key to the police officers but refuses to provide her name or any other details, saying she has not committed a crime.
However, the officers insist that the mother has to identify herself, and can be seen checking her license plates. Using this information, they were able to confirm with the front desk that Williams-Wright had two rooms reserved at the hotel.
Article continues below advertisement
According to the police report, the responding lieutenant asked the employee what she wanted to do, and she is quoted as reading from her phone that "her manager wanted the people arrested." This exchange cannot be heard in the video.
In the video, the employee claims that her boss said Williams-Wright is not allowed to refuse to provide her room number and that the general manager is coming over.
The employee claims that she needed to check the family were guests because they would be "liable if something happened to them." She also claims that her boss asked her to check that everyone was a guest.
Williams-Wright repeatedly accuses the employee of discrimination.
Article continues below advertisement
"I feel it's discrimination. I have a room here," Williams-Wright said in the video. "This lady here is discriminating (against) me. I have a key to get in, and I can show you that it works. … I have a room here. I don't have to give my name. I didn't break the law."
She also accuses the police officers of racism, saying they should have walked away when she showed them her room key.
"Once I prove that I have a room, that was for you to walk away," Williams-Wright tells one of the officers. "I didn't commit a crime. You are degrading me like this in front of my kids. They are trying to enjoy themselves in the pool."
"Officers were able to use the vehicle's registration information to confirm the adult's identity and verify that they were registered as a guest at the Hampton Inn," the police report stated. "No enforcement action was taken, and officers cleared the call."
Article continues below advertisement
"The Williamston Police Department takes the complaint process very seriously and has initiated an internal investigation surrounding our response to this call for service," the police department said in a statement. "Our office will conduct a thorough and complete internal investigation. We appreciate the public's concern and efforts to make us aware of this incident."
The police department has categorized the case's status as "unfounded."
Hampton by Hilton's Gandhi Buckley told USA Today that the employee had been fired and the company has "apologized directly to the guest and her family for their experience, and will work with them and the hotel to make this right."
Article continues below advertisement
"We remain in contact with the hotel's ownership about follow up actions, and to ensure that in the future, their employees reflect the best values of our brand and are welcoming of all."
As you can imagine, the video attracted quite the response on social media, with one user writing: "I'm glad you and the kids are okay. Why would you have a key if you didn't have a room? She can't even do her job correctly. There was also no need to run your plates. Unacceptable!"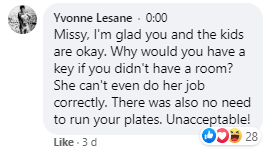 Article continues below advertisement
While another added: "When you showed them your key that was suppose to be a wrap! He about to lose his job. Karen about to lose her job."