Two High School Students Suspended for Posting Photos of Crowded Hallways
In an announcement, the principal said there would be "consequences" if students posted photos or videos of the school online.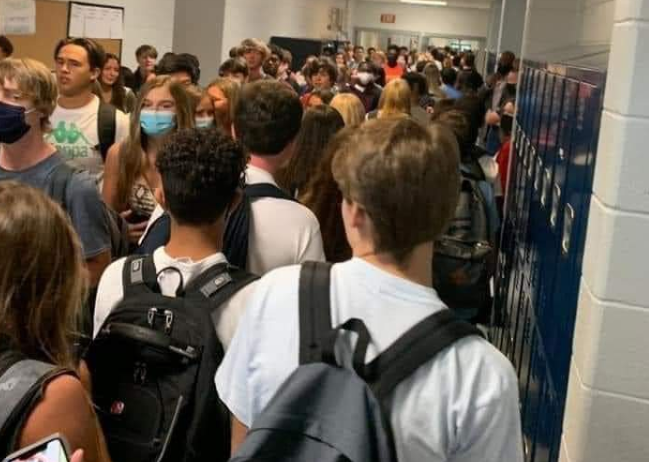 Schools have begun to reopen across the country, despite warnings that many school districts are unprepared and that reopening schools might exacerbate the coronavirus pandemic. Many lawmakers have pushed for schools to reopen for in-person learning so that parents can return to work.
Article continues below advertisement
In Georgia's largest school district, 260 people have either tested positive or been exposed to coronavirus in the few days since reopening.
And a viral photo shared by 15-year-old Hannah Watters could help to explain why.
Watters and a friend posted photos of crowded hallways at their school to Twitter this week. Watters' photo went viral after it was shared by the account @Freeyourmindkid.
Article continues below advertisement
Watters told Buzzfeed News that she received a five-day, out-of-school suspension for posting the photo, as well as a video, to social media.
Along with the photo, she wrote in a caption: "Day two at North Paulding High School. It is just as bad. We were stopped because it was jammed. We are close enough to the point where I got pushed multiple go to second block. This is not ok. Not to mention the 10% mask rate."
Article continues below advertisement
In a caption alongside a subsequent video, the student wrote: "This is what it looks like even with split dismissal."
Article continues below advertisement
Watters claims that she was later pulled into the school's office and told that she had violated the student code of conduct.
"The policies I broke stated that I used my phone in the hallway without permission, used my phone for social media, and posting pictures of minors without consent," she said.
"Not only did they open, but they have not been safe," she added. "Many people are not following CDC guidelines because the county did not make these precautions mandatory."
Article continues below advertisement
In an interview with CNN, the teenager said that she's never run afoul of school rules before.
"I'd like to say this is some good and necessary trouble," she said. "My biggest concern is not only about me being safe, it's about everyone being safe because behind every teacher, student, and staff member, there is a family, there are friends, and I would just want to keep everyone safe."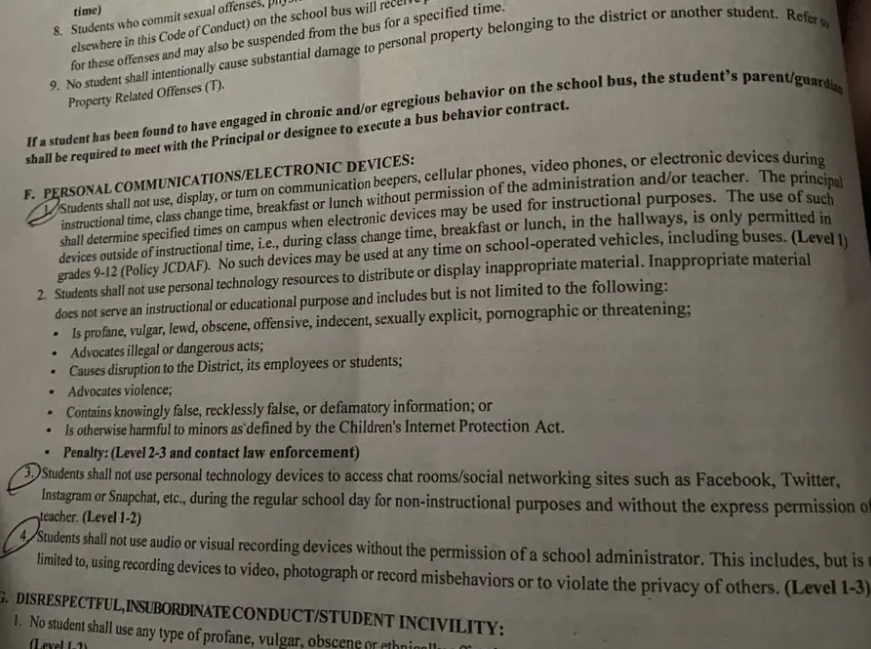 Article continues below advertisement
Another student, who did not want to be named, was also reportedly suspended for posting photos online.
On Wednesday, Principal Gabe Carmona warned students about "consequences" if they posted photos or videos of the school online.
"Anything that's going on social media that's negative or alike without permission, photography, that's video or anything, there will be consequences," he told students over the intercom according to CBS46.
Article continues below advertisement
Carmona did not respond to requests for comment from multiple outlets.
In a statement, Superintendent Dr. Brian Otott said that schools are following guidelines from the state, and that although some areas will be crowded from time to time, students are in contact for less than 15 minutes.