"I Can't Breathe" Workout Routine Draws Rage to Wisconsin Gym Owner
The owner of a gym is profusely apologizing for the "I Can't Breathe" workout she posted on the challenge board of an Anytime Fitness location.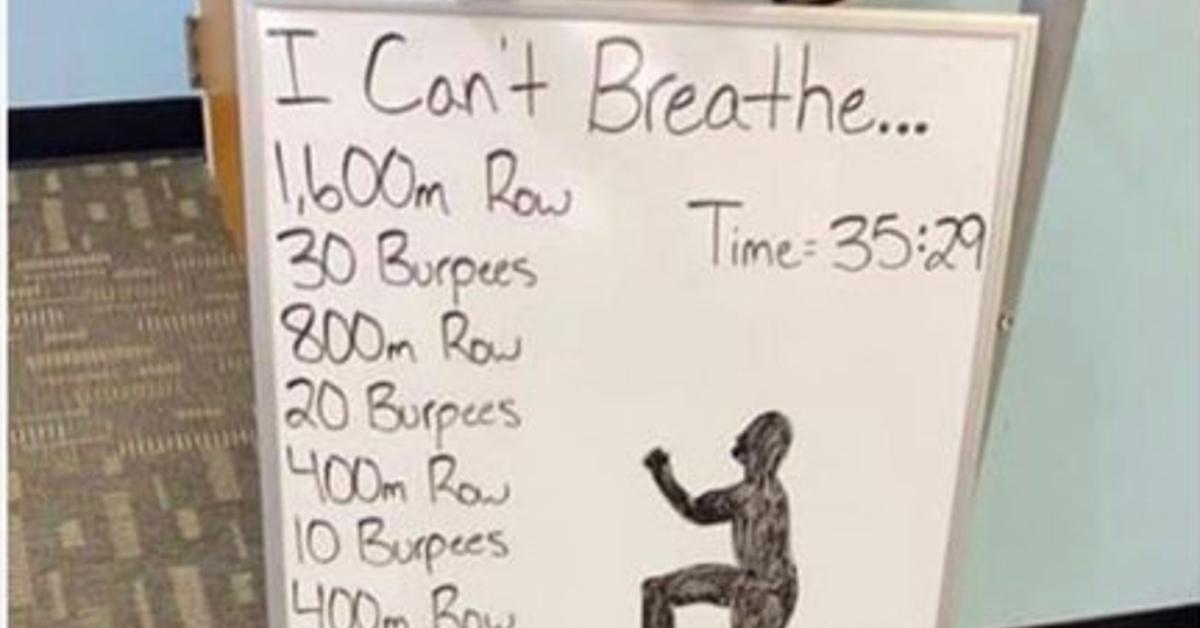 An Anytime Fitness location in Wauwatosa, Wisconsin is currently under fire for an image taken of its workout challenge board. The exercise routine, titled "I can't breathe" is a 35:29 barnburner of a cardio exercise featuring sets of alternating rows and burpees.
It also contains some not-so-veiled jokes pertaining to the recent killing of George Floyd.
Article continues below advertisement
Not only is the workout's name offending people, but a second quip, which many found to be in poor taste, appears at the bottom of the board. It reads: "...And don't you dare lay down", which appears to be a reference to the circumstances involving Floyd's death, in which officer Derek Chauvin forced him on the ground and proceeded to put his knee on his neck, asphyxiating him as three fellow officers watched.
The image also depicts the silhouette of a man kneeling, which could either be an illusion to Chauvin kneeling on Floyd's neck or to the protest popularized by Colin Kaepernick, in response to police brutality and racial inequality.
Spokespeople for Anytime Fitness released a statement upon their discovery of the board.
Article continues below advertisement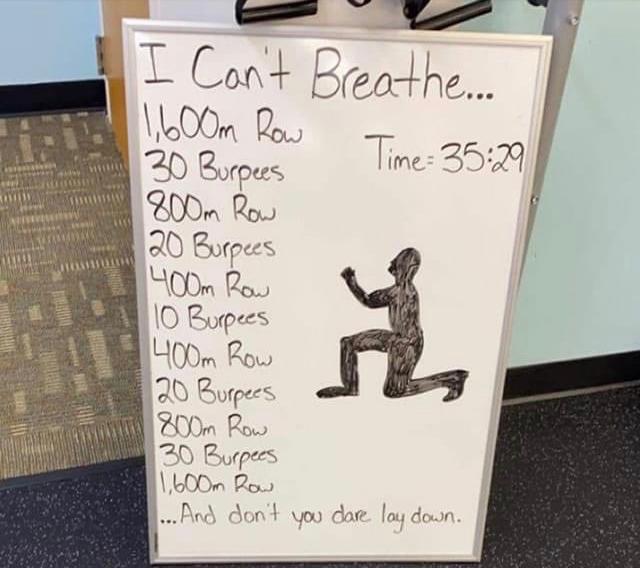 "No matter the intent, we absolutely do not condone the words, illustrations or actions this represents. To our employees, owners and members, we are truly and profoundly sorry that this incident occurred. One of our publicly-stated commitments to antiracism work is to bolster education efforts for our franchise owners to lead with empathy, love and respect."
Article continues below advertisement
It continued, "This incident makes it clear that we have work to do in this space; immediately, we are sharing this incident with our franchise owners worldwide as an example of what not to do, why it is offensive, and what locations should be doing instead. We remain committed to working to inform and educate employees and owners worldwide to stand for our black communities including our members and employees."
Article continues below advertisement
Many wanted to know why the sign was put up in the first place. This particular location's co-owner, Jen Dunnington, says it was originally drawn up by one of the trainers at the location in an attempt to "honor" the memory of George Floyd.
It was intended to "be a workout so hard that we felt what he felt", but several members who visited the gym were dumbfounded and offended by what they saw.
Article continues below advertisement
Jen apologized for the board's content, stating, "I was not aware of the signage that it was posted in that way. I didn't read it in that way, but I do definitely apologize that those words were on there."
In a now-deleted video she posted to the gym's social media pages, Jen apologized saying that neither she nor her staff at the gym meant any offense by posting the routine on the challenge board.
Article continues below advertisement
She also said that the "I can't breathe" phrase was meant to motivate individuals engaging in the workout just as it's motivating protesters all over the country.
She added that the mention of "lay down" at the bottom of the board definitely shouldn't have been present and that it "should not have been on there."
Article continues below advertisement
Anytime Fitness posted an additional statement on its social media channels, writing, "Our Anytime Fitness family is deeply saddened and horrified by the death of George Floyd. Black lives matter.
We want you to know — our beloved members, coaches and community — that we believe racial injustice in any form is wrong and we stand with the Black, Indigenous, and People of Color communities."
Article continues below advertisement
"We are committed to listening and learning, so that we can take action that helps our communities heal and grow in real and meaningful ways."
The gym also released a follow-up statement clearly delineating the measures they are taking to rectify the situation. The trainer who put up the sign has taken a leave of absence, and ownership is currently reviewing whether or not he will be welcomed as an employee back at the location.
Article continues below advertisement
Members of the Wauwatosa location also volunteered to take antiracism training, which was offered by Anytime Fitness' corporate offices, and they posted that information, along with a slew of other steps they will continue to take to promote cognizance of racial inequality issues among their fitness centers.