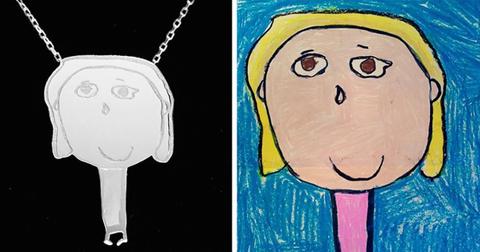 This Company Turns Kids' Artwork into Jewelry for Parents
By Mark Pygas

Updated
There are few things more precious than receiving a drawing that a child has poured their heart into. And while drawings have usually taken pride of place on the fridge, they can now take pride of place on your neck. 
Turkey-based Tasarim Takarim Studio, which is run by two people, have a background in lithography, etching, and silk-screening. And now, they're using their talents to transform children's drawings into jewellery for their parents. 
"Keep a moment forever," the company explains. "Tasarim Takarim turns kid's drawing into precious jewelries and a single moment of a childhood becomes timeless... engraved and hand cut sterling silver brooch." 
"We believe that children's art is the most important building block of the creativity and appreciation of the children's drawing is the best way to support them."
You can swipe right to see the kid's original drawing. 
This child's edition of an albatross looks even better in silver. 
As does this piece, titled "I am loosing balance when I skate." 
They've even transformed hand and foot prints into suit cuffs. 
The company explained in a reply to a commenter why they work with sterling silver: "We work with sterling silver. Silver may tarnish because of external conditions. But you can easily clean it with a standard silver polish liquids or wipes."
Another commenter seemed to like the work: "Wow great to see how my pieces are made," they said.   
Look at this sweet little butterfly. 
The company has even transformed unicorns into sculptures. 
As well as the family cat.
If you're interested in transforming a drawing, you can find out more information here. Necklaces start from as little as $125, all the way up to $165 depending on the size you want. While sculptures will set you back anywhere from $295 to $595.