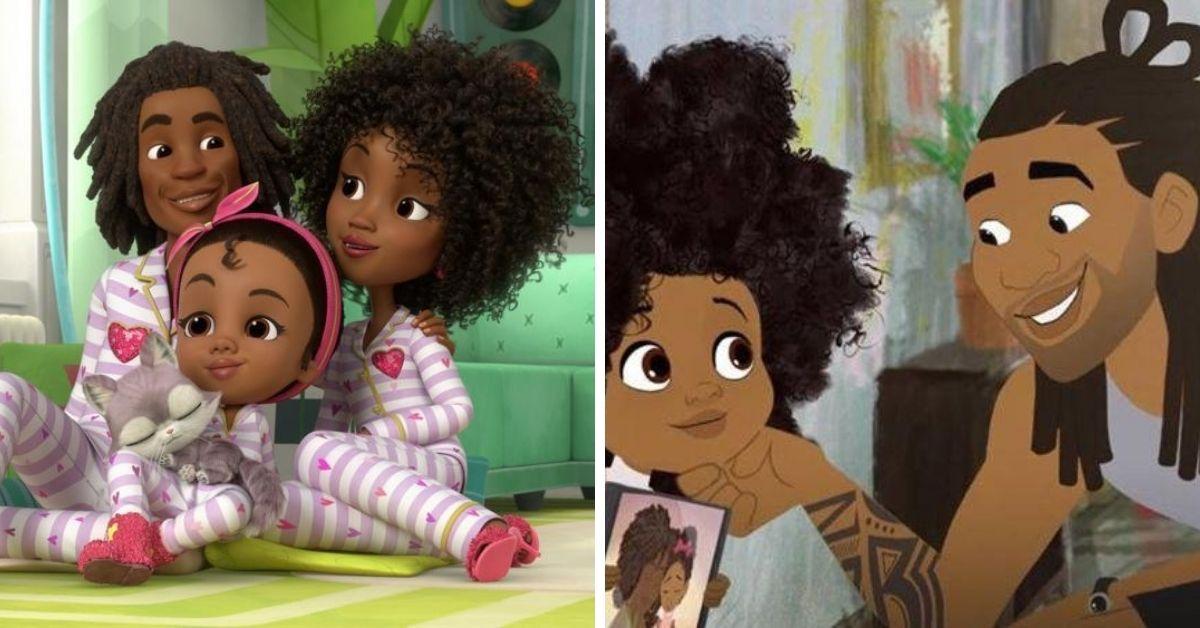 Nick Jr.'s 'Made by Maddie' Accused of Plagiarizing 'Hair Love'
It's important to have representation on television and because of that, people were excited when they heard Nickelodeon was working on a cartoon series for kids that would feature a Black family and center on a little girl. The project, titled Made by Maddie, was announced on Sept. 1 and set to air Sept. 13, but there was one glaring issue people had with the announcement: It appeared to be really close to Hair Love, a short-film featuring a Black family, also centered on a little girl.
Article continues below advertisement
The similarities didn't go unnoticed by people on social media, and the company that produced Made by Maddie was called out and accused of plagiarism and appropriation.
'Made by Maddie' has striking similarities to 'Hair Love.'
According to a press release, Made by Maddie was created by Paula Rosenthal and produced by Silvergate Media. The story is about an 8-year-old girl who "uses her imagination and design ingenuity to turn every problem into a positive with the perfect fashion fix."
Made by Maddie was first green-lit in 2018, according to Animation Magazine, and was originally going to be titled Fashion Ally.
Article continues below advertisement
The characters on the show include Maddie, her mom and dad, and her pet, a grey cat. It was the look of the family that was called into question on social media and turned it into a trending topic with people saying the family in Made by Maddie is a basic copy of the family in the short-film Hair Love.
Article continues below advertisement
Hair Love is an Oscar-winning short film written and directed by Matthew A. Cherry, and it follows the story of a Black dad who must do his daughter's hair for the first time. The film was produced after a successful 2017 Kickstarter campaign to get it made, and it was so popular, the story was released as a children's book in May 2019 with illustrations by Vashti Harrison.
Article continues below advertisement
The short is even getting turned into an animated series itself, with the new title of Young Love, for HBO Max. Matthew is set to be the showrunner for the 12-episode series, alongside Carl Jones, who is known for The Boondocks and Black Dynamite.
While the premise of the show Made by Maddie is different from the premise of Hair Love, the character designs look similar and many called that out on Twitter. There was also the additional issue that Made by Maddie's creator is a white woman.
Article continues below advertisement
Article continues below advertisement
Article continues below advertisement
People called out the artwork in the Nick Jr. show being very similar to the ones in Hair Love, "right down to the cat." Several concerned fans tweeted this to Hair Love creator, Matthew A. Cherry, who confirmed that he was not involved with this project with Nick Jr.
Article continues below advertisement
"@MatthewACherry, PLEASE tell me you're going to do something about this. I legitimately thought Hair Love was getting an animated series," one person tweeted. Adding, "That alone should tell you enough."
Matthew replied, tweeting, "We are getting a series and this wasn't it."
Despite the controversy, some noted that the show, having a fairly unique premise, may still "be positive overall."
Article continues below advertisement
According to TheWrap, Silvergate Media CEO Waheed Alli disputed that Made by Maddie copied Hair Love, issuing a statement saying, "Silvergate Media has been working on the series for the last five years and throughout the production has taken steps to ensure a diverse production team and an appropriate voice cast lending their expertise and talent."
He concluded with, "As creators ourselves, we have the utmost respect and admiration for Matthew A. Cherry and Hair Love, and our hope is that when people watch our show, they will see it is its own story with its own adventures."
Article continues below advertisement
On Sept. 4, 2020, Nickelodeon reached out with a statement that they were pulling the show.
"Made by Maddie is a show we acquired several years ago from Silvergate Media, a renowned production company we have previously worked with on other series. Since announcing the show's premiere date this week, we have been listening closely to the commentary, criticism and concern coming from both viewers and members of the creative community.
In response, and out of respect to all voices in the conversation, we are removing the show from our schedule as we garner further insight into the creative journey of the show. We are grateful to Silvergate Media for all of their work. And we hold Matthew A. Cherry and the wonderful and inspiring Hair Love in the highest regard."
If you are looking for ways to donate your time or money to Black Lives Matter and other antiracist organizations, we have created a list of resources to get you started.