Man Quits Job of 8 Years Only to Have New Job Offer "Rescinded", Ends Up Jobless
A TikTok user was so stoked to receive a job offer that they quit their 8-year gig at Verizon to start a new career. Problem is, they didn't have a contract.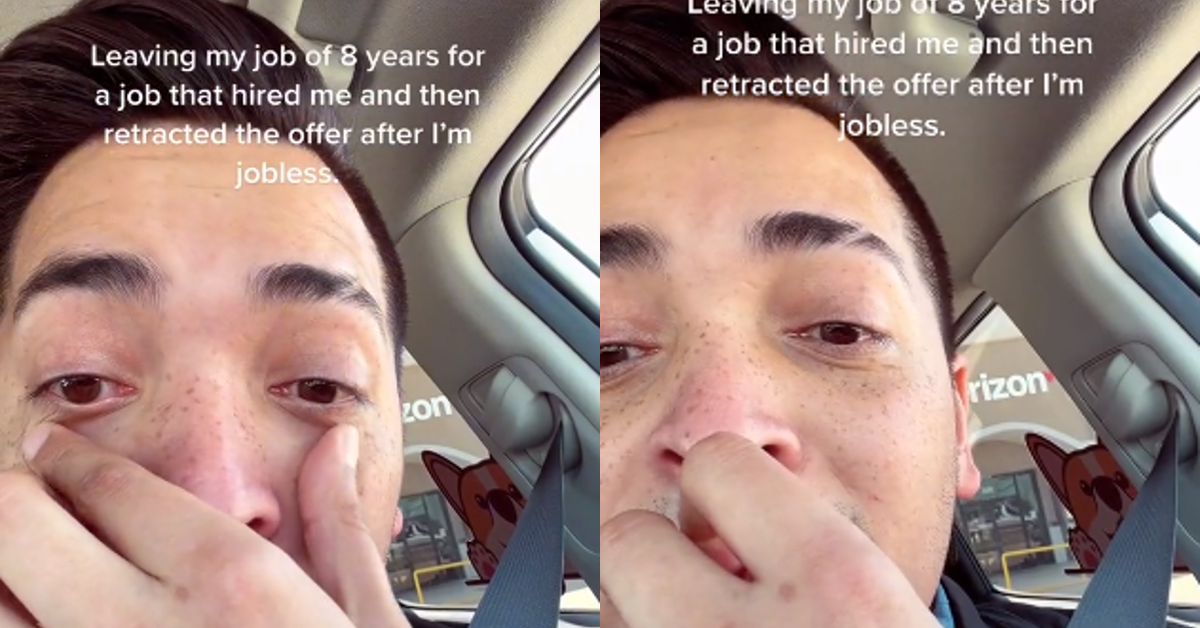 A man shared the details of an unfortunate circumstance that left him jobless on TikTok.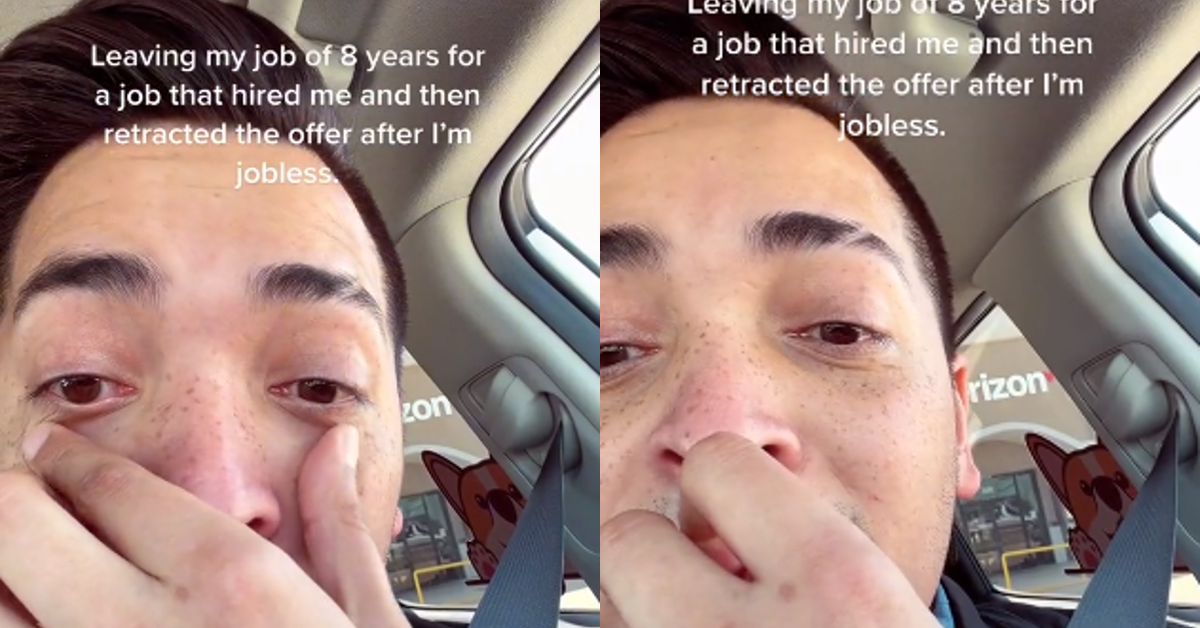 The U.S. job market is going through a massive transitional phase right now. The COVID-19 pandemic has upended a variety of different businesses and some companies who've managed to either eke through 2020-2022 or make a grip of money off of its consequential economic shifts and while there's been a lot of talk about a "labor shortage" it seems like that people are just as concerned with securing a great job now as much as they've ever been.
Article continues below advertisement
It began when the man received a new job offer.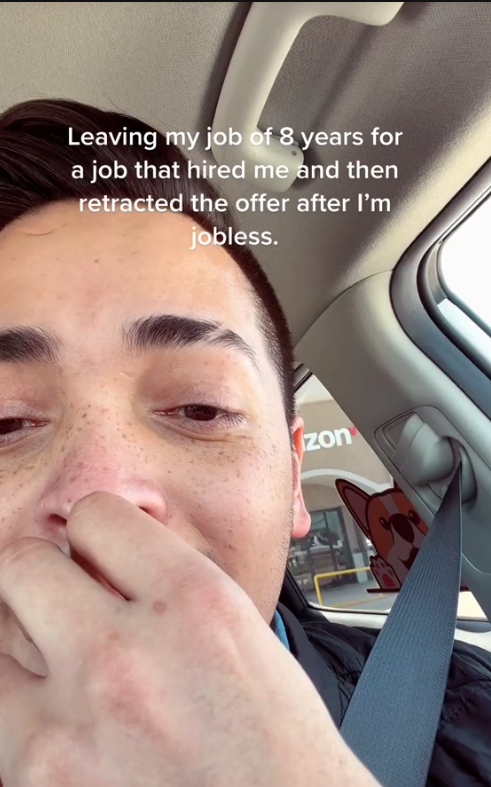 Many companies who are forcing their employees to return to the office when it's been proven that they can fulfill all of their work tasks at home and be even more productive in many instances are taking a hit when it comes to enticing folks to join their team. Maybe living through a pandemic and browsing a bunch of anti-work posts on Reddit have made people not want to settle for jobs that they aren't absolutely crazy about.
So he quit his long-term job at Verizon, only to later have the offer rescinded.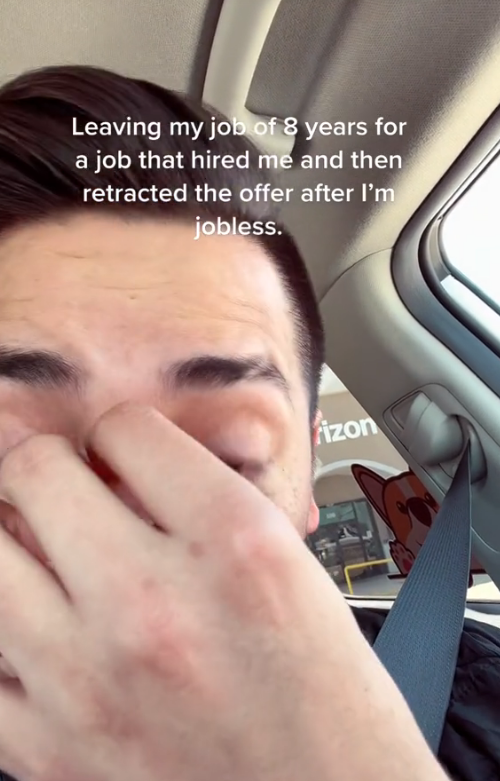 Whatever the reason, there's a large number of folks going for dream jobs, and one TikToker shared the peripatetic journey he underwent after leaving his job at Verizon of eight years in order to join a new company after receiving an offer of employment.
So he quit his gig at Verizon, one that he put a significant amount of time in, only to learn that the new company had rescinded their offer.
Yeah.
Article continues below advertisement
Commenters were sympathetic to the man's situation.
The unfortunate turn of events effectively left @migimigz22 jobless and he posted about the situation on his TikTok account where he garnered a variety of different reactions from folks.
Article continues below advertisement
Others said that the man should have avoided quitting his job until he has a contract.

Some wondered just why in the heck he wouldn't put in his two weeks notice until he was officially offered the onboarding papers at his new job. While others thought the entire situation was "sketch."
Article continues below advertisement
Many offered some good advice.

And while many people were quick to criticize the man for the decisions he made ultimately left him jobless, there were others who gave advice on how to best look for a new job while being currently employed.
Article continues below advertisement
While many just sent their best wishes.

Some said that will start their new job and take sick days and paid time off until they feel secure in their new position. Others who claim to be job recruiters stated that text messages and phone calls of offers aren't legitimate contracts and that prospective employees should always make sure they're officially on-boarded before quitting their current role.
Article continues below advertisement
And some saw it as an opportunity for the man.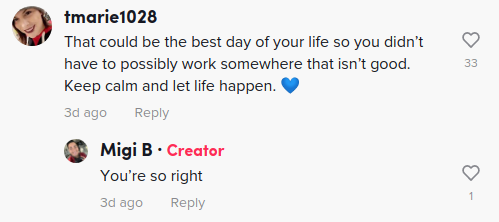 So what happened to the TikToker in question? Luckily for him, he was able to land on his feet and find a new job rather quickly. Some users asked why he didn't decide to just go back to his gig at Verizon, but for Migi, that wasn't an option.
Article continues below advertisement
One user suggested that the new job may have had a "good reason" for retracting the offer.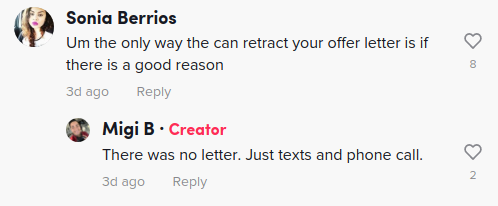 For him, not going back to Verizon was all about progress: "I wouldn't wanna go back to my previous job. Gotta keep moving forward," he responded.
And although there seems to be more than enough food service industry jobs to go around, there are other markets that are experiencing mass layoffs.
Article continues below advertisement
What do you think?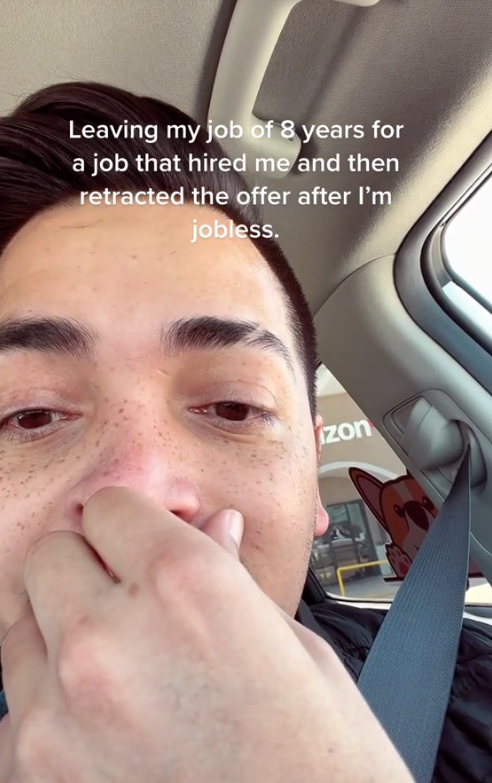 How has work been treating you during the pandemic? Have you had to restructure your entire life in order to find gainful employment? Did you get even closer to making the type of living in the way that you wanted? Or has it hit you especially hard?