"It's Not About You Anymore" — Nurse Is Rude to New Mom After Long, Messy Delivery
A man reveals he yelled at a nurse for being rude to his wife just minutes after she gave birth. Here's what the internet has to say.
Childbirth is the most physical and emotional experience, but all in all, it's a special journey like no other — well, it's supposed to be. This one woman in the wildly popular "AITA" subreddit had just welcomed her child when a medical professional made a heartless (and unwarranted) comment about her.
Article continues below advertisement
On June 27, 2023, a man took to the popular subreddit to discuss a recent interaction at a hospital. The original poster, who goes by the handle u/Potential_Beach6748, said he was rude to a nurse because she made a cruel remark about his wife. Read on for more details. Plus, stick around to see who fellow Redditors deemed the a------.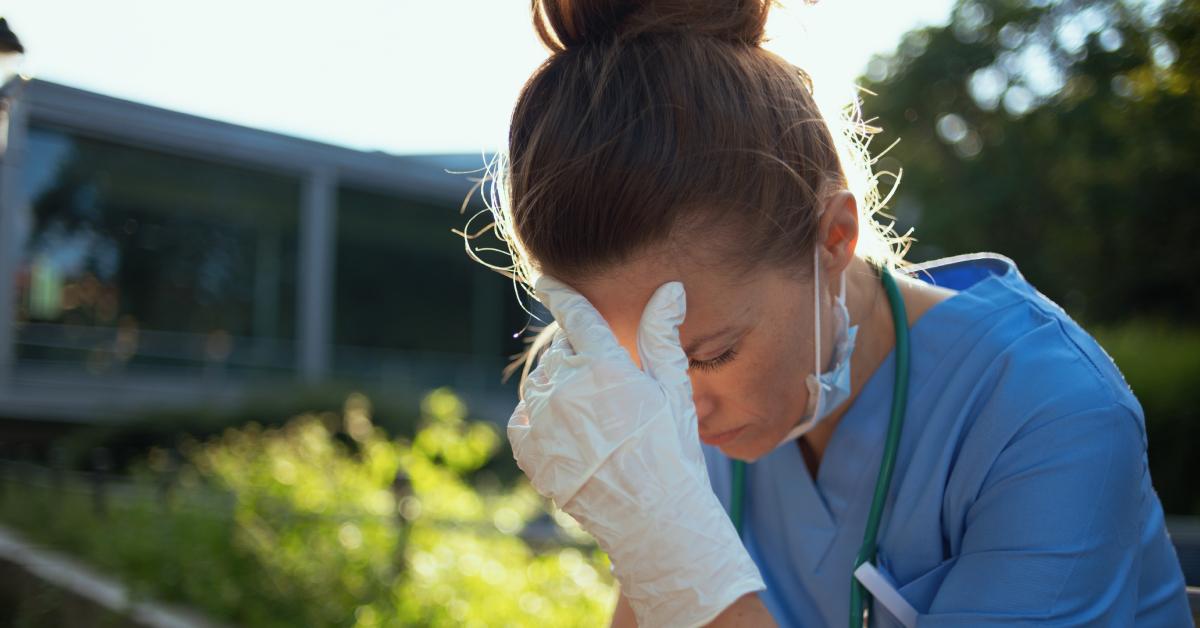 Article continues below advertisement
A nurse was rude to a new mom and the husband yelled at her.
The man first provided context, revealing that he had been on edge lately. He said that the complications with his wife's pregnancy only added to the pair's stress but noted it affected her much more.
He then went into the story, stating that after a "long, messy delivery," his wife had a mental breakdown. She couldn't calm down and had trouble speaking. She was wheezing and reaching for the baby, but a nurse told her, "You need to calm down. It's over, it's not about you anymore."
Article continues below advertisement
After the OP got his wife to relax, he approached the nurse and told her she should "have a heart and understand" that his wife has been through a lot. The nurse carelessly brushed him off, so the OP clapped back and told her to be quiet so she doesn't waste everyone's time.
"If you'd let me do my job, I could help get you three on your way home soon. Is that alright?" the nurse replied.
Article continues below advertisement
In the end, the OP apologized — but he wasn't going to let his wife be treated poorly, adding that if this was "a chore for her to deal with, she should rethink being a nurse." He later saw the nurse crying and felt bad. In the end, his wife said that although the nurse's comment was hurtful, she would've preferred the OP be a bit more understanding.
Redditors agree that the nurse shouldn't be in the maternity ward.
The viral post immediately racked up hundreds of comments, with many fellow Redditors sharing their thoughts on the situation and deeming the nurse the wrongdoer.
Article continues below advertisement
"NTA ... I think what you said was fairly restrained and very true," the top comment said. "No nurse should be speaking to a patient like that." Another person replied, "OP should report this incident to her supervisor. If for nothing else, to show her that there are consequences should she do this to another patient in the future."
Article continues below advertisement
A third Redditor expressed that the OP is a "great husband for standing up for your wife."
"Yes, most of us don't want conflicts, especially in stressful situations. But your wife went through serious trauma, and that was a seriously unkind thing to say to her. 'It's not about you anymore' is messed up," they continued. "Your baby needs a healthy mother, not someone who disregards their own health and struggles."
Article continues below advertisement
"It definitely was still 'about' your wife," said a Reddit user. "The nurse's role is to continue monitoring her after the delivery; the risks to her [are] not over yet. And to develop a supportive relationship with her to allow any teaching or other intervention that could be needed. The mother is still her patient. This is a scary way to talk to your patient."
Article continues below advertisement
Another person commented, "It's that pervasive mentality that sees pregnant people as little more than incubators for their offspring. You'd hope medical professionals should think differently, but many don't."
"That mentality literally kills women; the post-birth period still has so much that can go wrong," a Redditor explained, adding that many women "have died because they aren't taken seriously about pain or bleeding after birth, especially first-time moms."