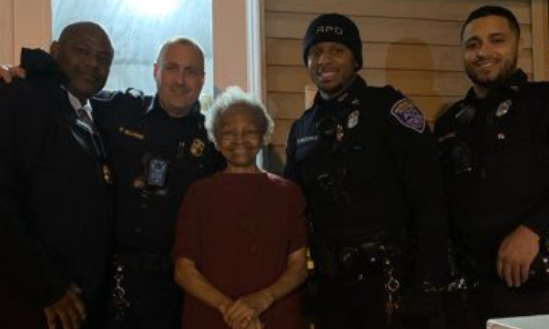 An 82-Year-Old Bodybuilder Grandma Sent a Home Intruder to the Hospital
When a home intruder knocked on an old woman's door planning to rob her, he probably should have tried another home. Willie Murphy, 82, ended up sending a home intruder to the hospital after the bodybuilder fought him off with household objects at her New York home.
Article continues below advertisement
Willie Murphy, who deadlifts 225 pounds, told WHAM that on Thursday night, just as she was getting ready for bed, a man began pounding on her door.
"He was outside and saying, 'Please call an ambulance,' saying, 'I'm sick, I'm sick,'" Murphy told reporters.
She called police, but refused to let the man inside. That's when he started getting angry and started breaching the door.
"I hear a loud noise," she said. "I'm thinking, 'What the heck was that? The young man is in my home. He broke the door."
Article continues below advertisement
Murphy says it was dark, so she was initially able to hide while the intruder walked around her home. She grabbed the closest thing to her, a table, and went to work.
"I picked up the table, and I went to work on him," she said. 'The table broke. And when he's down," she continued, "I'm jumping on him."
Article continues below advertisement
While the intruder was down, Murphy grabbed a bottle of shampoo and started pouring it over him.
"I grabbed the shampoo," she said. "Guess what? He's still on the ground. In his face, all of it, the whole thing."
And is if that wasn't enough, Murphy started taking a broom to him.
"I got the broom," she continued. "He's pulling the broom. I'm hitting him with the broom."
Thankfully for the intruder, that's when police arrived and presumably managed to drag Murphy off him.
Article continues below advertisement
The man ended up being transported to the hospital, while Murphy earned the praises of first responders.
"Ms. Murphy standing shoulder to shoulder with Genesee Section Officers after an intruder attempted to break into her home," the Rochester NY Police wrote on Twitter. "Ms. Murphy is tough as nails & fended off the intruder. Ms. Murphy standing with some of the officers that responded to her home."
Article continues below advertisement
Murphy is already a local celebrity, and last year she took first place in the World Natural Powerlifting Federation World Championships for her division. In a previous interview with CBS, she joked: "I'm old - If I can do it, get with it. I'm that new senior and I got it going on."
The bodybuilder started by lifting five pound weights in 2011 after she watched a local competition at Maplewood Family YMCA. Over time, she managed to work up to benching 225 pounds. That's double her body weight, for reference.
Murphy says that at 82, she has no problems shoveling her driveway or carrying her grandchildren.