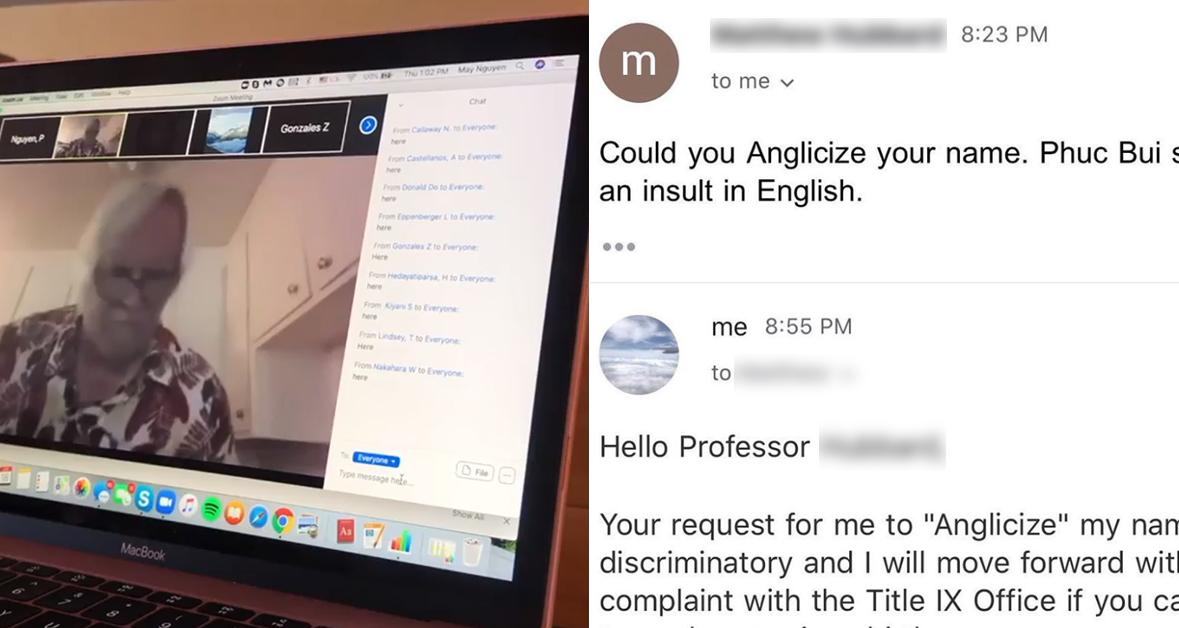 Professor Suspended After Allegedly Telling Vietnamese Student to "Anglicize" Her Name
A professor from Laney College in Oakland, California, is under fire after he allegedly told a Vietnamese student to "anglicize" her name because he thought that it sounded like an insult in English.
Article continues below advertisement
Phuc Bui Diem Nguyen's sister took to Instagram to share an email exchange between her sister and a professor, in which the professor asked her to "anglicize" her name.
The initial email from the professor reads: "Could you please Anglicize your name. Phub Bui sounds like an insult in English."
Nguyen responds: "Your request for me to 'Anglicize' my name feels discriminatory, and I will move forward with filing a complaint with the Title IX Office if you can not refer to me by my given birth name."
Article continues below advertisement
The professor responds: "Your name in English sounds like F**k Boy. If I live in Vietnam and my name in your language sounded like Eat a Dick, I would change it to avoid embarrassment both on my part and on the part of the people who have to say it."
"I understand you are offended, but you need to understand your name is an offensive sound in my language. I repeat my request."
In her Instagram post, Nguyen's sister wrote: "So I'm disgusted and disappointed. Honestly, I really liked Laney college, but this teacher had the ignorance and audacity to tell my sister to anglicized her name is disgusting."
Article continues below advertisement
"Anglicized means to make English in form or character. As a professor, he should be trying to learn her name and culture and not try to whitewash her name."
"My sister graduated high school thinking she can finally be able to use her name. But this is fucking disgusting. I really hate cussing on social media but the fact that this white professor had the audacity to ask her to make her name easier is disgusting."
Article continues below advertisement
"If you read the last page, he's calling my sister's name an embarrassment and that it's sounds like an insult. I love that my parents want to keep my culture alive by keeping our Vietnamese name. If you can't say it then ask."
"In addition, Hubbard said that English is his language. But also forgot that my sister also spoke English and that's not his language."
Obviously, the email exchange attracted a fair amount of criticism.
"He should be fired," one user wrote. "No college should want to be represented that way."
Article continues below advertisement

Another added: "Wooooooooow, then he double downed? Disgusting, I'm sorry your sister received this terrible racist treatment."
Article continues below advertisement

In an internal statement shared on Instagram by Nguyen's sister, Dr. Tammeil Gilkerson, president of Laney College, explained that the staff member had been placed on leave following the incident.
Article continues below advertisement
Gilkerson says that the college is aware of "allegations of racist and xenophobic messages" sent by a faculty member.
"We take these allegations seriously and immediately placed the faculty member on administrative leave pending an investigation."
The statement adds: "We want our students to feel safe and know that we honor their backgrounds, their experiences, and everything that makes them unique. They are everything that is beautiful about our college.