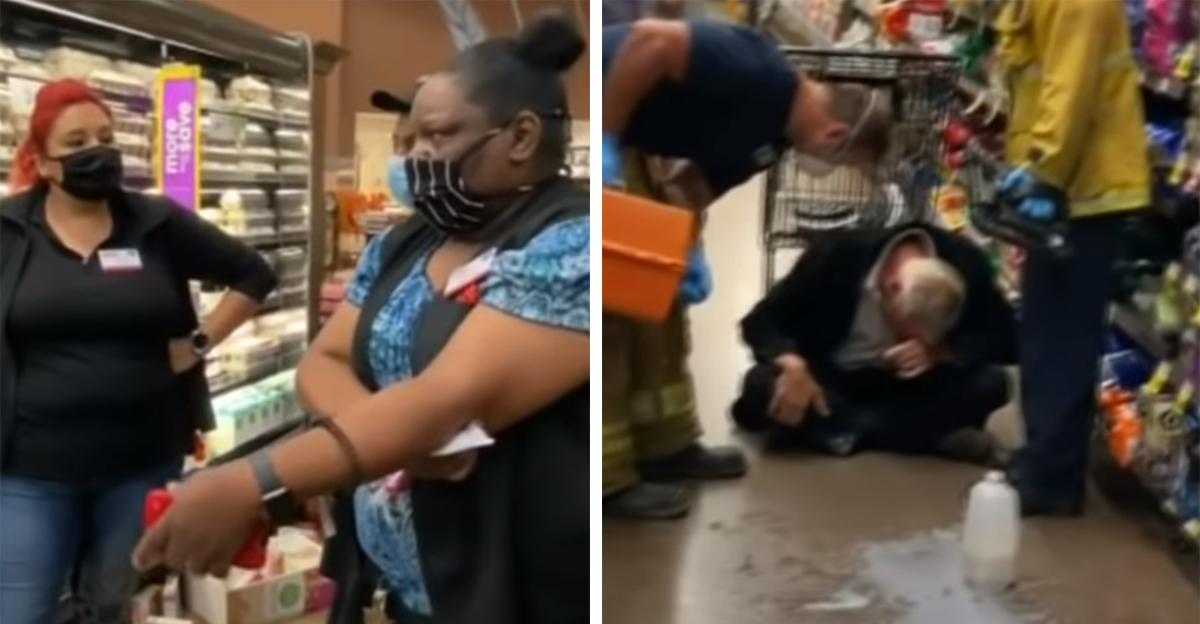 Ralphs Employee Pepper Sprays Man Who Assaulted Woman After Being Asked to Wear Mask
A confrontation in a Los Angeles Ralph's store ended in a man being pepper-sprayed by an employee after he began ramming another employee with his shopping cart.
Article continues below advertisement
According to CBS Los Angeles, an employee had approached the man and told him that he needed to wear a face-covering or leave the store. Face coverings are required in Los Angeles County, and since the incident, Ralphs has joined a number of other major stores in requiring customers to wear face coverings nationwide.
The man then began ramming the employee with his shopping cart, and a second employee used pepper spray to incapacitate the man.
"I was just coming down to the end of an aisle and all of a sudden I heard some commotion and people were getting in the aisle," a witness told CBS. "I looked down there and there was this guy just yelling at someone, and then all of a sudden you see him, you know, take the handles of his cart and just try to ram this woman."
Article continues below advertisement
The man continued to scream at the employee while pushing the cart at her.
"I think he was just screaming about the mask," the witness said. "He didn't want to wear a mask."
Video of the aftermath shows the man sitting on the ground with his arm to his eyes and surrounded by milk, which helps to relieve the pain caused by pepper spray.
The man was transported to a local hospital by paramedics, though it's unclear whether he will face charges.
Article continues below advertisement
Social media users largely seemed to be on the side of the employee.
"People come to supermarket to get what they want, but sometimes they end up getting exactly what they needed," one user wrote.
Article continues below advertisement

While another added: "Good he got what he deserve no one is forcing him to enter that store. If he don't want to wear a mask he could go somewhere else that will let him shop."
Article continues below advertisement

Earlier this week, Kroger Co, which owns Ralphs and a number of other grocery store chains, announced that customers would be required to wear face coverings at all of their locations nationwide.
"With the increase in COVID-19 cases across the country, as America's grocer, we are committed to doing our part to help reduce the spread of the virus," Kristal Howard, head of corporate communications and media relations at Kroger, said.
Article continues below advertisement
"As an employer, grocery provider and community partner, we have a responsibility to help keep our associates, customers and communities safe. According to the CDC, wearing a facial covering, combined with social distancing and frequent handwashing, has been scientifically proven to reduce the spread of COVID-19. Starting July 22, we will require all customers in all locations to wear a mask when shopping in our stores, joining our associates who continue to wear masks."
"We are taking this extra step now because we recognize additional precautions are needed to protect our country," Howard added.
Customers who cannot wear masks for medical reasons are asked to consider alternatives, such as a face covering or face shield. Alternatively, the company's chains are offering online grocery pickup or delivery at no charge during the pandemic.