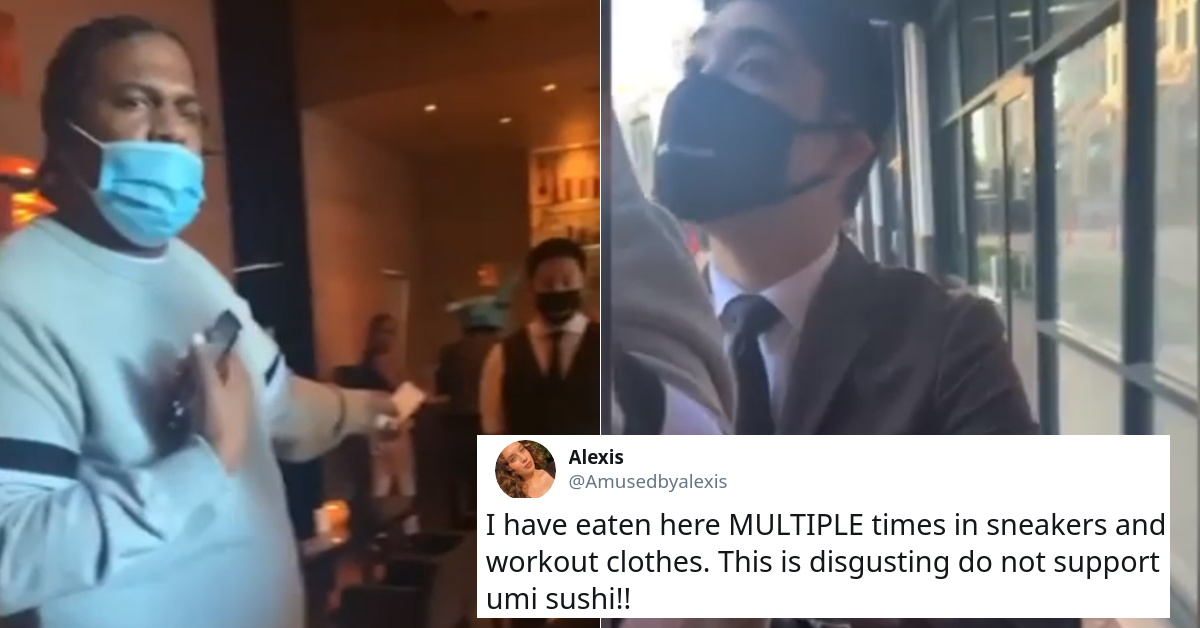 Black Customer Kicked From Restaurant for Wearing Sneakers Shows Double Standard
By Mustafa Gatollari

Nov. 2 2020, Published 10:34 a.m. ET
Dress codes for restaurants have always been kind of weird to me. Sure, you don't want your diners coming in wearing togas, bicycle shorts (and nothing else), or those annoying singled-out-toe-slippers that were somehow popular for a month, but some places need to just calm down with their clothing requirements. No, I'm not going to wear a jacket or blazer in your restaurant and if I want to keep my acid-tab lined baseball cap on while I eat, well, I thought this was AMERICA.
Article continues below advertisement
Then there's the socio-political side of dress codes, which many contend have deeply-rooted racist undertones, especially when it comes to specific hairstyles, but also clothing choices. Which brings us to the recent controversy that occurred in Umi Sushi, a Buckhead district restaurant in Atlanta, Ga. that has a "no sneakers" policy in its establishment.
It's interesting that an eatery which is named after a meal that, in its essence, is street food would ban "street wear" like sneakers but OK, it's a private business that can run itself however it likes and turn away customers wearing kicks if it chooses to do so. Which is exactly what happened to this man who was rocking a pair of Nike Air Force Ones in the eating establishment.
Article continues below advertisement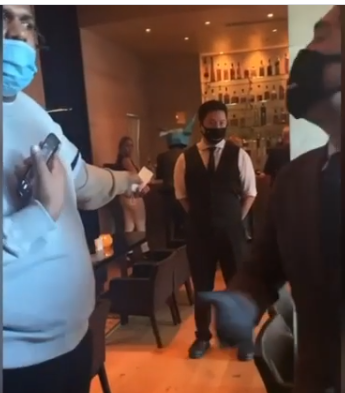 Video of the man being escorted out of the restaurant by an Umi staff member went viral on social media because he was asked to leave for wearing sneakers. However, as the customer was discussing the matter with an employee, he pointed out several other customers who were seated at their tables and enjoying their meals while wearing sneakers as well. He referenced one woman was wearing a pair of Adidas kicks who wasn't asked to go.
Article continues below advertisement
Kaylan Colbert, the man's wife stated that they were enjoying an intimate birthday dinner at Umi Sushi and were already seated when they were approached by a member of the restaurant's staff and asked to exit the premises. She said in a statement to Fox 5 Atlanta: "As we were walking out though my husband noticed a woman at the bar had on tennis shoes and that's when everything had gone out the window at that point, because there are no rules here for some people, only for others."
Article continues below advertisement
Kaylan, who recorded the entire incident, continued, "If you're going to have rules, they should apply to everyone and not just some people."
Outside of the restaurant, Kaylan's husband asked for an explanation as to why he was asked to leave while wearing sneakers, but other guests who were dressed in similar apparel were allowed to stay and eat without confrontation.
Farshid Arshid, who owns Umi Sushi, stated that the restaurant clearly delineates its dress policy on the eatery's entrance, but capitulates his staff should've better analyzed the situation before asking Kaylan and her husband to leave: "This was completely 100 percent an operational mistake on our end. When they got upset, we should have investigated that."
Article continues below advertisement
The restaurant contacted Kaylan and her husband for further clarification on the incident, but the woman has stated she doesn't feel comfortable eating there any longer: "We've seen this on the news over and over lately. Nobody wants to feel that way. Nobody wants to feel like they can't go to certain places."
Article continues below advertisement
Several people on social media pointed out that many of the sneaker-wearing customers who were left to dine without being accosted by Umi staff members were white, and believed that Kaylan's husband's skin color may have played a part in the restaurant's decision to ask the man to leave.
Yesterday a black man was kicked out of Umi Sushi in Buckhead for wearing sneakers. An older white woman was also wearing sneakers but was allowed to stay.. 🤔 pic.twitter.com/LeBEsOp0m5

— Everything Georgia (@GAFollowers) October 28, 2020
Article continues below advertisement
This is Umi Sushi in Atl, where the Middle Eastern owner & Asian workers practice the same anti-Black racism as white supremacists. They tried to pull the ol' "racial dress code" tactic on a Black couple, & then started making up more dress code rules when they were called out pic.twitter.com/WWE3jW6aFH

— Tariq Nasheed 🇺🇸 (@tariqnasheed) October 29, 2020
There were calls to boycott the restaurant for the incident and expressions of disbelief that apparent discrimination was practiced by a restaurant with an owner of Middle Eastern descent and Asian staff members.
Article continues below advertisement
Everyone should go to open table and book reservations for Umi Sushi and don't show up

— Brown (@br0wn24) October 29, 2020
ANYONE THAT LIVES IN ATL, PLEASE DO NOT GO TO UMI SUSHI EVER AGAIN. PLEASE CLICK THE LINK BELOW. MY FRIENDS HUSBAND WAS DISCRIMINATED BECAUSE OF HIS SHOEShttps://t.co/t6ac4z0XJT

— Solei4ever 🇹🇹 (@Soleithegreat) October 28, 2020
Article continues below advertisement
Some people went to the restaurant to see how they would respond to them wearing particular articles of clothing, in the instance of Jerome Trammel, he was wearing a Black Lives Matter t-shirt.
UPDATE: I went to the racist Umi Sushi Restaurant, they didn't let me in but called the police on me because l looked 'suspicious' aka had on a #BlackLivesMatter shirt. So I left, recorded an audio message & went back to play it on my car's loud speaker. pic.twitter.com/QCjSz4MTcb

— Jerome Trammel (@MrJeromeTrammel) October 29, 2020
Article continues below advertisement
Other customers of the restaurant have gone on record stating that they've eaten at Umi multiple times wearing sneakers and were appalled at the treatment that Kaylan's husband experienced.
Article continues below advertisement
Umi is THE sushi spot in Atlanta. Elton John was two tables over last time I ate there. Very high end and very expensive but delicious. IMO this guys is nicely dressed, no reason for this BS

— Bryan (@traderBH) October 28, 2020
The restaurant has since posted an apology on its Instagram page.