Server Says She Was Fired on New Year's Day, Restaurant Blasted Online as Result
A restaurant server who worked at The Other Place in Ankeny, Iowa went viral after sharing her story of how she was fired on New Year's Day.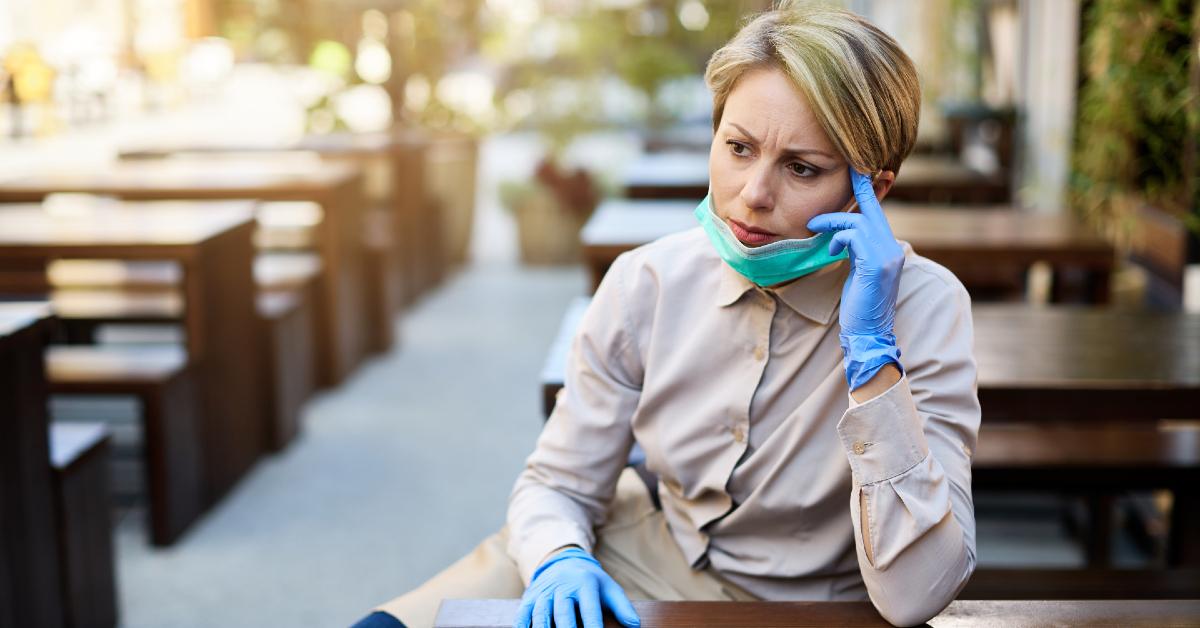 A TikToker by the name of Caelyn who posts under the handle @midwest.gal recently went viral after sharing how she was fired from her job as a server. In her story, she says she was subjected to unprofessional behavior from her manager, and now TikTokers are posting negative reviews about the restaurant online.
Article continues below advertisement
Caelyn says in the video, "I got fired from my waitressing job on New Year's Day. And before I dive in on what happened I'm gonna give you some details. So I worked at a sports bar and grill pizza place and they only have dishwashers for evening shifts. I've never been in trouble with the managers before never had beef with anyone, always showed up on time, pretty good all around until New Year's Day."
From what Caelyn was saying, it doesn't really sound like management would have any reason to give her her walking papers, however, she continued, "Alright New Year's Day I'm scheduled for a morning shift I get there 15 minutes early I do all of my opening work for the restaurant and then on top of that I do the other server's opening work because she arrived late, obviously, New Year's Day people are gonna be late because you know, New Year's Eve happened."
Article continues below advertisement
Caelyn went on, "After I got all of the opening work done, like the restaurant was open but we are pretty slow in the beginning. Since we are slow I started on my side work filling 2oz and 4oz ranch cups. Right as I got done with that I started getting tables and got really busy really fast."
Article continues below advertisement
"The dishwasher from the night before did not do all of the dishes or silverware he was supposed to do. So I went to my manager and said that we needed silverware. He said that he had some on order and I clarified that we needed silverware now for the guests. I made the joke that or I could just tell them that they could eat with their hands and he did not like that at all."

Article continues below advertisement
It seems like her manager's dislike of the joke was what may have sparked management's decision to fire her that day. "He then told me that he'll show me how to do the silverware and I said that I can't right now I have to go take care of my tables. He was pretty upset about that as well and started doing silverware."
Caelyn then said, "We were at the food window and I told him maybe we could hire a dishwasher for the mornings and he did not like that and yelled at me that I could hire a dishwasher for the mornings which is not my job I am a server. Not my job to hire people. And I've only been working at this place for 2 like months."
Article continues below advertisement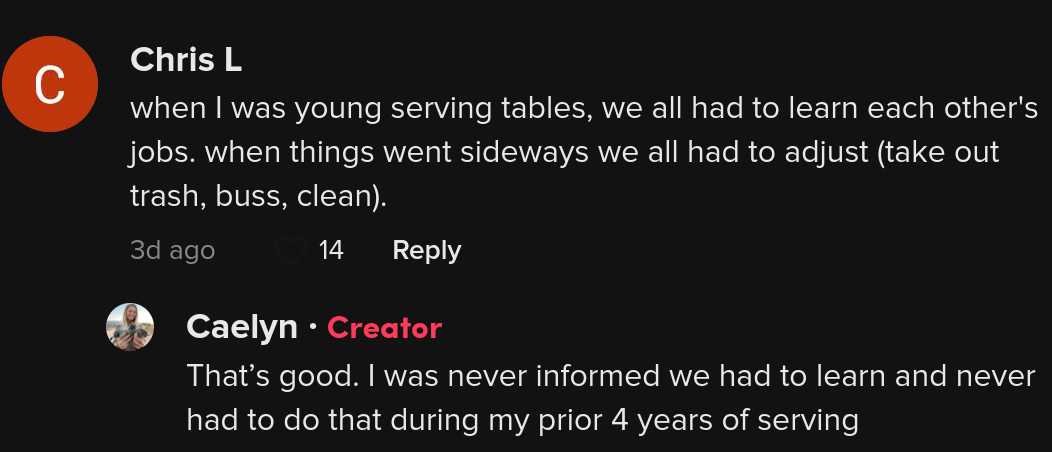 Caelyn says that the ire from her manager didn't end there, "He then cut me early from taking any more tables even though we only had a total of four servers including myself and the whole restaurant was packed. This upset me pretty bad but I did not say anything I kept my composure and kept doing my job I did my closing stuff and closed out my tables."
Article continues below advertisement
Following the end of her shift, she says "I went to my manager's office to get checked out he told me that he cut me early for my attitude I said I'm sorry if it came across as having an attitude I did not mean for that and then he went to say if I'm not going to be a team player that he does not want me here anymore."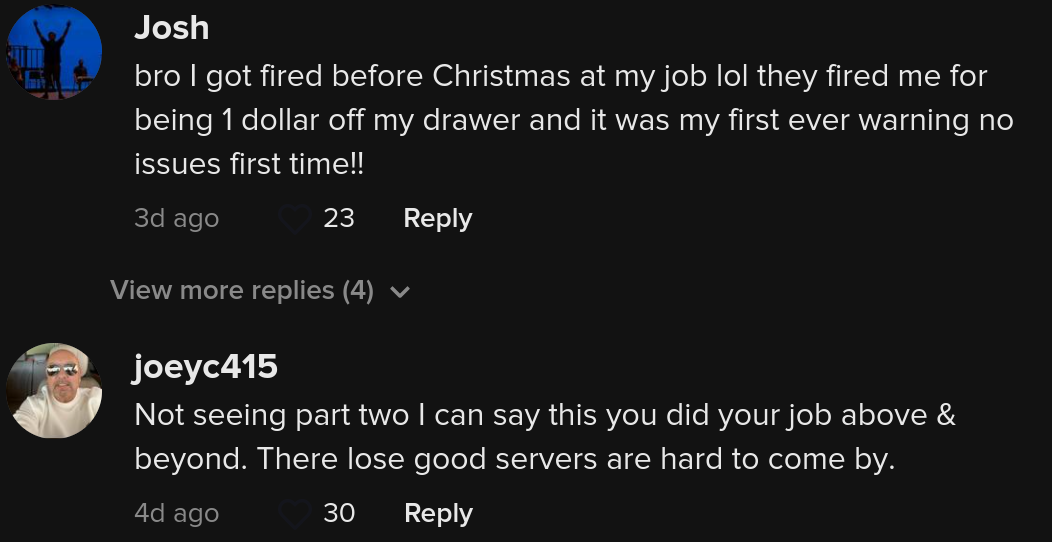 Article continues below advertisement
Caelyn explained her point of view to the manager, "I told him I don't get paid $16 an hour to do the dishwasher's job and I'm not trained on it, and if those things change then I would love to do the dishes."
In a follow-up video, she continued with her story stating that she needed to "self-reflect" on her attitude and about being more of a team player.
She then added that if he wants to train her to be a dishwasher and pay her $16/hr to wash the dishes, she would gladly do so. It was at that point in their conversation that the restaurant manager pointed to the door and told her to "get out."
Article continues below advertisement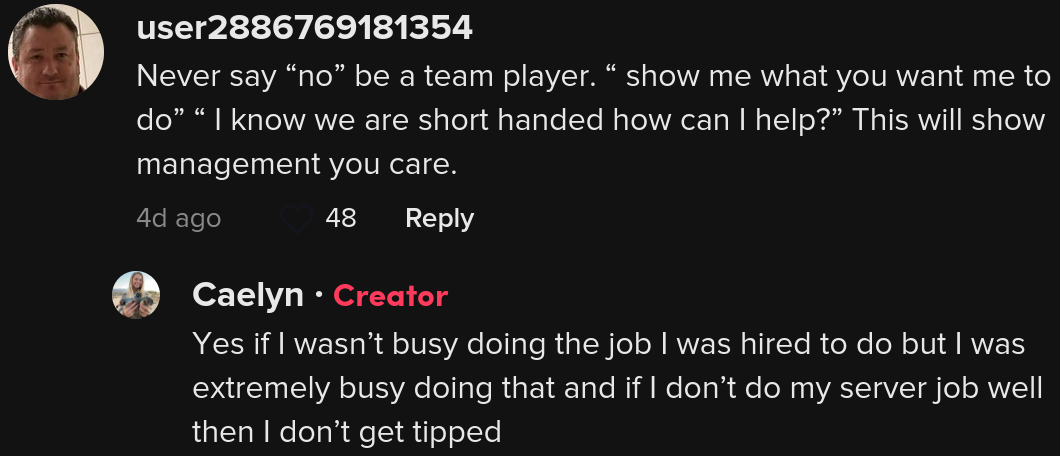 Caelyn left his office and said she tried to talk about it with another manager on the restaurant floor about the incident, and she said that she was yelled at to "get to the door" by the first manager multiple times. She said that after leaving the restaurant, she called back about an hour later to try and get her manager's boss' phone number to discuss her termination.
Article continues below advertisement
According to the TikToker, unfortunately, both her manager and his boss have the "mentality" of a "20-year-old" and she adds that the men are really bad at controlling their emotions. She said that her manager and his boss ended up talking before she could have a chat with the higher up, and by then it was too late.

Article continues below advertisement
The big boss sided with Caelyn's manager; by that point, there was nothing that the server could do to save her job, she says. From what she said about the work environment, however, it didn't really seem like she had much of a shot at sticking around there for long anyway, as in the two months she was there she said that around 8 servers were hired and fired during that time period.

To cap off her video, Caelyn did warn folks in the Ankeny, Iowa area to steer clear of "The OP." The acronym stands for The Other Place which has several locations in Iowa and Kansas. There are several negative reviews posted about the restaurant, including one from Google user Zachary Mustain who complained about the "attitude" of a manager who worked there.