Starbucks "Karen" Says She Deserves Cut of Employee's $100k GoFundMe Money
A Starbucks employee was gifted over $100,000 from strangers for putting up with a "Karen", and now she wants some of his money.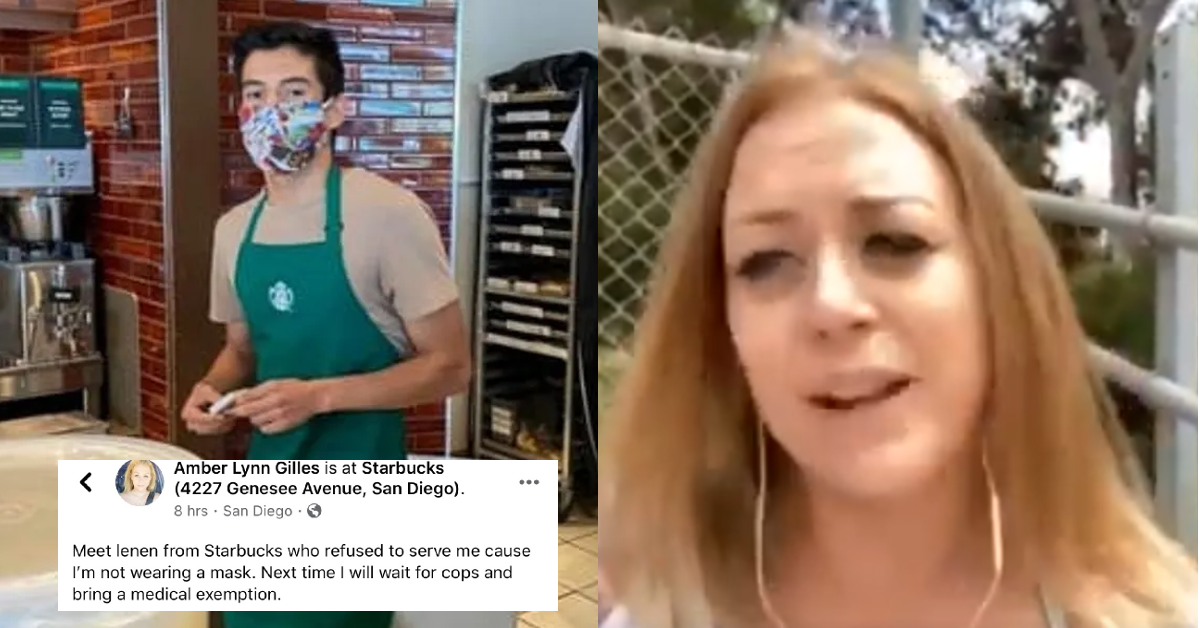 A Starbucks Barista, Lenin Gutierrez, recently went viral for refusing to give a belligerent customer service because she wasn't wearing a mask. The young man was unwilling to compromise on his franchise's rules for not serving shoppers in-store unless they were using face coverings and he got verbally chewed out for his efforts.
The woman who the internet is now deeming "Starbucks Karen" began cursing at Lenin and threatened his job.
Article continues below advertisement
She snapped a photo of the young man and continued to verbally assault not only him but other Starbucks customers present as well, calling them "sheep". Someone was recording the woman's unbelievable behavior, however, along with the unbelievable composure that Lenin displayed in dealing with the irate woman.
The footage was posted online and folks were impressed with the way that Lenin conducted himself. A GoFundMe was set up to reward the young man for his remarkable behavior.
The "Tips For Lenin" crowdfunding page has reached a staggering $103,943 since it was first posted in late June with other 7,700 donaters all giving a tip to Lenin for having to deal with such an angry customer.
Ironically enough, a screenshot of the original post by the Starbucks Karen, Amber Lynn Gilles, shared to social media is the same one that was used in the GoFundMe campaign.
Article continues below advertisement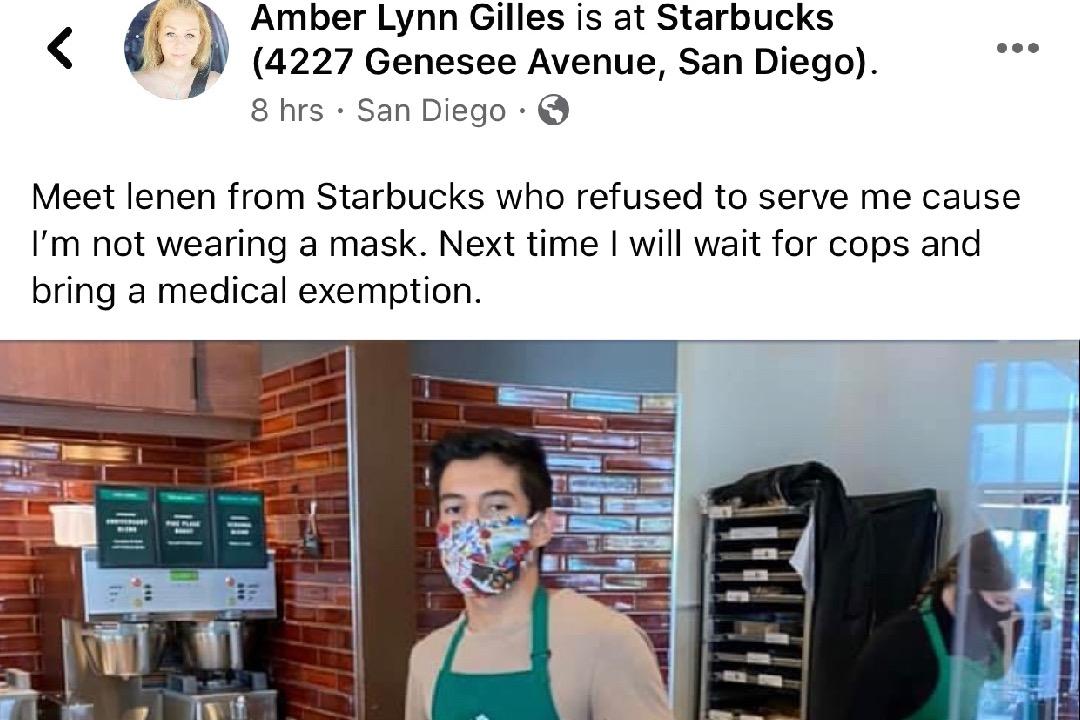 In her attempt to get Lenin fired, she helped earn the guy over six figures, and now she's arguing she deserves a taste of that money because it was her behavior that lead to him being paid.
And she's being entirely serious.
Article continues below advertisement
Lenin was a dance instructor prior to the pandemic suspending classes and took a job at Starbucks to help make ends meet. After receiving the money, he said he intends to use it to further his dance education while establishing a local community dance program to help bring professional instruction to underprivileged children in his area.
Amber is continuing to speak to Media outlets saying she's entitled to some of the money as the viral sensation is bringing her hardship.
Article continues below advertisement
She says she's receiving death threats and claims that she never technically threatened him in her tirade. The anti-vax activist says she was so adamant about not wearing a mask because this kind of forced oppression may start with coffee, but it ultimately ends with "the mark of the beast and all of that forced vaccination stuff."
She has received a lot of push back for her claims on social media, with commenters calling her delusional, especially in response to her allegations that she was indeed the one who was wronged in this situation. Amber also insisted she was within her rights to call the police on Lenin, but many folks think she's in the wrong about that claim as well.
Private businesses do have the right to refuse service and San Diego, specifically, enforces businesses to wear face masks.
Article continues below advertisement

Despite the fact that Lenin was not only complying with the rules and regulations implemented by his employer, but his county, regardless of how he or any Starbucks customer felt about it, Amber is now threatening to sue the young man if he doesn't hand over a portion of his GoFundMe earnings.
She is also averring she will take legal action against GoFundMe founders Brad Damphousse and Andrew Ballester for "defamation and slander."
Article continues below advertisement
Amber has reportedly launched her own GoFundMe "to redress the defamation and slander used against [her]," but a search on the platform for her specific campaign has come up short.
Throngs of people have flocked to social media to point out to Amber and everyone following the drama that it would be a bad idea for her to try and actually sue Lenin for the money as she has almost zero legal grounds to do so.
Article continues below advertisement
Some people believe that if it does go to court the "frivolous claim" will ultimately backfire in Amber's face. What do you think?
Article continues below advertisement