TikTok's Jalapeño Food Hack Is Our New Snack Obsession
A new food hack is gaining popularity on TikTok. It involves jalapeño, cream cheese, and Takis. And we're not gonna lie: It looks delicious.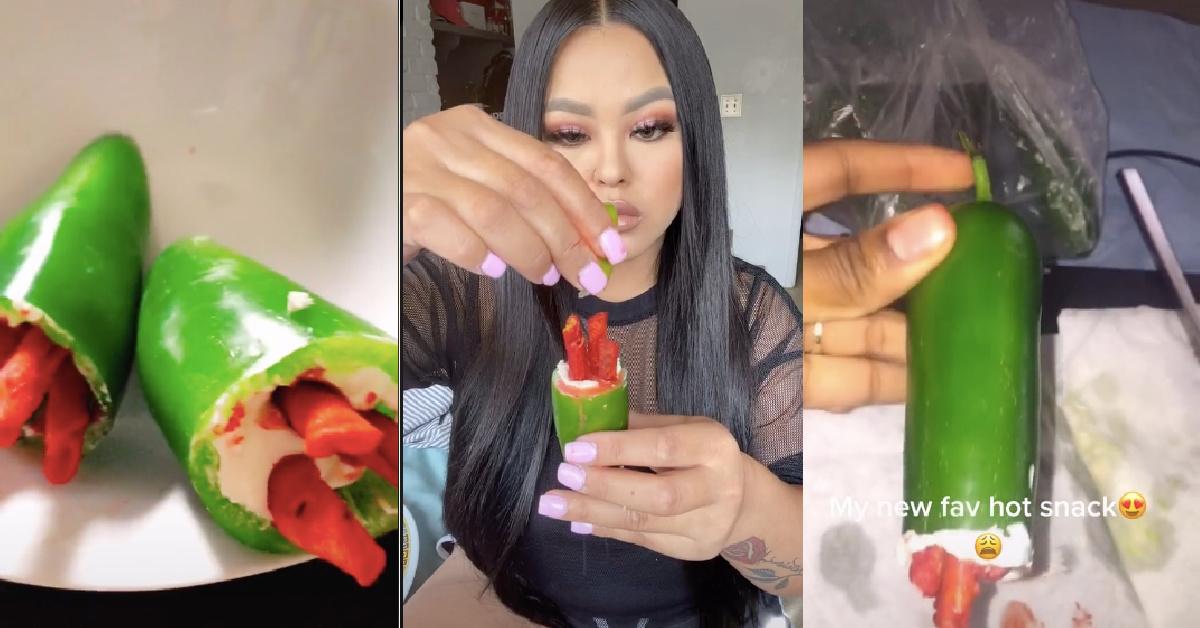 Do you like spicy food? Do you like snacks? Do you like cream cheese? If you answered "Yes" to any of these questions, then chances are you may also be interested in TikTok's jalapeño challenge.
Article continues below advertisement
Once again, the intrepid souls of TikTok have discovered a food hack that, if we're being honest, looks equal parts delicious and bonkers. It also looks super easy to do, though, so we're definitely going to be giving this food hack a try. Think you're brave enough to attempt the jalapeño challenge? Then here's what you're gonna need to do.
Article continues below advertisement
Try TikTok's new favorite snack with the jalapeño challenge.
The videos sharing this recipe refer to it as the jalapeño challenge, but it really is just a new food hack for a tasty snack. A snack hack, if you will. And it only requires three ingredients: Fresh jalapeños, cream cheese, and Takis. (If you're somehow unfamiliar with Takis, they're a rolled corn tortilla chip covered with spicy flavor dust. They're delicious and you can find them at convenience stores. Otherwise, you can substitute Doritos Dinamitas, which is essentially the same thing.)
In order to make the snack (which doesn't appear to have an official name yet), cut the top off the jalapeño and scrape out the seeds. Then fill it with some cream cheese and pop some Takis inside (some people also squeeze some lime juice on top). It's not exactly an elegant snack — you kind of have to just cram it in your mouth and take a bite — but people seem to enjoy it, and we won't deny that it looks very satisfying.
Article continues below advertisement
If you're worried about the spice level, you should know that it's probably not as bad as you think. Removing the seeds from the jalapeño definitely makes it milder, and adding the cream cheese also cools it down significantly. If you can handle a jalapeño popper, you can probably handle this snack with the same level of ease. Plus, you can make a TikTok about it and maybe go viral. It's a win-win, really.
Article continues below advertisement
There's actually *another* jalapeño challenge on TikTok.
Believe it or not, this isn't the first jalapeño challenge to gain popularity on the video-sharing app. There's another jalapeño challenge that also looks pretty delicious, albeit a bit more intense than the first one.
Article continues below advertisement
In order to do the other jalapeño challenge, you'll need a jalapeño (duh), a lime, and some salt. You're supposed to squeeze lime juice onto the jalapeño, then sprinkle it with salt, and then eat it! If you truly want to make it a challenge, do it at the same time as someone else and see who finishes their jalapeño first.
Regardless of which jalapeño challenge you decide to do, just make sure to be careful! You're definitely going to want to wash your hands after handling the jalapeño and before touching your eyes or any other part of your body. Otherwise, you may be at the mercy of yet another jalapeño challenge, and definitely won't be as fun as enjoying a tasty snack.