"The Girl's Night I Didn't Know I Wanted" - Woman's Ultrasound Party Goes Viral
Two women decided to document their "ultrasound party" on TikTok and people were loving it.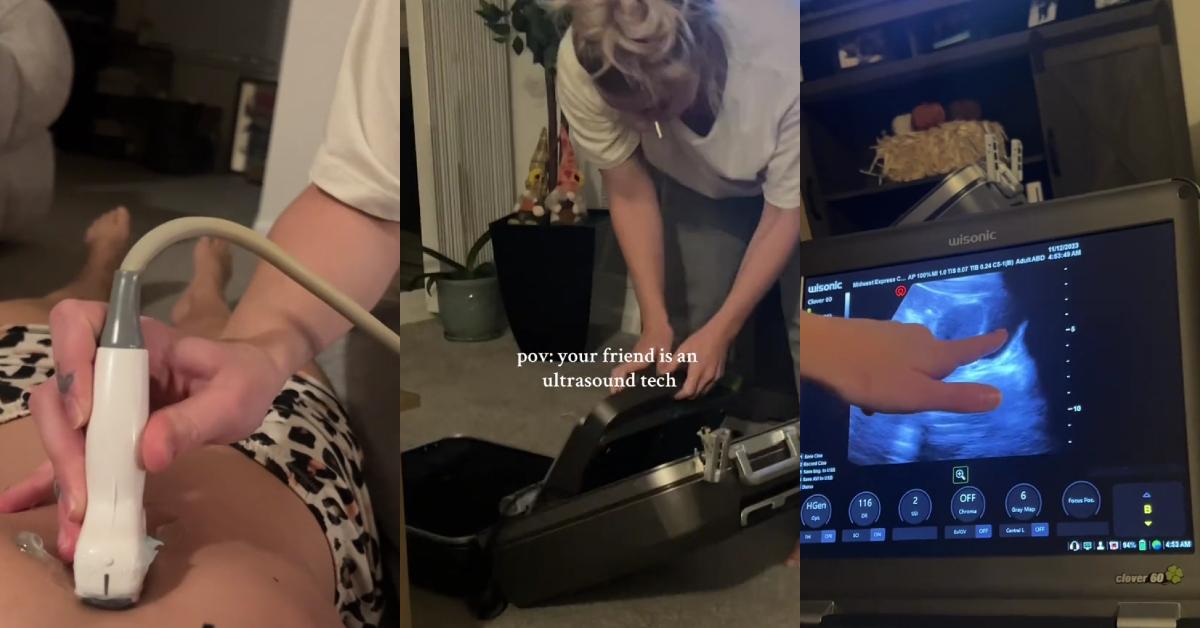 A woman casually having her friend bust out an ultrasound machine and go to work on her stomach is going viral on TikTok, accruing a whopping 1.7 million views on the popular social media application.
Article continues below advertisement
Nora Cummins (@noracummins_) appears to be the ultrasound tech in question in her video, which shows her testing out the machine on her own stomach and then her friend's.
Folks who watched her clip now want to host ultrasound parties of their own while others are just jealous (in a good way) of the great fun the two women are having on video.
"pov: your friend is an ultrasound tech," a text overlay in the video reads as Nora can be seen unpacking ultrasound equipment from a bag, which she then sets up in the living room of a home.
Article continues below advertisement
She then grabs the wand, along with a tub of jelly, and then begins to look at her insides using the wand while checking out the laptop-like ultrasound scanner showing her the interior of her body as she narrates what she's looking at.
Article continues below advertisement
The wp, am recording the video is next up as the ultrasound tech asks her what she wants her to look at.
"I don't know!" she shoots back, "you're the pro here."
"Wow, you're like the perfect scan cause you're so tiny," Nora tells the person holding the camera.

Article continues below advertisement
"Take a deep breath," Nora tells her patient lying on the floor, before informing them that they have nice kidneys. She then says that while she can see the woman's uterus, she can't seem to locate her ovaries during the scan.
The ultrasound tech then informs the woman getting scanned what she's looking at. She points at the screen, "This black thing is your bladder," she then traces another shape on the screen, this is your uterus, this is your cervix, and this is your vagina so you can have a tampon in I can see this big white line right there."
Article continues below advertisement

"What the f---?" the person receiving the scan says.
"There's your endometrium so there's no baby in there."
"That's good."
"You're not pregnant. It's a negative, you're not pregnant." she says as the patient bursts out in laughter.
Article continues below advertisement
Folks who saw the clip had a variety of reactions to the "ultrasound party," featured on Nora's TikTok account. One person looks like they wished they had a friend had ultrasound equipment on them and knew how to properly conduct the readings: "I just paid $500 for my ultrasound and y'all are out here having fun"
Another, who said that they were an ultrasound tech themselves agreed with the tech in the video's assessment of what a "good scan" was: "Me an ultrasound tech watching and going 'OOOOO SHE IS A GOOD SCAN' and getting fomo"
Article continues below advertisement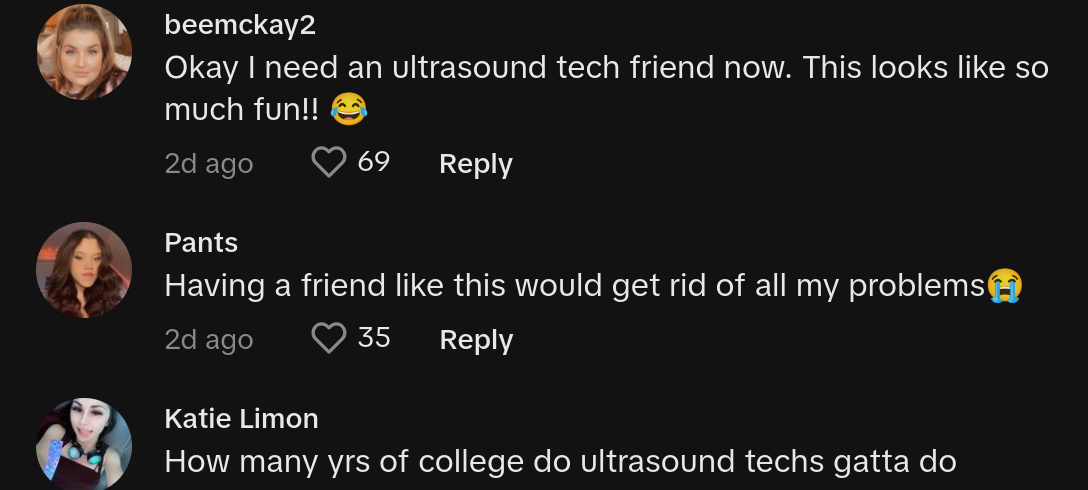 There was another viewer who said that this kind of activity seemed like the perfect girl's night activity: "This. THIS is the girls night I didn't know I wanted or needed lmao"
Article continues below advertisement
One person found the relaxed way the woman getting scanned in the video was told she wasn't pregnant to be hilarious: "'You're not pregnant' was said so casual and reassuring in the funniest way"
Some folks, however, didn't seem to really appreciate the nonchalant ways in which ultrasound techs talked about their insides, however: "I had to get a ultrasound for pain that they suspected was my appendix and they kept saying I had pretty ovaries. it was kinda weird," another viewer penned.
Article continues below advertisement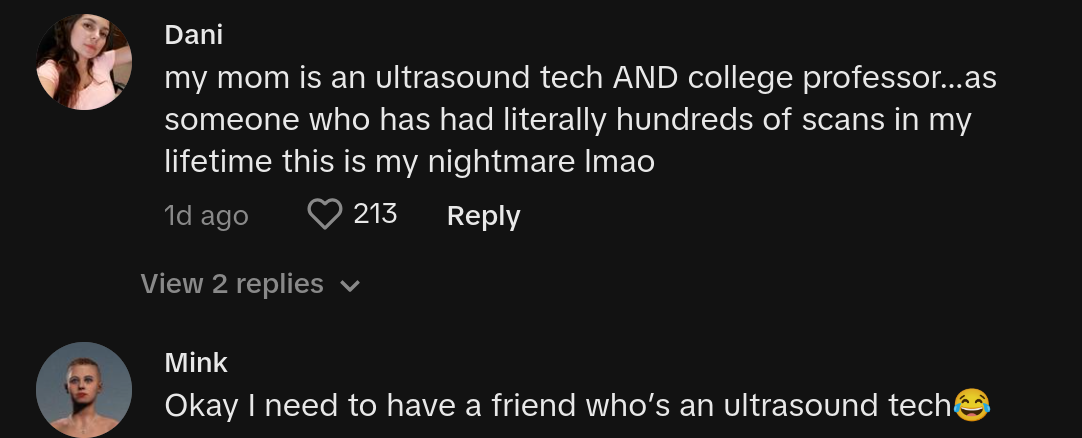 The concept of sonogram parties, however, isn't entirely new. The Bump penned an article back in 2017 weighing whether or not folks would want to conduct a party to have a sonogram conducted in their home, while their friends and family members were present.
One such company that provides this service cautioned that their viewings should never replace a medical exam in the aforementioned article, but folks got to see their gestating little baby moving around inside their belly nonetheless. If this sounds like your idea of a swell time, there are places you could probably hire to help take a peek at your guts ultrasonically.