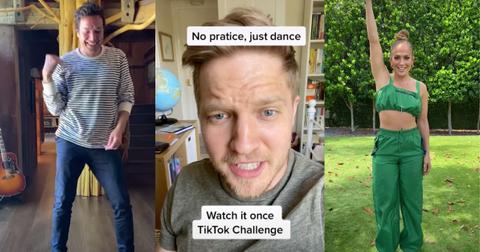 Jimmy Fallon's "Watch It Once TikTok Challenge" Is Incredibly Entertaining
By Abi Travis

Updated
As we're all very, very aware, we're living in unprecedented times, and virtually every aspect of "normal life" has been totally upended. That includes a ton of TV shows that are now being recorded and produced via video-chatting software like Zoom and FaceTime. As weird as it's been to suddenly watch your favorite televisions hosts performing in their own homes, it's also kind of cool to see people rise above less than ideal situations in order to keep providing entertainment.
One of the most entertaining bits to come out of this very strange time is the "Watch It Once TikTok Challenge" as seen on The Tonight Show Starring Jimmy Fallon. TikTok has become a huge part of so many people's lives, and Jimmy's show came up with a great way to highlight that even when guests can't be physically on the show. Now, people are recreating the challenge in their own homes, too! Here's what you need to know.
The "Watch It Once TikTok Challenge" originated on 'The Tonight Show Starring Jimmy Fallon.'
Jimmy's show has always featured fun activities for him and his guests, which are definitely much more fun than standard interviews — both for viewers and for the guests, we imagine! So naturally, when the show became a remote production due to the COVID-19 pandemic, it was time to think of some new bits. That's where TikTok came in (as it has for so many of us during these trying times).
The concept is simple: Watch a TikTok dance once (and only once!), then try to recreate it as accurately as possible. It may sound easy, but as anyone who has tried to make their own TikTok dance video will tell you, it's actually quite challenging. TikTok dances are deceptively difficult — even though they mostly require you to move only the top half of your body, there are so many different steps to some of them!
Anyway, the "Watch It Once TikTok Challenge" premiered with the ideal first contestant: Jennifer Lopez. She totally crushed the challenge and even debuted her very own TikTok dance. Jimmy, um, also participated in the challenge. He then brought it back for another round with Joseph Gordon-Levitt — again, to mixed results (but entertaining all the same!).
Naturally, people immediately realized the brilliance behind the game on the show and started recreating the challenge on TikTok — in other words, we've now come full circle. There doesn't seem to be an official "Watch It Once TikTok Challenge" list of dances that people are using to make their own videos, but, obviously, TikTok is packed to the brim with different dances, so finding one to watch once and then recreate shouldn't be too difficult.
If nothing else, this challenge might convince people that TikTok dances are actually more difficult than they first appear to be. TikTok dances often get a bad rap, but they do actually take some talent. Don't believe us? Try making your own "Watch It Once TikTok Challenge" video, then!