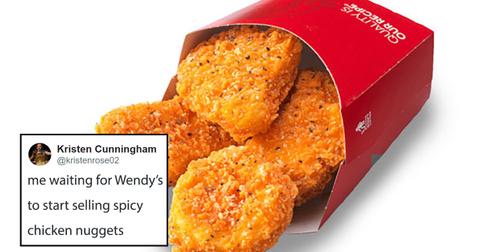 Wendy's Spicy Chicken Nuggets Will Return in August After 2 Million Retweets
By Mark Pygas

Updated
Spicy chicken nuggets from Wendy's were one of the greatest fast food item ever created. But for some reason, the chain decided to pull the nuggets from their menu in May 2017. But now, they're making a comeback. And it all started with a tweet from Chance the Rapper. On May 4 of this year, Chance tweeted out this inspiring message: 
"Positive Affirmations for today: I WILL have a good day, I Will succeed today, Wendy's WILL bring back spicy nuggets at some point please please Lord let it be today."
And in response, Wendy's ever creative social media team decided to issue their followers a challenge. If they could get 2 million likes, the fast food restaurant would bring back their spicy chicken nuggets. And just a few days later, the goal was reached. 
Y'all keep asking, so here's your chance.
The people in charge say if you guys can get our tweet (this one right here) to 2 Million likes, they will bring SPICY CHICKEN NUGGETS BACK.
Let's freakin' do this! https://t.co/qrtvWXjj9V

— Wendy's (@Wendys) May 4, 2019
"Hey, just wanted to send a lunch invite out to everyone. Was looking at the calendar and this seemed like it was probably the best date. Figured it would be a good chance for a couple million of us to get together. Just thought we'd throw a little nugget out there and see who wanted to hang." 
Later, the brand shared an image of a constellation of nuggets along with the same date. 
They confirmed in a series of tweets to followers that Wendy's spicy chicken nuggets will return on August 19.
Replying to followers who were angry that they'd have to wait two more months, the brand said that the delay was due to logistics. 
"It means launching a product nationally takes time, and maybe just be happy they're finally coming back instead of default complaining," Wendy's said on Twitter. 
Because we didn't even have them. We are a national restaurant chain

— Wendy's (@Wendys) June 24, 2019
Other Twitter users were so excited by the return of one of their favorite items that they were planning on having them for their wedding anniversary. 
Others have already set phone reminders. 
Others shared videos from two years ago when they first discovered that the spicy nuggets had been discontinued. 
Some Twitter users are preparing for what will be a long two months. 
Others are already addicted.
Will you be getting some spicy chicken nuggets when they return?