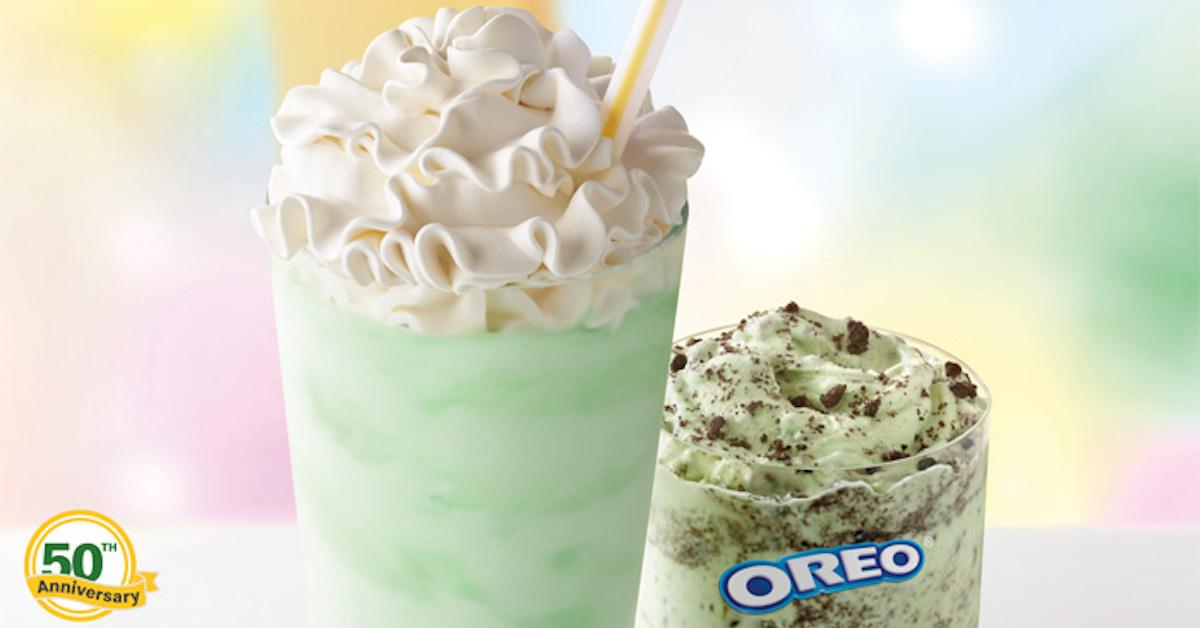 McDonald's Is Offering Two Shamrock Shake Varieties This Year — Here's What to Expect
When March finally rolls around after a seemingly-endless gloomy winter, I start looking forward to (slightly) warmer weather, St. Patrick's Day celebrations, and — most importantly — McDonald's Shamrock Shake. The bright green beverage is a springtime staple for fast food fanatics across the globe, and this year, the Golden Arches will be offering customers not one, but two different flavor options, in honor of the highly anticipated sip's 50th anniversary.
Article continues below advertisement
Since we're well-aware that an additional Shamrock Shake offering is revolutionary for fans everywhere, we got the inside scoop on both varieties. So stay tuned for what you can expect from both of McDonald's Shamrock Shake flavors this year.
Article continues below advertisement
First, we have the new Oreo Shamrock Shake McFlurry.
McDonald's is quite literally shaking things up this year, with a brand new offering which takes the OG Shamrock Shake we've all come to know and love to the next level. It's called the Oreo Shamrock Shake McFlurry, and trust me, it's unlike anything McDonald's has ever offered.
The Oreo Shamrock Shake McFlurry essentially combines the iconic Oreo McFlurry with a peppermint milkshake, blending creamy vanilla soft serve with mint flavoring and Oreo cookie crumbles. Taking on a McFlurry texture rather than a milkshake texture, per the brand, you'll scoop it out with a spoon as opposed to sipping it through a straw. It's definitely heartier than the original shake, so dive in with an appetite.
Article continues below advertisement
Then, of course, we have the original Shamrock Shake flavor.
Obviously, McDonald's won't be ditching the OG Shamrock Shake flavor in lieu of the chain's newest McFlurry — the Shamrock Shake is totally timeless, and tastes like everything we love about springtime and St. Paddy's Day festivities. For those who haven't had it, though, let me fill you in on what to expect.
Article continues below advertisement
According to McDonald's, the original Shamrock Shake is made with rich vanilla soft serve ice cream, which is blended with minty Shamrock Shake flavoring. Then, it's topped off with a "whipped topping" for that picture-perfect ~lewk.~
Article continues below advertisement
This will be the Shamrock Shake's eighth year as a nationwide offering.
McDonald's Shamrock Shake had been a cult favorite for several years before it finally became a nationwide offering in 2012, according to McDonald's blog post. And prior to its nationwide availability, fans had created a website to track down where you could find it. Now, fans can simply go to their local restaurant and pick them up.
This year, both of McDonald's Shamrock Shake flavors will be available in restaurants throughout the U.S., Canada, and in Ireland, as of Feb. 19. So definitely mark your calendars — every fan knows the sweet treat is only around for a limited time (about a month!) before it disappears for another full year... truly heartbreaking for customers worldwide.
Article continues below advertisement
Choosing between McDonald's two Shamrock Shake offerings is going to be extra tough this year with the new Oreo flavor, so between you and me, I'll probably just order both... and TBH, I won't regret it in the slightest.