How to Decode What the 'Despicable Me's Minions Are Saying, Before 'Rise of Gru' Premieres
What language do the Minions speak? This is how to decode what the beloved 'Despicable Me' characters are saying, before the 'Rise of Gru' premieres.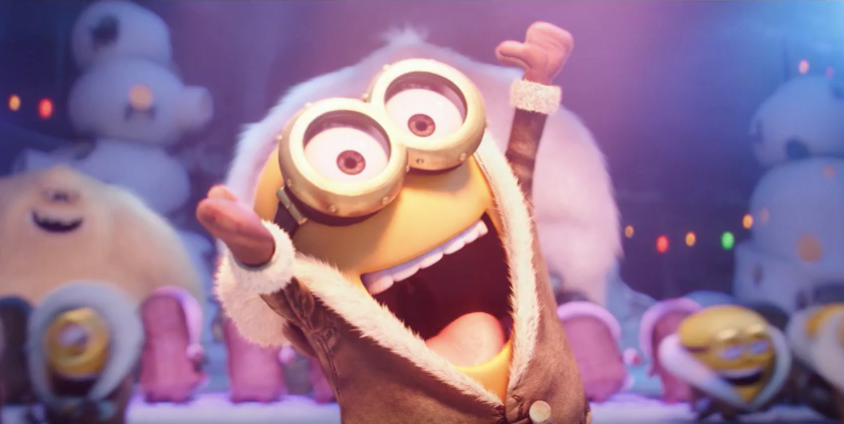 Chances are you're somewhat familiar with the Despicable Me Minions, whether its from watching any of the three original movies, or either of the two Minions spinoffs. Gru's tiny yellow lab partners are known for their trouble-making ways and incomprehensible way of speaking, and since they're so hard to understand, I've decided to learn how to decode their language.
Article continues below advertisement
And if you, too, have wondered what language the Minions speak, stay tuned — I've done a deep dive on Gru's beloved henchmen, to understand what they're saying in the franchise's next film, The Rise of Gru.
Article continues below advertisement
Apparently, the Minions combine a few different languages into their dialect.
Similar to Spanglish or Swiss-German, it turns out that the Minions actually use a combination of dialects when they speak. According to Day Translations, their language is mostly made up of: "Minionese" (a totally made-up language), in addition to English, Spanish, French, Filipino, and also, a little bit of Italian. Needless to say, they're low-key bilingual geniuses.
Some viewers have noticed that the Minions also often tend to throw random food vocabulary into their language, including: banana, poulet (which means 'chicken' in French), and Tikka Masala (which is a popular Indian dish).
Article continues below advertisement
While translating this blend of languages is nearly impossible on the spot, Best Buy released a cellphone app for audiences to decode what the Minions were saying when the second film in the franchise came out, called Minionator, according to New York Times.
Article continues below advertisement
Unlike many movies with made-up languages, the directors didn't use a linguist.
There are so many famous movies and TV shows that have utilized made-up languages, from Avatar, to Star Trek, and even Game Of Thrones, according to Lackuna. For each of those productions, the directors hired a linguist to create the language, and teach the actors how to speak it. But apparently, that wasn't the case for any of the Despicable Me movies.
According to Quick and Dirty Tips, Universal decided not to hire a linguist for the Despicable Me movies — the film's two directors, Pierre Coffin and Chris Renaud reportedly created the language all by themselves. In fact, the two of them even recorded some of the 'Minionese' on their own, to avoid having to teach all of the voice actors the fabricated language. So bottom line: to decode their lingo, you can try Google Translate, or you can use the Minionator. It's up to you.
Article continues below advertisement
What can we expect for 'Rise of Gru'?
Set to debut July 4 weekend, Rise of Gru delves into the mad scientist's past, as a prequel to Despicable Me and a sequel to 2015's Minions, according to Hollywood Reporter. The trailer shows young Gru at Vicious 6 headquarters to interview for a job, and when the interviewer doubts Gru's evil abilities, he steals a precious stone, running away with it.
Article continues below advertisement
Gru passes the villain's precious stone off to one of his minions, and later, we find out the minion traded the precious stone for a pet rock. The villain finds him to get it back, and mayhem ensues. Watch the trailer if you haven't already, below.
Understanding Minions is definitely a difficult feat, but once you get the hang of their unique combination of dialects, understanding Rise of Gru will be a total cinch. Luckily, though, you won't need to know Minionese to fully understand the movie — the context clues are dead giveaways to all of the ridiculous Minion happenings.
Catch The Rise of Gru in theaters July 3.