Woman Ships Luggage to Florida Instead of Paying $150 for Spirit Airlines Baggage Fee
A Spirit Airlines flier shared their travel "hack" to avoid excessive baggage fees when traveling with the budget airline.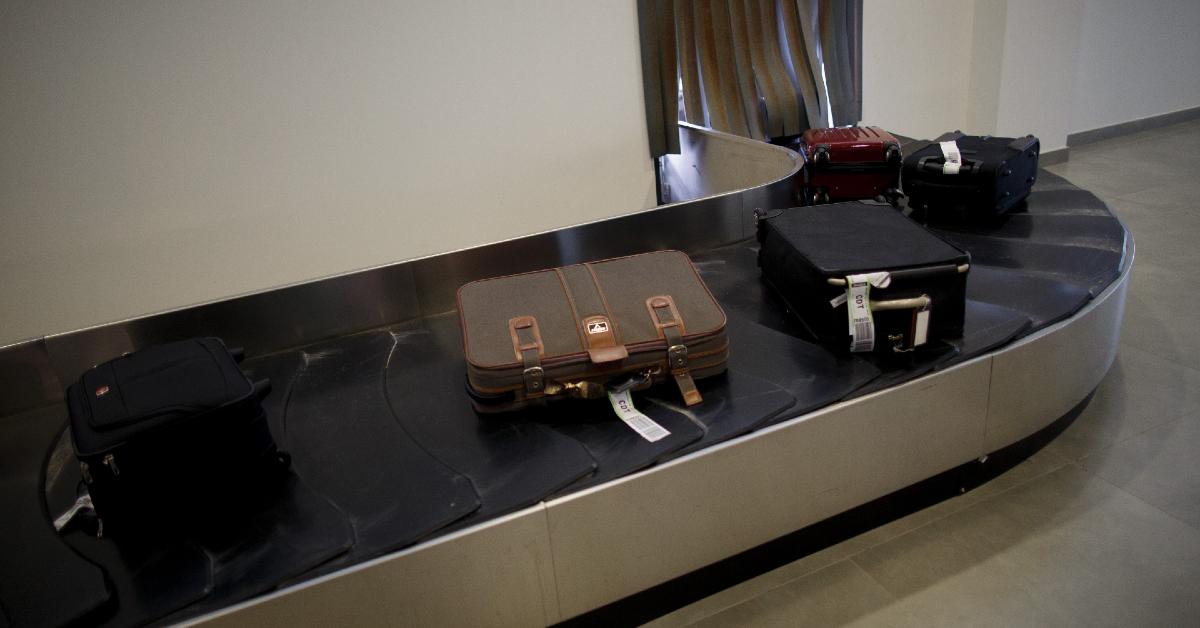 Paying extra fees when you're traveling absolutely stinks. Sure, you might get happy after finding a budget ticket using Google Flights and you're all excited to plan your trip, especially because you think that you now have a bit more money to spend on your travels with all of the cash you saved on your ticket.
Article continues below advertisement
But hold up: did you check and see which airline you're booking with, and how much their charge for carry-on bags, or personal items that technically don't fit into the airlines' pedantic definition of what a personal item is? Because depending on who you're flying with, you could very well end up paying more for your trip than a competing airline was originally charging you.
Brands like Spirit, Frontier, and Allegiant are often maligned for sneaking in expensive carry-on/checked baggage charges, which can really put a damper on fliers getting what they thought was a deal.
However, there was one Spirit customer who was planning a trip to Boynton Beach, Fla., who found a pretty nifty workaround to avoid paying high-priced luggage fees with Spirit Airlines.
Article continues below advertisement
Faith (@gouldstandard) posted a now-viral TikTok that has racked up over 440,000 likes on the platform that shows her packing a shipping box of her items to the address that she's flying to in Florida to see if it would be cheaper than paying for a checked bag on Spirit Airlines.
Article continues below advertisement

In the video, she packs a cardboard box with clothing, tanning oils, lotions, and other items and then tapes it up. She writes in a text overlay of the post: "Let's see how much it costs to ship my luggage to Florida versus paying $150 to Spirit Airlines."
Article continues below advertisement

At the end of the video, she revealed that the final cost of the shipment only came out to $34.33, which, depending on the amount of stuff that didn't fit in the box (which she will put in her backpack) could be significantly cheaper than paying for bags on Spirit.
Article continues below advertisement

According to My Baggage, the airline charges different prices for folks who pre-pay for their luggage online versus paying for it in person at the airport. If you pay ahead of time, a carry-on bag alone will run you $41, and checked luggage comes out to $36 for the first checked bag. If you have a second suitcase, that'll run you $46 extra, and your third to fifth checked bags will cost you $91 per extra bag.
Remember, this is for each way.
Article continues below advertisement

So if you're planning on sending a lot of stuff to a location and you can trust that it'll be received wherever you're planning on staying, you may be able to save yourself some coin by just getting a box and shipping it via a parcel service like FedEx or USPS.
Article continues below advertisement

There were TikTokers who had quite a bit to say about Faith's post, however, Some pointed out that if she just put the luggage in as a checked bag, then she would've paid around the same amount. Which is true, however, sometimes waiting at the baggage carousel can be a real pain.
Article continues below advertisement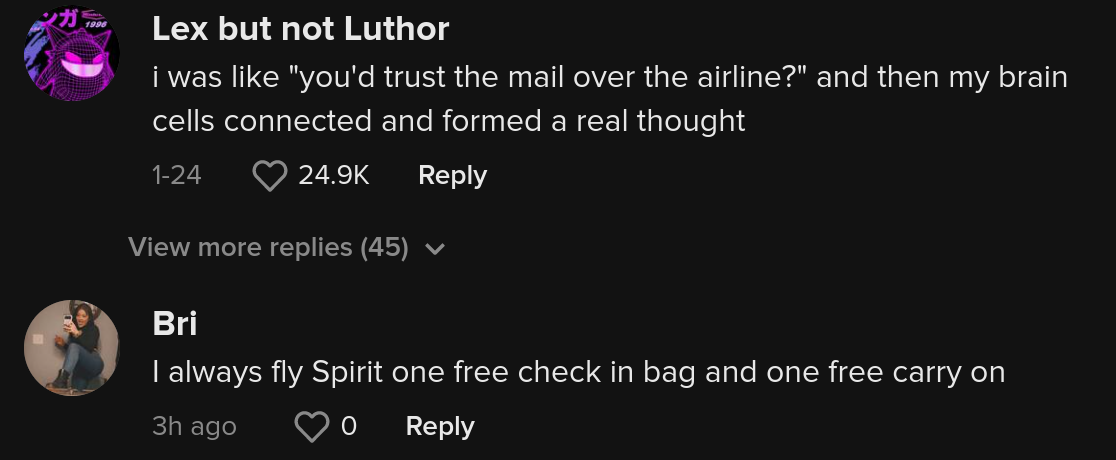 And if you don't really trust airlines to take the best care of your luggage while you're traveling, then shipping your belongings may be the way to go.
Others said that they would vacuum seal all of those clothes instead and stuff them inside of a flat-rate envelope for even more savings.
Article continues below advertisement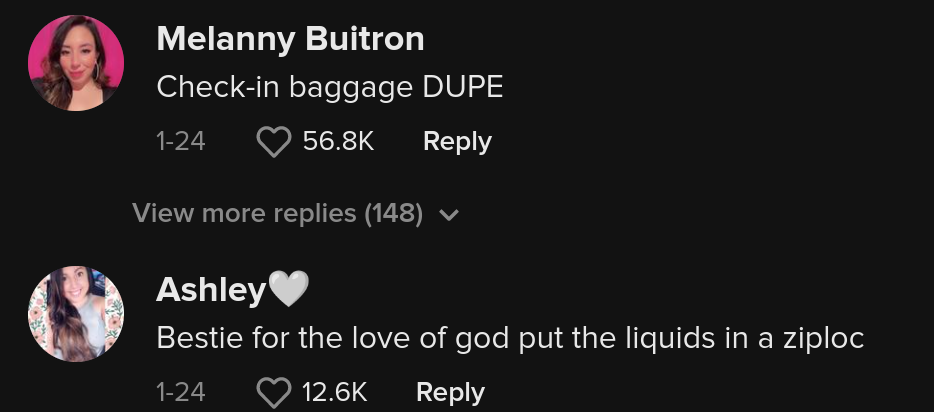 And there were more than a few people who said that if she's throwing in bottles of liquid, they she would've been better off putting them inside of ziploc bags so that they wouldn't be spilling around all over the place.
What do you think? Would you want to try this out? Or would you be worried about a porch pirate nabbing your box or it not aligning with your travel itinerary when you land?