"Literally the Worst Bathroom I've Ever Seen" — Woman's Gross Walmart Restroom Find
A TikToker shared the "worst" find she's ever come across inside of a Walmart bathroom in a viral clip she uploaded online.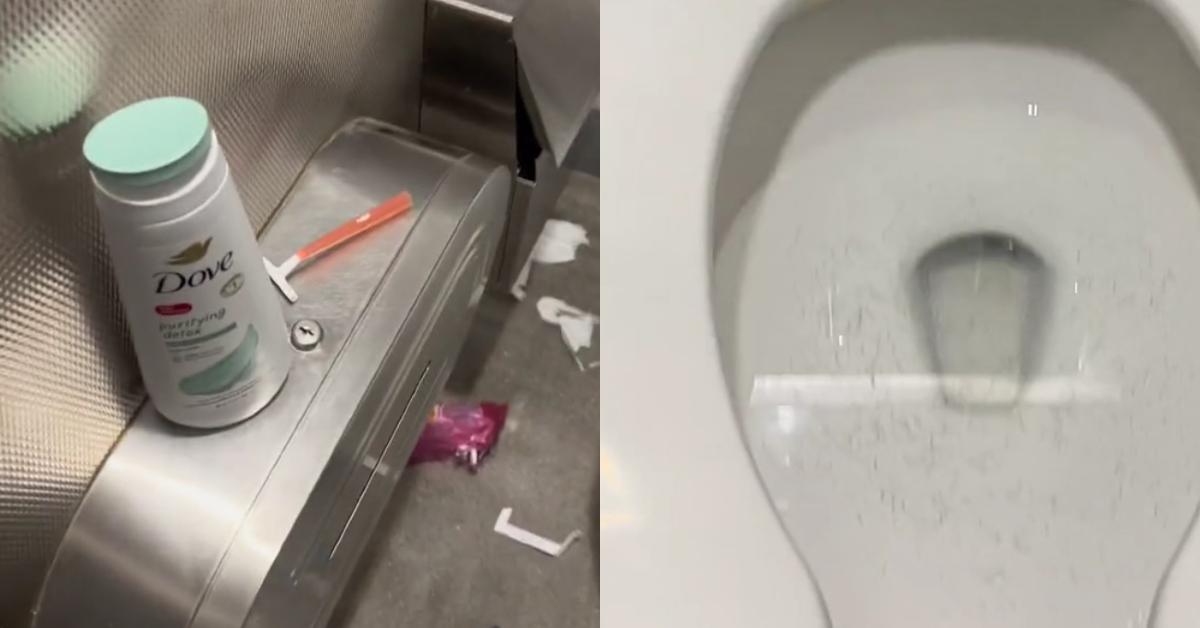 If you've ever visited a Walmart bathroom, then you must really be into gambling, because there's no telling what you're going to encounter.
Of course, the same could go for gas station rest areas, or the fecal dungeons that reek of lower intestinal discharges and ammonia at the Port Authority bus terminal in NYC.
Article continues below advertisement
But there's a certain universality to the ominous feeling one experiences when they hear the term "Wally World bathroom." After all, Walmart is one of the world's most popular retailers, with over 10,623 locations situated across the globe.
And while it's difficult to gauge or rank what some of the worst Walmart bathroom finds are, it's not like there's a list or official ranking system out there being monitored by the Guinness Book of World Records or the CDC, there's a strong case to be made that this recent horrid discovery uploaded by TikToker @cemeterydate would probably make that list.
Article continues below advertisement
In a viral TikTok with a simple caption that reads: "Literally THE WORST Wally World bathroom I have ever seen," @cemeterydate records herself walking into a restroom stall, showing off bits of shredded toilet paper on the floor and what appears to be discarded bits of product packaging.
Article continues below advertisement
There's also a tub of Dove purifying Detox resting on top of the toilet paper dispenser, with a handheld razor resting beside it. The scene is starting to make sense now, someone did some shaving when they were inside this bathroom stall.
The TikToker then pans their camera over to the toilet bowl itself, showing off the water which is filled with bits of hair. The real question is, what exactly was the person shaving when they were in the stall?
Article continues below advertisement

Judging from the litany of disgusted reactions from the various TikTokers who responded to the clip, there are a lot of people who seemed to think that whoever was in that stall decided to take a razor to the pubic region in order to trim the hedges so to speak.
Article continues below advertisement
There were some folks who provided some gag-inducing anecdotes of their gnarliest Walmart bathroom finds as well. Like one individual who penned: "No but I found a literal catheter in the women's bathroom at Walmart once."
Another person said: "biblically accurate wally world experience (i work there)"
Someone else joked that the bathroom visitor left the cream and razor inside of the bathroom for someone else to borrow them at a later time.
Article continues below advertisement

As grossed out as some people were, there were also other users who didn't think this was the worst of the worst when it comes to some of the nastier findings they've come across inside a Walmart restroom: "this is pretty tame for wallyworld bathrooms. Some homeless man had a picnic In ours and left behind beer and donuts lol"
Article continues below advertisement
One individual put their writing skills to good use in order to illustrate just how uncomfortable it must've been for some folks to sit down and hear another person going to work on their body with the razor and cream as they used the stall right beside the crime scene: "imagine being in the next stall hearing the scrape and the tap of the razor"
Article continues below advertisement

Article continues below advertisement
She left the stall and tried to follow the man out of there and capture him on a phone recording of her own, but he slapped her phone away.
In fact, if you Google "Walmart bathroom crime," it's kind of shocking the sheer number of sad cases that come up, which probably puts whatever remnants of a shaving that @cemeterydate uploaded to TikTok feel like a like a welcome discovery.