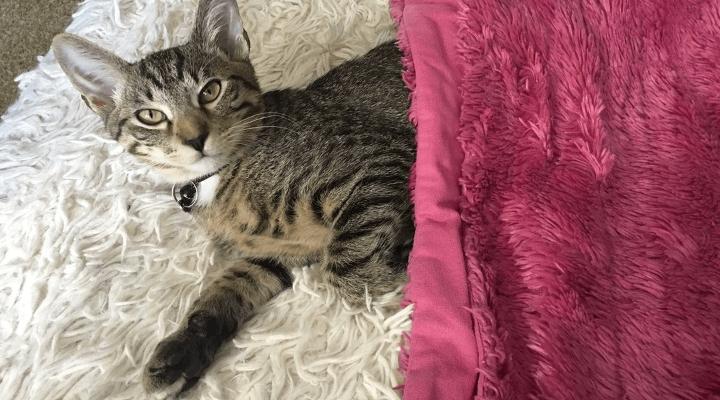 This Cat Who Can Get His Own Water Is Definitely Smarter Than The Dog
Who says dogs are smarter than cats? This little furball is so independent and resourceful, she doesn't even have to wait for her owner to get water when she needs it. See the impressive kitty using her skills.
Article continues below advertisement
Cats, despite potentially being homicidal maniacs, are intelligent creatures. In fact, it's a little unsettling how smart they are. A few wrong turns, and we could be looking at a new (furry) regime.
The leader of this new movement? He's already Twitter famous.
Jenna Stoyanov, a 19-year-old college student in Austin, Texas likes tweeting photos and videos of her "ridiculous" cat, Milo.
While the family tried to teach the 9-month-old cat the same tricks they taught their older cat, Foster, but Milo had his own interests... Like fetch and hiding his collars.
"Milo is more interested in doing things his own way," Stoyanov told BuzzFeed News.
Article continues below advertisement
Milo certainly took matters into his own hands when he learned where water came from. Stoyanov tweeted the following photo of her furbaby taking some serious initiative.
She had a feeling that Milo's impressive feat would get some online response.
"I have actually tweeted a bunch of pictures of my cats, because I think they're precious and I love sharing them with people," she explained to BuzzFeed. "I kinda knew this one would be a hit, getting maybe as many as 50 likes."
...She got a few more than 50.
The photo has been retweeted nearly 70,000 times in just 3 days — it is pretty damn impressive, after all.
Article continues below advertisement
People couldn't help make some comparisons.
Article continues below advertisement
Article continues below advertisement
TBH, the video is just indicative of what's to come.
It's time to brace ourselves for their reign. We might as well surrender now.