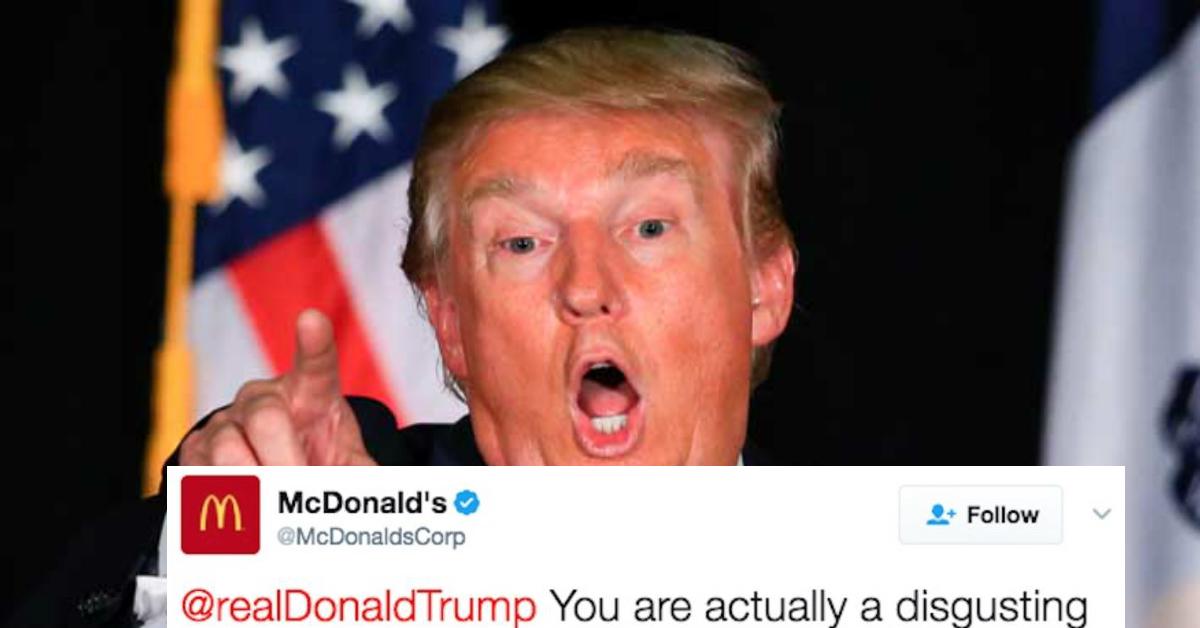 Official McDonald's Twitter Roasted Trump, Company Says Account Was Hacked
By Mustafa Gatollari

Updated
Donald Trump, despite being elected the President of the United States, tweets like an angsty teenager who had their haircut roasted online by strangers. Or at least, that's how I would describe it.
In fact, he's been trolling people on Twitter for years. He trolled people way before he was officially running for President. In my opinion, it's kind of pathetic.
But now that he actually managed to get elected, he's become an even bigger target for Twitter beefs. Our 45th President, and what I would call a national embarrassment, isn't just receiving hate from Alec Baldwin and Snoop Dogg, but for a few minutes on Twitter, he was the subject of McDonald's ire as well.
It all started with this tweet that came from the fast-food chain's official Twitter account that was quickly taken down.
"@realDonaldTrump You are actually a disgusting excuse of a President and we would love to have @BarackObama back, also you have tiny hands."
In case you've never looked at the official McDonald's Twitter before today, this is the kind of tweet you'd expect from the burger giant.
Politically charged rhetoric against Trump isn't something that Mickey D's is really known for.
After 20 minutes or so, McDonald's noticed the Trump-sulting tweet pinned to the top of its page and couldn't take it down fast enough.
Not before amassing more than a thousand retweets, however.
The media snafu actually looks like its good for business.
And it's not like people are going to forget what happened anytime soon, either.
McDonald's account now casually tweeting out "Glad you enjoyed your breakfast!" replies like we didn't just see it curb stomp the President.

— Scott Wampler (@LimitedPaper) March 16, 2017
No matter how hard corporate tries.
Some are seeing upsides to the tweet as well.
I would love all Trumpkins to boycott McDonald's now so I would have to deal with less of a line when I go every day 👀

— Calvin (@calvinstowell) March 16, 2017
While others made some incredible jokes.
Thought McDonald's liked creepy clowns?

— Josh Comers (@joshcomers) March 16, 2017
McDonald's provided an official response to the tweet, saying that the company's account was compromised.
Twitter notified us that our account was compromised. We deleted the tweet, secured our account and are now investigating this.

— McDonald's (@McDonaldsCorp) March 16, 2017
Which is good news for Donald, because the man seems to love his fast food, especially his Mickey D's.
He seems ambivalent about Diet Coke, though.
I have never seen a thin person drinking Diet Coke.

— Donald J. Trump (@realDonaldTrump) October 14, 2012
Do you think McDonald's actually had its account hacked? Or was an employee just looking to lose their job that day?