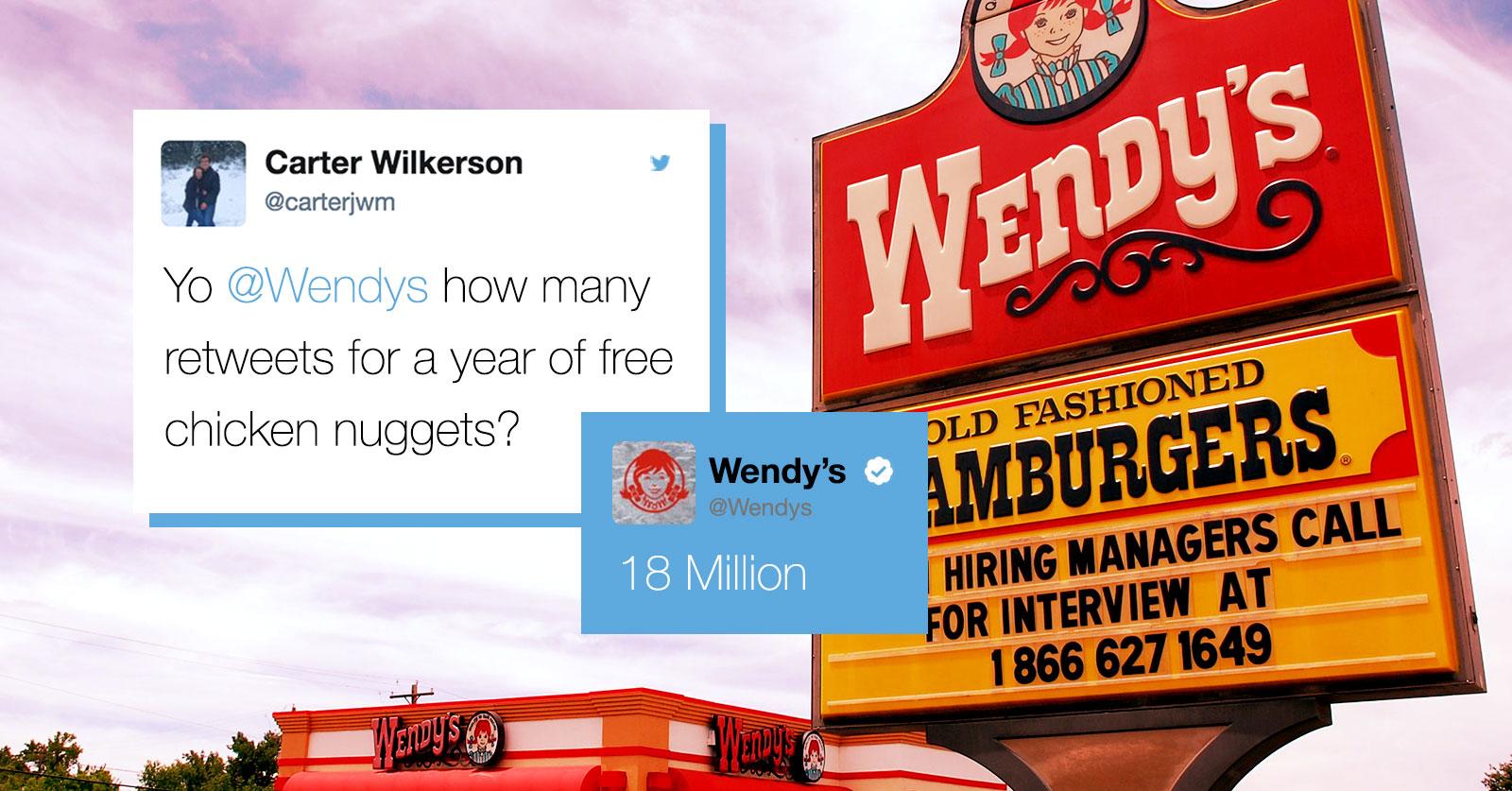 Wendy's Promises This Guy Free Chicken Nuggets For A Year If He Gets Enough Retweets
By Mark Pygas
The people in charge of the Wendy's Twitter account are social media geniuses. Their job mostly involves roasting people and making ludicrous promises if someone gets a certain amount of retweets. But now, they might have to keep one of those promises.
Twitter user Carter Wilkerson was interested to see how many retweets it would take for a year of free chicken nuggets. Wendy's replied with the outrageous goal of 18 million tweets. For reference, the most retweeted tweet in history is Ellen DeGeneres' Oscar selfie, with 3.2 million.
But with the help of the internet, Wilkerson has acquired 950,000 retweets in just 24 hours, and is well on his way to a year of free nuggets.
And Wendy's wasn't really expecting this kind of response.
I tried to get free nuggets too, but I don't like my chances.
But people are still hopeful for Wilkerson, even if he does have a long way to go.
This is history in the making, people.
In an interview with Delish, Wilkerson revealed what it was like to go viral. "[The tweet] blew up pretty much overnight. Within weeks, it was a flurry of me getting all this attention from interviewers, and from friends at school and stuff," he recalled. "Within a month, I was on the Ellen show. If you told me a month before that it was gonna be that crazy, I wouldn't have believed you. Looking back at it now, it felt like so long during those few weeks, but it really was a short period of time."
The teen even went on to appear in Katy Perry's music video for her single "Swish, Swish." "I'd say if anyone ever gets this opportunity like I did to just enjoy it. You don't have to make something out of it. Just have fun with it and do whatever you want to do with it," he added.