Guy Put 'Relationship Saving' Stations In IKEA And We Want Them In Every Store
This station at IKEA will save your relationship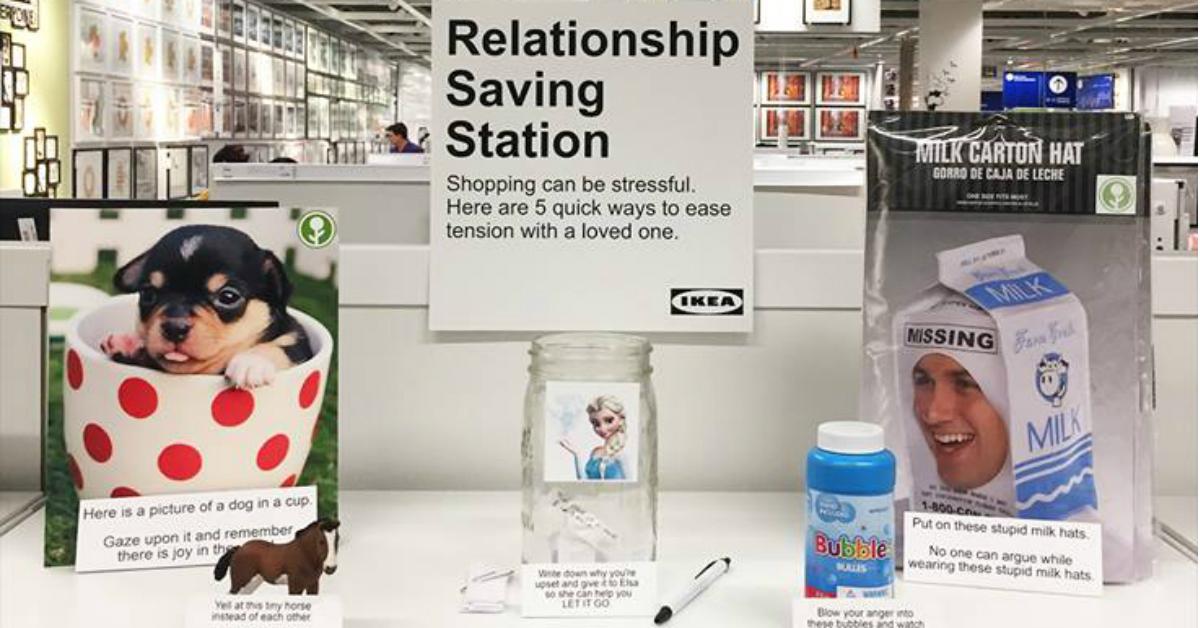 There's a reason why Liz Lemon was so afraid of going to IKEA with her man in that episode of 30 Rock, and it's because there are few furniture outlets that will test the strength of a relationship as seriously as the Swedish retail giant. But aside from amazing meatball IKEA really puts strains on relationships. They are so large and confusing and you end up spending way more than you want to when you are there. You feel good about your purchase and then when you get home you spend countless hours trying to install those darn cabinets with those bolts that do not make any sense. Once you get them built you then realize you did it wrong the first time and have to start over.
Article continues below advertisement
And that's mostly due to the fact that IKEA is a gosh-darned Labyrinth of a store. Seriously, have you been inside one recently? You go inside for a napkin holder and walk out with a Klimpske-Kerfuffle over your head, peaking out the back of your tied-down trunk and a newfound hatred for life. Oh, and your significant other is mumbling to themselves a mile away from the store looking for the nearest bus stop. Because yeah, your relationship's over at that point.
But the low, low prices of pretty much everything at IKEA necessitates that you go there. It's not like you're ever going to stop, you just need to hope that your relationship will be strong enough to withstand the store's insanity.
Article continues below advertisement
Thankfully, Grade-A Internet jokester Jeff Wysaski set up some "relationship saving" stations at IKEA to help couples get through the trying shopping experience.
Article continues below advertisement
Article continues below advertisement
Article continues below advertisement