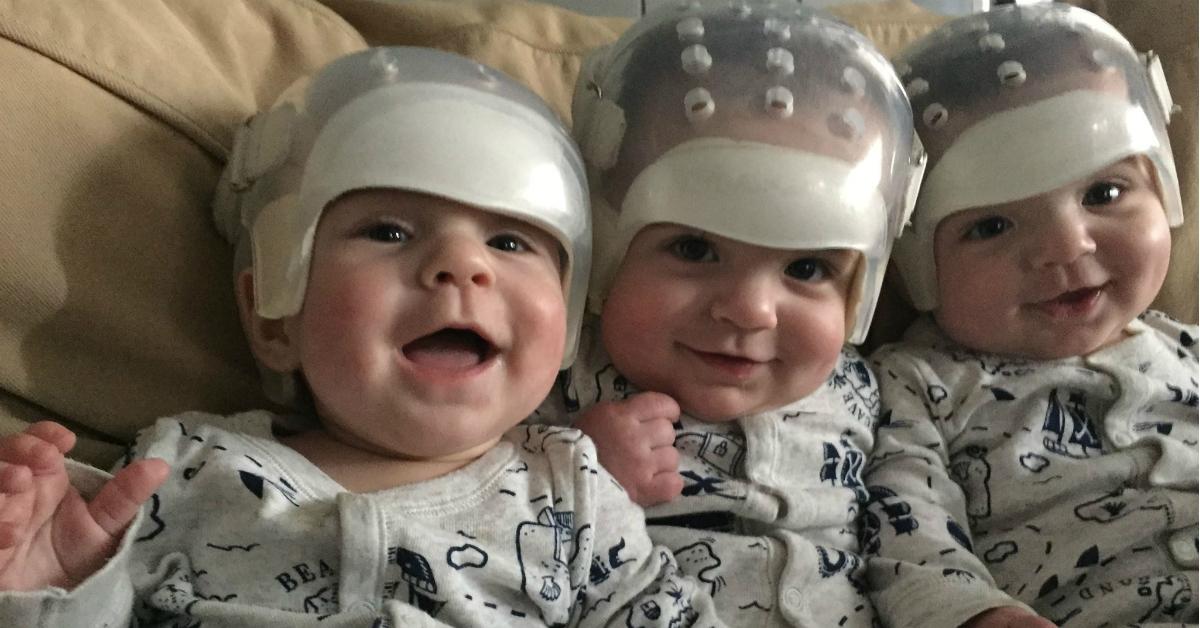 Adorable Triplets With Same Rare Birth Defect Make Medical History For This Reason
By Mustafa Gatollari

Updated
When Amy and Mike Howard discovered that they were going to become first-time parents, they were ecstatic.
When they discovered that they were going to be parents to triplets, that ecstasy turned to what Mike called, "a little bit [of] shock."
As a father of one child myself, I know how crazy it could be trying to raise a single kid as a new parent. I can only imagine how insane it would be to look after three little babies simultaneously. For Amy and Mike, however, they didn't have to imagine. Last October, she delivered three adorable baby boys: Hunter, Jackson, and Kaden.
However, doctors noticed something about the shape of their heads shortly after they were born.
Hunter and Jackson are identical twins and both had protruding skulls in the back of their heads. Their fraternal brother, Kaden, had a triangle-shaped skull which gave him a protruding, or "pointy," forehead.
The three boys hit a reverse lottery of sorts: They're the only set of triplets all born with craniosynostosis.
This uncommon birth defect fuses the plates of a baby's skull prematurely, which inevitably causes issues for brain development. Only 1 in 2,500 babies are born with this defect. The chance that all three triplets are born with it is 1 in 500 trillion. Yes, trillion.
After the babies hit 11 weeks of age, they were taken to Stony Brook Children's hospital for surgery.
Sending their kids into the operating room at such a young age was a nerve-wracking experience for both of the new parents, but the doctors did an awesome job and the procedures went off without a hitch. Two days later, they were out of the hospital.
Now, they have to wear custom-made orthotic helmets 23 hours a day for the next six to nine months. Something that Amy says they adapted to quickly.
"It took them a little bit of time to adjust, but they don't give me any problems taking [the helmets] off or putting them back on at all," she said in an interview with Today.
It looks like the three brothers will be just fine and from the looks of their smiles, they feel fine, too. (h/t today)