Dad Plays Hilarious Lunch Prank On Daughter On Her Last Day Of High School
A father who has been packing his daughter's lunch since she started school played a touching prank on her last day of high school.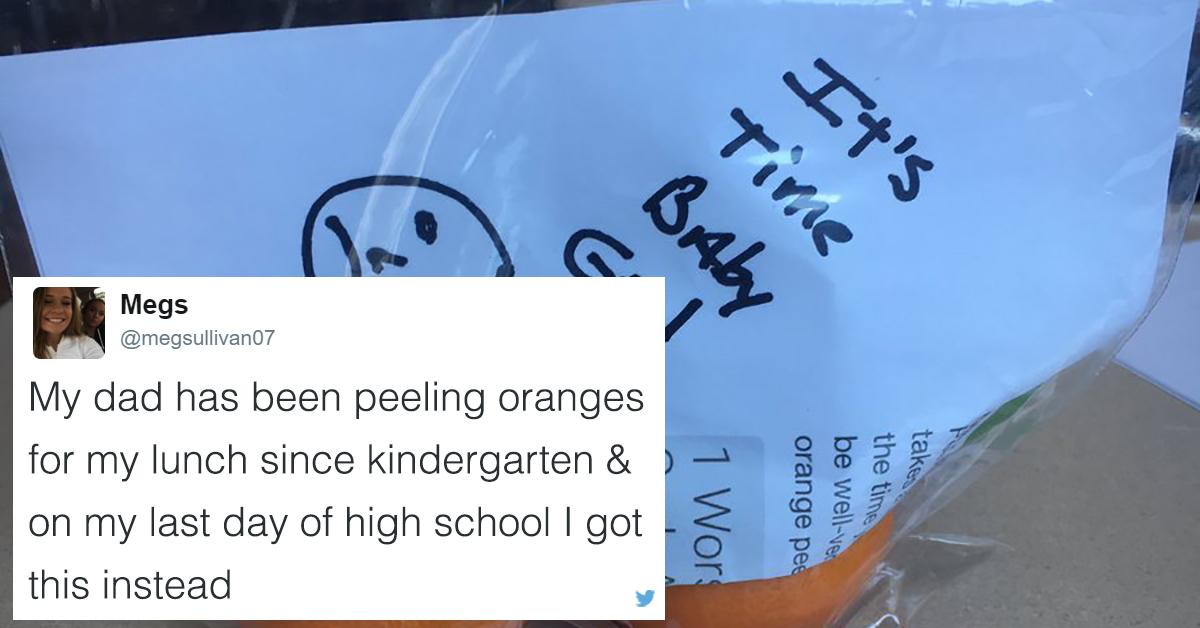 The dynamic between parent and child changes throughout the years. Typically, how they interact during the kid's younger years will set the foundation for expectations each has of one another as they grow old together. It sets a baseline for what's normal in their relationship and makes it easy to identify when something changes when an established tradition is suddenly changed or halted out of the blue.
This can be as simple as having a cup of water set out for your parent when they get home from work and plop down on the big couch in the living room or when a parent has been drawing pictures on their kid's lunch bag and suddenly stops doing so once they hit the fourth grade.
These changes don't have to be negative or dramatic in nature, and while some of them go on for considerably longer than they should've, usually it's less about what's being done for the other and more about the action being grounded in love and respect for the parent or child.
It's a sweet gesture, but that dynamic a parent and child has has to change at some point for a number of reasons, and it usually occurs when the kid is no longer a kid, but a budding adolescent ready to start experiencing the world on their own as an adolescent while setting the stage for adulthood. Rather than a handshake agreement on how to handle the change, someone usually does something abrupt to disturb the tradition and both end up adopting the new norm after having a good laugh about it.
Going from high school to college is certainly one of those times. Gone are the days of seeing each other off at breakfast and fixed schedules. It serves as an early warning sign for everyone that things are about to change, and it's up to one of them to take the first step.
Article continues below advertisement
Whether your child is making the transition from middle school to high school or high school to college, this time of year can be difficult for parents who still see their children as their babies. But that's not the case for Meg Sullivan's father, who's actually happy that his daughter just finished high school. Why? He doesn't have to pack her lunch anymore. On her last day, he gave her a helping hand into adulthood...
Article continues below advertisement
This is dad joke goals. And Twitter found it hilarious, too.
Article continues below advertisement
Article continues below advertisement
Article continues below advertisement
Article continues below advertisement