Deaf Singer Gives Jaw-Dropping Performance On 'America's Got Talent'
29-year-old Mandy Harvey from St. Cloud, Florida has connective tissue disorder and blew the judges away.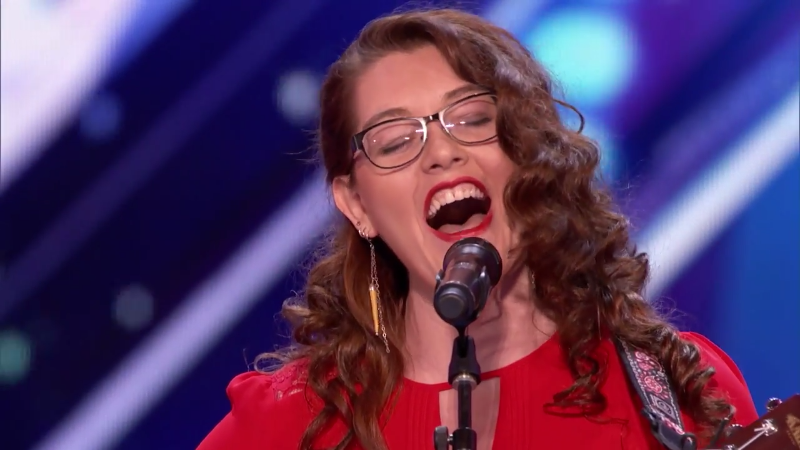 I used to think music was completely an auditory sensation. I thought that we needed to be able to hear to create and enjoy it. Man, what a fool I was.
Article continues below advertisement
Meet 29-year-old Mandy Harvey from St. Cloud, Florida. She has a connective tissue disorder, and when she got sick a decade ago, her nerves deteriorated to the point of deafness. She had been singing since she was four years old, but stopped once she lost her hearing.
She recently decided to relearn how to play music and sing. She uses muscle memory and visual aids to help her out. Most impressive is that she performs barefoot and feels the vibrations in the ground to follow the music, which sounds like something right out of a comic book.
Article continues below advertisement
Her performance was so astonishing that judge Simon Cowell used the Golden Buzzer to automatically advance her to the quarter-finals. Afterwards, he told her, "I've done this a long time. That was one of the most amazing things I've ever seen or heard."
The rest of the Internet seems to agree.
Article continues below advertisement
This video brought me to genuine tears. As a song writer myself I find this story so incredibly compelling. I often have a terrifying nightmare that I wake up with my fingers cut off and as a result I can't play my guitar anymore. I've never told this dream to anyone including my family, but after watching this I felt the need of sharing. Whenever I have this dream I wake up crying because I don't know what I would do if I couldn't make music anymore. I often ask myself what would I do if it came true? And the only answer I have is that I would fall in deep depression and probably never recover from it. After watching this video I realize how stupid my answer is. This girl lost the most important thing that connects us with music, yet she discover her own unique way to stay connected. She neglected the challenge and chase the dream. I am truly touched by this video and I couldn't have found it in a better time in my life. This girl deserves to win, her talent goes beyond music, she is a living example of perseverance and positivism, the world should know about her and we should all take her as a role model. 
its so rare to me to cry after watching a vid, but this made me cry.
Article continues below advertisement
people like this make this world a beautiful place ❤
my goosebumps have goosebumps
If you want to hear more of Ms. Harvey's work, or to learn more about her upcoming shows, be sure to check out her website.